Also see:
Day 1: Asian boat lands Illegally
Day 2: "The Propaganda Starts"
Day 3 coverage: "It's not the Canadian Way"
Day 5: July 27, 1999
Day 6: July 28, 1999
Second Boat load of Illegials Hits British Columbia! [Aug 12 '99]
———————————————————————-
CANADA FIRST IMMIGRATION REFORM COMMITTEE
———————————————————————–
P.O. Box 332, Stn. "B" http://canadafirst.net
Etobicoke, Ontario M9W 5L3 cfirc@canadafirst.cdmail.biz
Tel: (905) 897-7221
———————————————————————–
CFIRC BREAKING NEWS!
THE CHINESE ILLEGALS — ACTION ALERT, July 30, 1999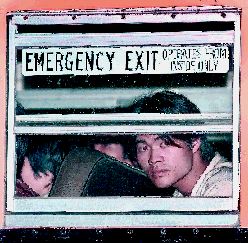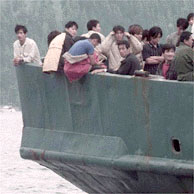 1.) CHINESE ILLEGALS BOYCOTT CATERED DINNERS OF SAUTEED CALAMARI,
STEAMED SALMON — Hilarious — it reads like an advertisement "a popular
Victoria institution since 1950"
2.) 39-DAYS-AT-SEA STORY – JUST ONE MORE FRAUD?
3.) OH BOY! MORE PROSTITUTES FOR CANADA (EXCERPTED)
4.) RINGLEADERS (FINALLY) SEGREGATED – YOUTHS RELEASED FOLLOWING
INTIMIDATION
5.) THE GUILT-BRIGADE STEPS IN
6.) ENOUGH IS MORE THAN ENOUGH — HELP RECLAIM YOUR COUNTRY
COULDN'T-BE-EASIER ACTION PLAN: FIND & CONTACT YOUR MP —
PLUS MORE ESSENTIAL E-MAIL CONTACTS.
-=-=-=-=-=-=-=-=-
1.) NO THANKS, WE PREFER LAST WEEK'S RICE AND CONTAMINATED WATER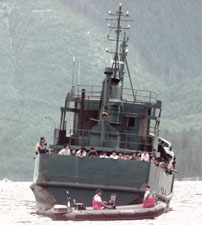 Vancouver Sun | Thursday 29 July 1999
Hunger strike by Chinese migrants leads to lockdown
Refugee claimants protest the quality of food served
while in detention at CFB Esquimalt.
Jim Beatty and Petti Fong, Sun Legislature Bureau
Vancouver Sun
VICTORIA — Police and immigration officials ordered a security lockdown
of 123 Chinese migrants Wednesday when the migrants launched a hunger
strike moments after their lunch was served.
The migrants, who arrived on Canada's shores in a dilapidated boat from
China last week and are now claiming refugee status, are apparently
protesting the quality of the catered Chinese food they are being served
while in detention.
Immigration proceedings were postponed for several hours Wednesday as
officials addressed the tense situation at the gymnasium at Canadian
Forces Base Esquimalt where the migrants are being held under tight
security.
Legal-aid lawyer Leandre Rupert-Bailey said Wednesday from Esquimalt
that she interviewed a large number of the refugee claimants and heard
concerns about the food, as well as their general treatment.
"I've heard complaints that the food is cold," she said Wednesday. "A
number of people are asking why they are being treated like this."
In addition to complaints about the food, they have complained about
being strip searched and find it humiliating being watched by security
officers as they shower and brush their teeth while naked.
Wednesday morning, the migrants were required to shower, wash their hair
with an anti-lice shampoo and place their cots outside where they were
sprayed with a disinfectant.
In addition, Rupert-Bailey said, the migrants are fearful of the tight
security and have been frightened by police dogs outside the gymnasium
where they are being held.
Canadian officials continue to be concerned about the refugee claimants
becoming malnourished, since they spent 39 days crossing the Pacific and
arrived with sparse food supplies and no potable water.
They have made every effort to provide food that is appropriate for the
migrants. All of it has been catered by Ming's Restaurant, a popular
Victoria institution since 1950.
Owner Henry Cho said he has served the refugee claimants a mixed variety
of authentic Chinese — not North Americanized — food.
"It has been a really good variety of food," Cho said.
Lunches and dinners have included mixed vegetables, steamed rice, fresh
fruit, noodles, chicken, beef, pork, sauteed calamari and steamed
salmon.
Because the refugee claimants are from Fujian province, on the southeast
coast of China, Cho has attempted to mix more seafood into the menu.
"I try to accommodate whatever requests they have for me," Cho said.
As part of the lockdown, the migrants were confined to their cots and
alldoors to the building were sealed.
"Numerous individuals refused to eat. We don't know exactly why," RCMP
Constable Tracey Rook said. "We are trying to keep the lines of
communication open."
The Chinese were found July 20 on a dilapidated boat off a remote part
of Vancouver Island. They left China's Fujian province in mid-June after
paying up to $40,000 US each to a human-smuggling organization for safe
passage to Canada.
While the migrants were confined to their army-style cots Wednesday
afternoon, immigration officials were attempting to re-start hearings to
determine if they will be released or kept in detention while their
refugee claims are processed.
Eleven juvenile males were ordered released earlier — and were turned
over to the province's ministry for children and families at about 4
p.m. Wednesday — but 17 men who appeared before adjudicators Tuesday
and Wednesday were ordered kept in custody.
As the effort to process the refugee claimants drags on, the bills are
mounting
The citizenship and immigration department alone is estimated to have
spent $200,000 so far. In addition, the RCMP has supplied at least 37
RCMP officers, all of whom are working overtime, and the military has
also supplied personnel.
In Ottawa Wednesday, Immigration Minister Lucienne Robillard vowed to
crack down on the smuggling of illegal aliens, but she said new
legislation should be aimed at punishing the smugglers, not their
victims.
"I think that some of these traffickers are linked with organized crime
organizations too. That's why it's so concerning and that's why we have
to find a solution internationally."
Reform immigration critic Leon Benoit said Canada's generous approach to
refugee claimants invites abuse. He noted that other countries faced
with an influx of boat people, including Australia, New Zealand and the
U.S., have laws that allow authorities to intercept boats and send them
back to their countries of origin. The U.S. also gives its immigration
officials the ability to detain illegal aliens and decide within 10 days
if they should be deported.
But Robillard said Canada would be violating its international
obligations if it ejected people without a fair hearing or if it tried
to turn around smuggling ships caught in Canadian waters before they
could unload their human cargo.
Robillard also noted she is preparing to introduce legislation later
this year that is expected to increase prison terms and fines for
smugglers.
The legislation is also expected to give immigration officers the power
to quickly deport people whose refugee claims are discovered to be
manifestly unfounded.
____________________________________________
$200,000 — SO FAR?
FOR A SINGLE DEPARTMENT?
HEY, WE'RE JUST GETTING STARTED!
EACH YEAR MS ROBILLARD SIGNS THOUSANDS OF SPECIAL "MINISTERIAL PERMITS"
THAT ALLOW CRIMINALS AND HEALTH CASES (THAT WOULD OTHERWISE BE EXCLUDED)
ACCESS TO CANADA. THE IMMIGRATION & REFUGEE BOARD ALLOWS OTHERS IN ON
"HUMANITARIAN AND COMPASSIONATE" GROUNDS. THIS CLAIM THAT THE MINISTER
"CAN'T DO ANYTHING" OUGHT TO BE MORE AMUSING.
CALAMARI AND SALMON COOKED IN THEIR NATIVE FUJIAN STYLE ARE STILL NOT
GOOD ENOUGH FOR THEM! MANY WORKING CANADIANS AND CANADIANS ON WELFARE
CANNOT AFFORD FOOD LIKE THIS. THAT THESE ILLEGALS SHOULD DARE TO STAGE A
"HUNGER STRIKE" DEMONSTRATES THEIR UTTER INSINCERITY. cONST. ROOK'S
'We're trying to keep the lines of communication open to them," IS
TYPICAL OF OUR PATHETIC OFFICIALDOM. WE SHOULD BE TELLING THEM WHAT'S
WHAT, NOT DIALOGUING WITH THEM. THE STRIKERS SHOULD BE PUT ON HALF
RATIONS UNTIL THEY INDICATE THEY'LL EAT. IT WOULD SAVE THE CANADIAN
TAXPAYERS A FEW DOLLARS. AFTER ALL, THEY/WE ARE THE REAL VICTIMS OF
THESE SCAMMING INVADERS AND THE DUNDERHEAD INCOMPETENTS AMONG THE RULING
POLITICIANS WHO REFUSE TO SECURE OUR BOEDERS.
_____________________________________________________
2.) SHIP'S 39-DAY ORDEAL – JUST ANOTHER SCAM?
BY THE WAY – THEY ARE *NOT* MIGRANTS – THEY ARE *ILLEGALS*
Vancouver Sun | Friday 30 July 1999
TOP STORIES
Did mystery ship have help during crossing?
Chad Skelton Vancouver Sun
A derelict fishboat, so dilapidated it appears barely capable of
floating, let alone crossing the Pacific Ocean, showed up off the B.C.
coast last week carrying more than a hundred Chinese migrants.
The migrants, detained by Immigration Canada, told their hosts they
sailed for 39 days from China to reach Canada's shore.
If true, it's a story to rival the great maritime legends of man versus
the sea.
If not, it casts grave doubt on the credibility of all 123 refugee
claimants.
Now a marine vessel expert who has inspected the derelict ship says he
suspects it did not make the journey across the Pacific on its own.
"I really question that the boat actually steamed 39 days to arrive here
unassisted. In my experience, that doesn't seem practical — if not
impossible," said Paul Dupre, the president of Richmond-based Western
Maritime Surveyors who inspected the ship for three hours Tuesday at the
request of immigration officials, in order to tender a bid to have it
destroyed.
"Based on my experience of doing trans-Pacific crossings in small craft
and my extensive experience onboard fishing vessels, I find it extremely
unlikely that that boat came across a 39-day crossing unassisted in any
way."
Ten days after the dilapidated fishing boat was spotted listing off the
shore near Nootka Sound, police and immigration officials still know
little about what brought the migrants to B.C., except that its
passengers — almost all from China's Fujian province — either paid or
owe almost $40,000 US each for the journey.
Dupre, who has destroyed more than 30 ships and managed the repairs of
many more, said the lack of water containers on board, the poor shape of
the boat and the available fuel storage suggest the ship had help
getting here.
But experts in human smuggling say there is, unfortunately, nothing
out-of-the-ordinary about barely seaworthy boats crossing the ocean. Jim
Fisher, an expert in Asian organized crime with the Criminal
Intelligence Service Canada in Ottawa, said the ship off Vancouver
Island was "a prototypical boat." Most ships that bring refugees to
North American shores are dilapidated and lack enough necessities such
as water — which is why migrants often die en route or the ships sink,
Fisher said.
Dupre said he couldn't speculate about what assistance the ship may have
received in arriving off B.C.'s shores — for example, whether it was
towed across the ocean by a larger, better-equipped ship and then set
adrift, or if the migrants boarded the boat kilometres offshore and then
travelled for a few days in the hold. But he said he doesn't see how the
ship could have possibly made the journey alone with its passengers
alive.
"It's very peculiar," Dupre said.
Fisher said he knew of no case where a boat was assisted in its journey
across the sea.
But Dupre pointed to the conditions on the vessel. For example, he said,
when planning an ocean crossing, the rule of thumb is to have four
litres of water per person per day for simple cooking and drinking. If
the journey took, as has been reported, 39 days — the ship would have
required close to 20,000 litres of water.
Dupre said there appeared to only be a few plastic and steel drums on
deck used to hold water and the ship's water ballast was full of fuel.
At most, Dupre said, the ship only had enough capacity to hold 800
litres of water.
It is possible the crew had plastic containers of water that they threw
overboard, Dupre said. But the over-all condition of the ship — with
toilet paper, food packages and other garbage strewn across deck —
suggests the crew was not in the habit of jettisoning things during
their voyage.
Indeed, there would be even more reason to hold on to the water
containers than other garbage, Dupre said, because the containers could
have been used to catch rainwater.
The fuel capacity of the ship also raises doubts it made the journey
alone, Dupre said.
Fishing trawlers can travel for several weeks, he said, but usually have
to have sophisticated neoprene fuel bladders on deck to make the
journey, which collapse as they are emptied. Normal fuel tanks aren't
enough for a trans-Pacific journey, he said.
There was no evidence on board of an advanced fuel-storage system and —
like water containers — Dupre thinks it unlikely the crew would
jettison fuel bladders after they were used.
"I find it highly unlikely that they had significant fuel to cross,"
Dupre said.
The ship was also in horrible mechanical shape. Fuel and oil were
"leaking from everywhere" and there appeared to be no tools on board to
conduct maintenance on the ship, he said. The electrical wiring system
was not operational and the little wiring still on board was badly
corroded. And there were numerous flashlights on board, he said,
suggesting the ship's lighting system was not functional.
Dupre estimated the ship was probably built in 1970 and headed for the
scrap yard when it was salvaged for this journey. The only visible
modification made to the ship was that a few window holes had been
welded closed.
There was, however, an antennae on board used for sophisticated Global
Positioning System electronics. After the ship was towed into Gold River
last week, reporters observed police removing the GPS machine.
Immigration and police officials on Vancouver Island have been saying
all along how surprised they were that the ship was able to make it
across the Pacific. They had little response Thursday to the suggestion
that it didn't.
RCMP Constable Tracey Rook said the information police have so far is
that the migrants made it to Canada in the one boat alone.
"My information is that 123 people got on the boat in China and 123
people arrived here," she said. "[But] there are a lot of facts about
this journey that we don't know."
And Lorna Tessier, spokeswoman for Immigration Canada, said the
department has "no confirmation of any other" boat involved in the
smuggling operation.
The determination that the ship made a solo journey across the ocean in
39 days has been based primarily on interviews with the refugee
claimants. Tessier said there are penalties for making false
declarations to an immigration officer — including possible
deportation.
There were initial reports that the refugees were wearing surprisingly
good clothing when they disembarked from the ship, though immigration
officials said later that on closer inspection those clothes were in
tatters.
Dupre called his inspection of the decrepit ship on Tuesday a "sobering
experience."
"I've never seen anything like it," he said. "The boat is strewn from
bow to stern with wadded up toilet paper — all over the deck, in the
hold, in the lower part of the cabin. . . . The boat is littered with
disposable razors, toothbrushes and small personal effects."
There were also some sandals, clothing and several soiled blankets on
board. It appeared that bags of rice had been used as mattresses, Dupre
said.
The conditions for the passengers would have been "extremely cramped" he
said. The two cargo holds where the migrants were living were each only
six metres long and tapering from seven metres wide to four metres, he
said. Layers of wooden slats placed across the cargo holds were used for
sleeping.
There were no lifeboats or lifejackets anywhere on board, he said.
The ship also lacked any way of preparing meals except for a small
two-burner stove.
"There was no sink, there was no running water," he said. "The food
preparation system was non-existent. They were doing it on the floor."
The only food on board was rice, instant noodles and a large bowl of
beef stock soup coagulating on deck.
_____________________________________________________
REMEMBER THE AL FRESCO PRISON-STYLE WEAPONS? WELL, WE HAVE THE WORD OF
AN IMMIGRATION LAWYER THAT ONE OF THE MEN WAS JUST TOO DARN DECENT TO
"BOTHER" ANYONE FOR SCISSORS.
"I talked to the guy who supposedly had the [tin foil] plate as a
weapon," said Morahan, "and he told me that he was using it to cut his
hair."
(Vancouver Sun, July 30, 1999)
VERY COMMENDABLE – AND A BIG RELIEF FOR THOSE
WHO BELIEVE IN THE TOOTH FAIRY
__________________________________________________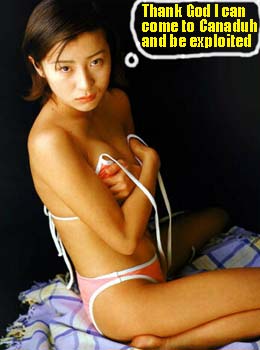 Vancouver Sun | Friday 30 July 1999 …
…While some of the men on board the unnamed ship found in Nootka Sound
more than a week ago said they paid up to $38,000 US for their passage,
none of the women paid any money up front.
"The women said they owe between $35,000 to $40,000 US for their trip,"
Rupert-Bailey said. "They were supposed to work it off after they
arrived."
In interviews, Rupert-Bailey said the women, aged from their early-20s
to mid-40s, told her they were to work in hotels and restaurants as
servers and cooks to pay off the money. They were expecting to earn
$1,000 to $1,500 a month in those jobs.
But Rupert-Bailey said it is more likely the women would have been
forced into prostitution to pay off their debts.
___________________________________________________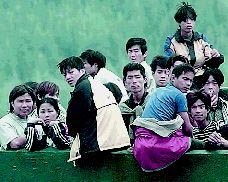 CBC NEWSWORLD ONLINE
Ringleaders of smuggling operation sent to Vancouver
Thu Jul 29 22:54:40 1999
VICTORIA – Immigration officials say they have separated the ringleaders
involved in the smuggling of Chinese migrants.
Last week 123 people showed up off the coast of Vancouver Island,
apparently planning to enter the country illegally.
Ron Johnson is the Manager of Enforcement for Immigration Canada. He
says a decision was made to move some of the boat people from CFB
Esquimalt. "We moved 19 individuals from the Esquimalt base over to the
Vancouver pre-trial centre in downtown Vancouver. The reasons for that
movement were for security and operational issues. We believe that now
we have the individuals in a secure site and are able to continue the
processing of their detention reviews. "
The remainder of the migrants are being kept at CFB Esquimalt near
Victoria.
A group of eight teenage boys have been released into government care. A
spokesman for the B.C. Children's Ministry says the teens were being
intimidated by other members of the group.
They have all applied for refugee status.
__________________________________________
5.) ASK THE GUILT BUCKETS – IT'S NOT ABOUT CRIMINALITY OR ABUSES – IT'S
ABOUT "RACE"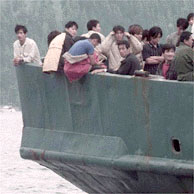 CBC NEWSWORLD
Concerns raised about treatment of Chinese migrants
Jul 29 1999 2:23 PM PDT
VANCOUVER – Some anti-racism and human rights activists in Vancouver are
raising concerns about the treatment of the Chinese migrants detained at
C.F.B. Esquimalt.
They're also unhappy with some of the media coverage on the 123 migrants
who were discovered off the West Coast of Vancouver Island.
The Vancouver Association of Chinese Canadians says there's no question
there are diverse opinions on what to do with the migrants. But the
group's Executive Director Victor Wong says the fact remains, the
migrants are now refugee claimants; entitled to a fair hearing.
"Canada is a country that is recognized internationally for its
humanitarian approach towards refugees, and to treat these Chinese
refugee claimants any differently would be extremely unfair."
Wong says his group has asked to see the migrants, but Immigration
Canada has turned down their request. He's also concerned about some of
the current media coverage saying the use of the words "criminal", and
illegal" is inaccurate, unfair and inflammatory.
Zool Suleman is an Immigration Lawyer in Vancouver. He says Canadians
need to reflect on the roots this country.
"Let us not forget our history. Ships have come on this shore since the
turn of the century if not before. Criminalizing them and treating them
as invaders and speaking of a Fortress Canada is regressive."
Suleman says a "fortress mentality" has taken hold in the U.S. and parts
of Europe, where refugee claimants are sometimes incarcerated. But he
says Canadians should not use the current group of Chinese migrants in
Esquimalt as an excuse to demonize all refugee claimants.
__________________________________________________________

6.) THESE PEOPLE ARE **NOT** "VICTIMS" – WE ARE !!!
IF YOU DON'T SPEAK UP – THE IMMIGRATION LAWYERS,
IMMIGRATION LOBBY, AND SPECIAL INTEREST PARASITES WILL.
EVERY TIME YOU "FORGET" TO PROTEST THESE ABUSES
OTTAWA THINKS: "SEE … CANADIANS LOVE THIS STUFF"
-=-=-=-=-=-=-=-=-
O K A Y, Y O U ' V E C O N V I N C E D M E –
W H A T C A N I D O?
1.) If you need to find out who your MP is – find out at:
http://canada.gc.ca/directories/mp_direct_e.html
2.) e-mail (or call, or fax) your own MP
3.) e-mail the TWO MPs (Immigration critics) who HAVE called for
deportations: (Don't forget to thank them – courage is a RARE commodity
in Canadian politics)
Benoit.L@parl.gc.ca
Leon Benoit (Ref. Lakeland, Alberta)
phone: (613) 992-4171 fax: (613) 996-9011
4.) e-mail the Minister for Citizenship and Immigration
http://canadafirst.net/scoc-petition
———————————————————————-
CANADA FIRST IMMIGRATION REFORM COMMITTEE
———————————————————————–
P.O. Box 332, Stn. "B" http://canadafirst.net
Etobicoke, Ontario M9W 5L3 cfirc@canadafirst.cdmail.biz
Tel: (905) 897-7221
———————————————————————–