Also see:
Day 1: Asian boat lands Illegally
Day 2: "The Propaganda Starts"
Day 5: July 27, 1999
Day 6: July 28, 1999
THE CHINESE ILLEGALS — ACTION ALERT, July 30, 1999
Second Boat load of Illegials Hits British Columbia! [Aug 12 '99]
———————————————————————-
CANADA FIRST IMMIGRATION REFORM COMMITTEE
———————————————————————–
P.O. Box 332, Stn. "B" http://canadafirst.net
Etobicoke, Ontario M9W 5L3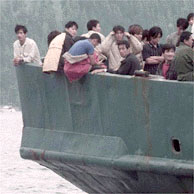 -=-=-=-=- CANADIANS SHOW THEIR FEELINGS -=-=-=-=-
Cushy landing in Canada
Letter to the Editor | Anthony Miller
Globe and Mail | Friday, July 23, 1999
Dartmouth, N.S. — Re No-Name Ship Found Crammed With Asians — July 21:
The first paragraph of your lead story ends by telling us that the Coast
Guard foiled a major human-smuggling operation.
Please explain how this operation has been foiled. The 100-plus people
on the ship are now in Canada, their apparent destination, being housed
and clothed at the expense of the long-suffering taxpayer. If any of
them claim refugee status, they are virtually guaranteed Canadian
residency. In fact, the likelihood of any being deported or returned to
their country of origin is minimal.
I'd say that the scheme has worked exactly as planned and that the
passengers all got their money's worth.
Cushy landing in Canada | Stefan Lemieszewski
Letter to the Editor
Globe and Mail | Friday, July 23, 1999
Coquitlam, B.C. — Regardless of how they got to our shores, these
illegal immigrants will have been briefed beforehand to claim convention
refugee status if they got caught, as they were. They will therefore be
eligible for a hearing before a panel of the Immigration and Refugee
Board several months from now, if not longer.
Meanwhile, they enjoy all the benefits of being a Canadian, lawyers
included, at our expense. Any unlucky enough to get a fair hearing will
be found out to be what they really are — economic migrants, despite
the bogus stories they will invent about religious or political
persecution in the People's Republic of China.
But they need not worry. It is almost certain that none of them, having
made it to Canada, will ever be returned. China does not accept
deportees nor will Canada send anyone to as undemocratic a country as
China. Moral of the story? Once you get here from China, you get in.
————————-
Lucky for us, the ILLEGIALS with NO identification will be free in only
2 weeks. Even tho a large percentage of them will probibly not show up
for their hearings.
"Now that they have reached Canadian soil, the illegal immigrants
have certain rights under the Immigration Act and the Canadian
Charter of Rights and Freedoms, namely the right to legal counsel
and the due process of law that Canadian citizens enjoy. They are
also eligible for some health benefits." [IMMIGRATION LAWYER]
WE NEED TO RECIND THE SINGH DECISION NOW!
SIGN OUR PETITION AND GET INVOLVED!
http://canadafirst.net/scoc-petition/
————————
-=-=-=-=- NO ID? NO PROBLEM IN CANADA… YOUR FREE…. -=-=-=-=-
Smuggled Chinese could be freed in two weeks
JANE ARMSTRONG
Globe and Mail | British Columbia Bureau
Friday, July 23, 1999
CFB Esquimalt — They may have broken every rule in the book to get
here, but the 123 illegal Chinese immigrants whose decrepit boat was
stopped off the coast of Vancouver Island on Tuesday could be released
and settling into life in Canada in as little as two weeks.
"Depending on what co-operation we get, depending on what information we
gather, I would say [the chances] are fairly good," said Jim Redmond,
Citizenship and Immigration's Vancouver Island manager.
If they plan to apply for refugee status, those who are released will be
given a place to stay and contacts in the Chinese community until their
cases can be heard.
Now that they have reached Canadian soil, the illegal immigrants have
certain rights under the Immigration Act and the Canadian Charter of
Rights and Freedoms, namely the right to legal counsel and the due
process of law that Canadian citizens enjoy. They are also eligible for
some health benefits.
Other countries have responded to the increase in illegal Chinese
immigrants by tightening their rules. Earlier this year, Australia
introduced prison sentences of up to 20 years for people convicted of
smuggling humans. Australia also increased coastal surveillance.
Over the past year, more than 860 people have been caught trying to
enter Australia illegally by boat.
By yesterday afternoon, officials still had not formally interviewed the
arrivals, 13 of whom are teenaged boys younger than 17. It appears they
travelled on their own, without other family members, Mr. Redmond told
reporters at an informal briefing outside the gated gymnasium that has
been fashioned into a makeshift detention centre at Canadian Forces Base
Esquimalt in suburban Victoria.
Authorities want to ensure the detainees are fully rested and healthy
before they're interviewed. The delay meant federal officials still
didn't know yesterday who they are nor who organized their ocean
crossing.
However, officials believe they made the harrowing journey because they
want to make Canada their home.
"They're seeking to enter Canada at this time, I presume, to live and
work," Mr. Redmond said.
As of yesterday, the group had been fingerprinted and photographed. They
spent the night on bunk beds in a gymnasium on the base. Mr. Redmond
described them as compliant and subdued after their first night's sleep
in Canada. No one contracted any serious illnesses aboard the ship
despite filthy and cramped conditions.
The newcomers were feeling stronger yesterday after being fed chicken,
rice and congee, a rice porridge they requested. Only one person
required medical treatment, for an injured finger, Mr. Redmond said.
The dramatic interception of the 123 Chinese is the largest
human-smuggling operation to be detected off the West Coast. However,
immigration officials concede other boats may have eluded detection and
landed safely. Just three weeks ago, police spotted a so-called phantom
ship off the west coast of the Queen Charlotte Islands that later sank.
Passengers on that boat are believed to have reached shore safely and
slipped into Canada.
For now, the most recent arrivals are holed up in the gymnasium and, for
security reasons, have not been permitted to go outside. Authorities
have provided them with board games to pass the time, but Mr. Redmond
stressed that authorities have a lot of interviews and paperwork before
them.
"This isn't a summer camp," he said. "We have a lot of work to do in the
next seven days."
Officials must prepare each for a hearing before an immigration
adjudicator within seven days, a right given to all would-be refugees
who are detained.
At that time, if the person wants to claim refugee status, the
adjudicator can decide to release him or her for the duration of the
lengthy claim process.
Immigration officials say they still don't know how this particular
smuggling ring was organized. However, Mr. Redmond said countries in the
Pacific Rim have reported an escalation in such activity. He said
smugglers, known as "snakeheads" in China, provide the vessel and demand
exorbitant prices from passengers who want to make the journey.
One of the passengers in the boat intercepted Tuesday said he paid
$38,000 (U.S.) to make the ocean crossing despite cramped, filthy
conditions. The operation has its own organization on the Canadian side.
People here are paid to meet the passengers and help slip them into
Canada undetected.
"The pattern is that they are organized overseas," Mr. Redmond said.
"It's co-ordinated. The vessels are co-ordinated. They are put on
vessels, and yes, there is a co-ordinating body in Canada."
-=-=-=-=-
WE LET THEM IN WITH NO ID, THEN WONDER
WHY MOST JUST "SLIP" AWAY
THANKS TO IMMIGRATION –
TORONTO NOW HAS A 8,000 STRONG FUKienese COMMUNITY
AND SOON THE VANCOUVER FUKienese GANGS WILL FOLLOW
-=-=-=-=-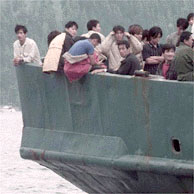 Most Chinese 'refugees' slip away
Officials say B.C. is a temporary haven for illegal
migrants heading for the U.S.
Jeff Lee
July 23, 99 – Vancouver Sun With Canadian Press
The vast majority of Chinese refugee claimants who entered Canada
illegally through British Columbia abandoned their claims last year and
can't be found, according to the Immigration and Refugee Board.
Moreover, the number of such cases nearly doubled from 1997-98,
supporting police and immigration investigators' beliefs that B.C. is
being used as a transit point for illegal Chinese migrants moving from
Fujian province in China to the eastern U.S.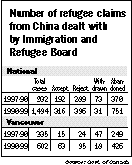 This disclosure follows Tuesday's discovery off Vancouver Island of a
ship carrying 123 illegal migrants from China.
Nationally, 50 per cent of the 1,494 refugee claims made by illegal
Chinese migrants last year were declared abandoned by the board. But at
the Vancouver office, the percentage of people who didn't pursue their
claims was much higher.
Last year, the IRB in Vancouver cleared 602 cases involving Chinese
refugee claimants. They allowed 63 claims and rejected 95. But a total
of 426 people either didn't show up for their hearings, or were
unreachable, and the board declared their claims abandoned. The year
before, of the 335 cases the board worked on, 249 were abandoned.
Jane McKaskle, acting regional director for the IRB's Pacific Region,
said the cases declared abandoned were then turned over to Citizenship
and Immigration Canada for action.
But Sergeant Jim Fisher, national coordinator for Asian organized crime
intelligence at the Criminal Intelligence Service Canada in Ottawa, said
in many of those cases, claimants likely are no longer in B.C. or
Canada.
Fisher, a Vancouver police department officer on loan to CISC, has been
tracking cases of migrant smuggling by so-called "snakehead"
organizations in Fujian province. He said B.C. is only a landing place
for the migrants, who want to move east.
"Most of them don't stay in B.C., from what we can determine," he said.
"They want to go to New York city or Toronto."
Lois Reimer, an immigration spokeswoman, said it is "quite likely" the
Chinese refugee claimants who abandoned their claims have either left
the country or have gone underground.
Immigration isn't actively searching for the missing claimants because
it doesn't have sufficient employees and instead concentrates on
criminals who need to be deported, she said.
"If they abandon their claims and disappear, it is very hard for us to
track them."
Once a case is declared abandoned, all benefits, such as provincial
social assistance and federal health insurance cease and a permanent
removal order is entered on the claimant's file, she said.
The loss of those benefits, which provide substantial financial support
for refugees, would tend to indicate claimants who abandon their cases
have deliberately left Canada, Reimer said.
Fisher said most of the claimants would likely have moved into New
York's growing Fukienese community, which has a documented population of
100,000, but which immigration officials believe contains as many as
500,000 people.
The trend for Chinese migrants to head for New York may be changing,
Fisher said. An escalation in crime, particularly by Fukienese gangs
preying upon the illegal aliens, has caused many migrants to look at
living in Toronto, he said.
"A few years ago, Toronto had a minimal Fukienese population. Now it has
about 8,000 people that we know of."
Fisher said Chinese illegal migration originates almost entirely from
Fujian province and there is strong economic and social pressure there
for people to get to North America.
"You are almost looked down upon over there if you haven't got someone
from your family living in New York or Toronto," he said.
The migrants, most of whom don't have the $25,000-$40,000 fee the
"snakeheads" charge, put down $3,000 and agree to work off the rest, he
said.
"Even the Chinese government considers them to be migrant workers,"
Fisher said. "These people have virtually no desire to become Canadian
or U.S. citizens. They are after the status and the jobs. Whole villages
are built up with the money that is sent home."
Fisher said there is no way of knowing how many illegal Chinese migrants
enter Canada from ships that drop them off on the B.C. coast. Although
Vancouver International Airport catches the largest number of illegal
migrants, the sea route from China to B.C. may be just as important, he
said.
"How do you measure what you don't know? Do you really believe that only
three Chinese ships have landed on this coast," he asked. "The reality
is it happens all the time and we don't know about it."
Last year, immigration officers processing refugee claims in Toronto
discovered the Chinese fishing ship Sun Lion had dropped about 30 people
off at the northern end of Vancouver Island. Although the Canadian Coast
Guard stopped the ship off Winter Harbour, it was allowed to leave
Canada because no evidence could be found it was engaged in smuggling.
It later sank off Alaska.
Last month, an abandoned Chinese fishing vessel suspected of smuggling
migrants ashore was found drifting and low in the water off the northern
end of the Queen Charlotte Islands. By the time the Coast Guard
investigated, the ship had sunk.
This week, the Coast Guard arrested an unnamed fishing ship, almost
identical to the other two, with 123 Chinese people at Nootka Sound. The
migrants, including 13 teenage boys aged 14 to 17, left Fuzhou, the port
capital of Fujian province, in mid-June. Immigration officers originally
counted 122 people, but a recount by medical authorities found 123,
including 17 women.
"Girl babies in China are usually just thrown away."
-=-=-=-=- IN CHINA THEY JUST "THROW AWAY" FEMALE BABIES! -=-=-=-=-
BUT LUCKY FOR YOU! YOU GET TO PAY FOR THEM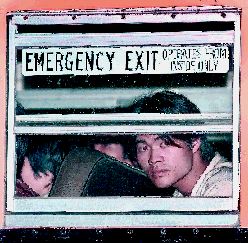 Unwanted Chinese babies find new homes
Emma Poole, Staff Reporter The Province
Vancouver Province | July 23, 99
Twenty orphaned babies from China arrive in Vancouver today with new
names and new start on life thanks to their Canadian adoptive parents.
When the plane touches down at noon on board will be Kris Wallace,
husband Andy Ali and their eight-month-old baby girl Hong Qui-ping.
"We are just so lucky," said Kris from her hotel in Beijing.
Qui-ping was abandoned on the steps of an orphanage in Anhui province's
capital city of Heifei, 450 kilometres west of Shanghai.
But unlike hundreds of other Chinese female orphans, who would likely be
destined to live in destitution and even slavery, Qui-ping was rescued
and will today take a first look at the country she will now call home.
"This whole experience has been so phenomenal. We just can't believe
it," said Kris.
The pair, both 34, decided to adopt a baby girl from China after hearing
how they are all too often discarded at birth because of their gender.
China has a one-child per family policy. "International adoption is just
as fulfilling as home-made babies," said Kris.
The parents have decided to called her Piper Qui-ping Ali — a name that
reflects her Chinese ethnic roots as well as her new English-speaking
homeland.
Kris didn't want to say how much they paid for the baby but adoptions in
China have been known to cost up to $20,000.
In 1998 there were 2,000 babies adopted worldwide with almost half (901)
from China.
Between 1997 and 1998 the number of adopted babies from China
skyrocketed by 73 per cent.
Qui-ping's international adoption process started two years ago when the
couple, who have been married seven years, signed up with Family
Outreach International which is based in Ottawa.
They spent countless hours filling out paperwork and meeting with
social-services agents, all to ensure they were suitable parents —
financially and emotionally.
"We went through months of investigation, but it was totally worth it,"
said Kris, who is originally from Princeton. The trio will head home to
Toronto after spending some quality time with their extended family in
Vancouver.
"They really wanted to rescue a baby," said Kris's mom, Joy Wallace.
"Girl babies in China are usually just thrown away."
Kris, a writer, and Andy, a stockbroker, flew to Beijing two weeks ago
and were introduced to Qui-ping for the first time. The couple were sent
pictures of the infant they had been chosen to raise, but little other
contact was permitted.
"She's just a doll," said Kris of her first thoughts at seeing Qui-ping
face-to-face. "She is resilient, beautiful and healthy. What else could
you ask for?"
Kris said her family in B.C. has supported their decision to adopt a
child from abroad. As an inter-racial couple Kris said they are already
a "little unconventional."
"She's our child. We feel the same way about Piper as other people do
about their children. She's just ours."
Most of the families arriving from Beijing are headed for Ontario.
————-
"Stockholder said the immigrants have rights under Canadian
law, but "there's the possibility of losing that right
within the immigration system," he said."
SIGN OUR PETITION NOW!
*ILLEGIAL* IMMIGRANTS SHOULD NOT GET RIGHTS BASED ON THEIR FRAUDS!
WE NEED YOUR SUPPORT!
http://canadafirst.net/scoc-petition/
————-
-=-=-=- IMMIGRATION LAWYERS WEIGH IN…. -=-=-=-
$$$$$$$$$$$$$$$ IMMIGRANTS FOR LAWYERS! $$$$$$$$$$$$$$
Immigrants' rights must be preserved, says lawyer
CANADIAN PRESS | JULY 23, 1999
ESQUIMALT, B.C. (CP) – An immigration lawyer worries the rights of 122
illegal Chinese immigrants who arrived clandestinely on a stinking,
filthy ship could get lost in the long process ahead of them.
Peter Stockholder says the Canadian Bar Association wants to ensure that
after spending 39 days at sea in deplorable living conditions, the
Chinese know what their rights are in Canada.
"There are concerns," he said.
"They would be completely in the dark and its important to get some kind
of help for them."
The would-be Chinese immigrants, who authorities believe were being
smuggled into the country, are being detained at a naval base.
After a security and health inspection at sea, the ship was towed in to
a wharf near Gold River early Wednesday, where the passengers were
loaded onto buses and taken to Esquimalt, a bedroom community of
Victoria.
Many smiled and waved from the buses as they arrived Wednesday.
They spent much of the day aboard the vehicles as immigration, defence,
health and police officials prepared a base gymnasium that will be their
temporary home.
Jim Redmond, an official with Citizenship and Immigration, said none of
the migrants arrived with any identification, although some had sketchy
cards that didn't reveal much.
Redmond said one person told a Mandarin interpreter he had paid $38,000
US for the voyage.
"They were relieved to get on the bus on dry land," said Redmond,
describing many of them as having "sea legs.'
The people were crammed into a hold that was unlivable, he said.
"The vessel was abysmal," Redmond said. "There was human waste
throughout the hold area where the migrants were being forced to live."'
The passengers – 104 men and 18 women – appear to have come from Fuzhou
in southern China, said Lt. Cmdr. Chris Henderson.
The migrants will spend the next week sleeping on 125 folding camp cots
erected in the gymnasium.
Military police will stand guard over the compound while the migrants
spent the next several days being interviewed by immigration officials.
Redmond said officials must do security checks for criminal records and
make a decision on whether the migrants are likely to appear for future
immigration hearings.
If they're determined not to be a danger they could be released into the
community.
"What we will be doing over the next couple of days is interviewing,"
Redmond said.
"We'll be finger-printing, we'll be working with our colleagues in the
(RCMP) and we'll be working with our offices and operations overseas . .
. in China and Hong Kong and Taiwan."
Stockholder said it's important to process the refugees as quickly as
possible, so they can move into the community.
"They can be given community support rather than spend time in a
detention facility, which is not a pleasant place to be," he said.
Stockholder said the immigrants have rights under Canadian law, but
"there's the possibility of losing that right within the immigration
system," he said.
"There's been a number of complaints about that process."
Most likely, they will apply for refugee status, he said.
"Other than that there aren't a lot of options."
They could also apply to remain in Canada on humanitarian and
compassionate grounds, although it is less likely to be successful, he
said.
Refugees must prove they face persecution at home. The fact they were
willing to risk their lives to cross the ocean crammed into the hull of
the dilapidated ship says a lot, Stockholder said.
Carlos Gaete, the director of the Victoria Immigrant and Refugee Centre
Society, agreed.
"Refugees who go through all this trouble to get to Canada, they must be
desperate," Gaete said. But there is not much the society can do for the
illegal immigrants for now.
"Everything is in the hands of Immigration and the RCMP," Gaete said.
"As soon as they apply for refugee status, then we can help them."
The discovery of the dilapidated ship was the largest group of illegal
immigrants ever discovered along the West Coast
In 1987, a group of 174 Sikh refugee claimants arrived in Nova Scotia
without paperwork. The majority remain in Canada, said Halifax lawyer
Lee Cohen.
[Jim Redmond:] "Asked why officers did not simply send this week's
boat back to sea he answered: 'It's not the Canadian way.'"
"CANADIAN WAY"? MEANS EVEN IF WE CATCH YOU DOING ILLEGIAL
ACTS DON'T WORRY ABOUT IT, YOUR STILL FREE TO COME IN, AND HELL
LET US PAY YOU, GIVE YOU A PLACE TO STAY, PAY YOUR LAWYERS
BILLS, PAY YOUR MEDICAL BILLS, ETC ETC ETC
-=- THIS IS NOT AN ISOLATED CASE! THIS HAPPENS ALL THE TIME -=-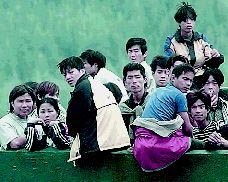 THEY'RE COMING, AND YOUR PAYING!
Canada Braces For More Boat People From China
By Allan Dowd
Reuters | July 23, 1999
ESQUIMALT, British Columbia (Reuters) – When a dilapidated boat crammed
with weary Chinese citizens appeared this week in an isolated bay on
Canada's Pacific coast, Jim Redmond was not particularly surprised.
Redmond, an immigration officer on Vancouver Island, knew similar boats
with human cargoes had shown up in Australia and New Zealand in recent
months. So he figured Canada was also on the list of smuggling
destinations.
"We've been preparing for this," Redmond.
The 122 people unloaded from the boat were held at military base in
Esquimalt Thursday as officials began the long process of determining
where they were going and how many will eventually be allowed to stay in
Canada.
The incident has again raised questions about how Canada deals with
illegal immigration. And it comes as the Canadian government is updating
refugee laws that critics claim are too lax but which supporters say
reflect the country's reputation for kindness.
The 180-foot boat, discovered Tuesday as it was apparently preparing to
discharge its passengers along the rugged coastline of Vancouver Island,
represented a familiar story for immigration officials around the
Pacific Rim.
It departed from China's Fujian province nearly six weeks ago. A craft
built for the now-illegal practice of driftnet ocean fishing, it was
crudely refitted with wooden sleeping planks to carry people and painted
a gloomy dark gray to avoid identification.
The passengers, one of whom said he paid $38,000 to make the journey,
found themselves in nightmare conditions. They lived in the ship's small
hold amid human waste and with water too contaminated to use for
drinking or cooking.
"I'm amazed the boat made it across the Pacific," Redmond said.
The high prices that Chinese are willing to pay smugglers — known as
"snakeheads" — have made it an even more profitable business for
international Asia-based gangs than smuggling drugs, according to
western officials.
More than 100,000 people are leaving China illegally each year, by some
media accounts, and many are from Fijian.
Canada is a tempting target. Its Pacific coast has isolated coves for
boats to land and the city of Vancouver, which has a large Asian
population, is close to the United States — the ultimate destination
for many of the illegal immigrants.
Smugglers also promote Canada because it allows people who claim refugee
status to remain in the country while their cases are heard. This week's
arrivals may stay for up to two years before a final decision is made,
officials said.
Although Canadian immigration officials remain committed to keeping
Canada's doors open to legitimate refugees, Immigration Minister
Lucienne Robillard has pledged to crack down on the illegal smuggling
rings.
The issue has been a political sore point since 1986, when 152 Tamils
landed on Canada's East Coast in dinghies, seeking refugee status. A
year later, 178 Sikh boat people arrived. Both groups were granted
refugee status.
Under new legislation, to be introduced this fall or early in 2000,
Canada's outdated immigration laws will be rewritten to make human
smuggling an offense punishable by fines, jail and seizure of assets.
Immigration spokeswoman Huguette Shouldice said the current penalties
amount to a minor financial slap on the wrist for smugglers.
"Obviously the penalties for smuggling are not a deterrent enough —
there is so much money to be made that the amount of money we're fining
people now is just a token of what they are making," Shouldice said.
Canada also plans to increase the number of immigration officers it has
abroad in an attempt to uncover smuggling pipelines before overloaded
ships can depart for Canadian shores.
Although this week's boat was the first of its kind caught on Canada's
West Coast, authorities believe it is not the first to have made the
attempt. A similar boat was spotted July 8, drifting and abandoned
northwest of Vancouver Island.
"It didn't just drift across the Pacific on its own," Redmond said.
Redmond said there are limits to what Canada can or will do when a
smuggling boat is caught. Asked why officers did not simply send this
week's boat back to sea he answered: "It's not the Canadian way."
————————
"Now that they have reached Canadian soil, the illegal immigrants
have certain rights under the Immigration Act and the Canadian
Charter of Rights and Freedoms, namely the right to legal counsel
and the due process of law that Canadian citizens enjoy. They are
also eligible for some health benefits." [IMMIGRATION LAWYER]
WE NEED TO RECIND THE SINGH DECISION NOW!
SIGN OUR PETITION AND GET INVOLVED!
http://canadafirst.net/scoc-petition/
————————
———————————————————————-
CANADA FIRST IMMIGRATION REFORM COMMITTEE
———————————————————————–
P.O. Box 332, Stn. "B" http://canadafirst.net
Etobicoke, Ontario M9W 5L3 cfirc@canadafirst.cdmail.biz
Tel: (905) 897-7221
———————————————————————–