Dear Member of Parliament: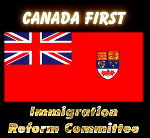 So successful was the landing of the 123 Chinese illegals — medicare,
specially prepared Chinese food, legal aid — that more seem to be on
the way. At least 83 of the first landing party have already been
released and can make "refugee" claims.
The government has provided no discouragement to such invaders. The
illegals are not summarily shipped back. The snakeheads among them have
not been charged.
Thus, it appears that a full scale invasion may be under way.
The Parliament of Canada has failed spectacularly to assert control of
our borders. Instead the unelected Supreme Court, peopled by radical
social activists, have all butr prevented this land from ensuring that
only qualified and deserving people enter this land. The time has come
to overturn the ludicrous Singh Decision by use of the notwithstading
clause. We urge you to press for legislation that would permit only
those who apply from abroad and are vetted to enter Canada as "refugees"
or immigrants. All others should be detained and deported.
Paul Fromm
Director
CFIRC
………………………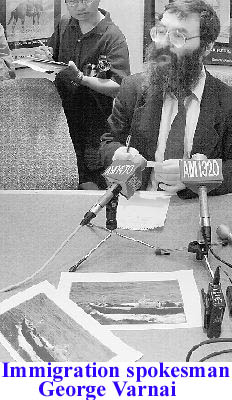 Spokesman for Immigration Canada shows pictures of the boat!
Would-be immigrants dumped on beach, mystery ship seized
GREG JOYCE | CANADIAN PRESS | AUG 12, 1999
SANDSPIT, B.C. (CP) – A mystery ship carrying about 150 migrants dumped
its human cargo and forced them to swim to a beach on the Queen
Charlotte Islands before trying to elude Canadian authorities.
RCMP believe the people – men, women and children from China – were
forced to swim to shore after they were dropped at Gilbert Bay on the
southern most island in the picturesque island chain.
"It appears that the individuals were made to load off the ship and make
their way to the beach," said RCMP Const. Tracey Rook.
"It's likely they had to swim."
Rook couldn't say how far the group was forced to swim.
After the migrants were dumped, the unmarked ship then attempted to head
back out to sea and made it 80 kilometres before they were stopped.
"At that time, a Department of National Defence (aircraft) came in and
hailed the vessel, advised it to cease and desist and to turn around,"
Rook said. "It did that."
An RCMP vessel then went out and seized the ship, arresting eight
Koreans on board. The ship is believed to have originated in Korea, said
George Varnai, a spokesman for Citizenship and Immigration.
Some of those on the beach are children that appear to be younger than
13, officials said.
"There has been no evidence so far of loss of life, however, the coast
guard does consider this to be a search and rescue operation," said
George Varnai, a spokesman for Citizenship and Immigration.
The department sent officers and medical personnel to the beach to
interview the migrants and ensure they are safe.
Varnai said none appeared to need medical help.
Officials were working to try to get the group off the beach quickly as
the cold, windy and foggy weather conditions worsened.
There's evidence they may have had to swim at least a short distance to
shore. Varnai said the people on the beach were wet.
The group is believed to have come from Fujian province in China. It's
the same place where an earlier group of 123 migrants came from last
month.
That group arrived on the west coast shore of Vancouver Island in the
stinking hold of a rusted, decrepit ship.
They were taken to a naval base in Esquimalt near Victoria and all have
claimed refugee status.
Thirty-seven have been detained and police suspect some of the smugglers
are among them.
The latest group of migrants is also expected to be taken to Esquimalt,
where a makeshift detention centre in the base gymnasium remains intact.
The first ship prompted questions about Canada's immigration and refugee
policies and the latest arrival is sure to spark a national debate about
whether Canada is too lax.
Caplan said Wednesday her government plans to change the country's
immigration laws to address human smuggling.
But she ruled out the use of force to turn back a ship.
"There are those that are suggesting that we use force and I say to
them: 'Are you proposing that we sink the boat?' " she asked.
"Certainly we have to consider what kind of an approach is acceptable to
all Canadians."
Officials had hoped to make contact with the ship Tuesday night, but the
vessel started zig-zagging on its way into Canadian waters.
The military, coast guard and RCMP were supposed to be keeping an eye on
it, but some reporters questioned how the ship could have gotten into
the bay long enough to dump its passengers and then turn around and head
back to sea.
"There are a number of inlets and bays in the area in which this is
taking place," Rook said.
"The weather is very bad out there, the sea is very, very choppy and
visibility is extremely poor. There is very heavy fog out there."
The Canadian Press, 1999
-=-=-=- CANADA FIRST IMMIGRATION REFORM COMMITTEE -=-=-=-
CFIRC goes 3,000 miles to protest against Illegial Immigration in
British Columbia! Read the whole story and find out the truth about the
silent invasion going on in BC! .
Canada First Immigration Reform Committee
-=-=-=-=-
CBC NEWSWORLD WebPosted Wed Aug 11 16:58:37 1999 Suspected smuggler ship arrested off B.C SANDSPIT, B.C. – Another ship carrying a human cargo of would-be immigrants has been seized by the RCMP off the coast of British Columbia. About 100 people have been taken off the ship and taken to a beach on Gilbert Bay, in the Queen Charlotte Island. The captain and the crew of the ship will remain onboard. Authorities believed the mystery ship was carrying another load of migrants hoping to bypass immigration rules. A navy ship with Immigration Canada officials aboard, was dispatched to intercept the ship, which displayed no identification. Immigration Minister Elinor Caplan made the announcment of the seizure at a news conference on Wednesday afternoon in Ottawa. Caplan said she deplored the smuggling of humans and hinted she may introduce changes to Canada's immigration laws to prevent such activities in the future. Those aboard the ship knew they were being watched. When it was spotted, the ship started travelling in circles instead of proceeding on its route toward B.C., said immigration spokesman George Varnai. Three weeks ago, a similar vessel arrived in B.C. It was smuggling 123 Chinese nationals. After entering Canada illegally, they claimed refugee status. National Defence says after the discovery of the first ship, it changed its surveillance pattern on the West Coast. The new watch resulted in the discovery of the second ship on Monday. W H O S E C O U N T R Y I S T H I S A N Y W A Y ? GET INVOLVED NOW! SIGN OUR PETITION AGAINST THESE TYPES OF IMMIGRATION ABUSES http://canadafirst.net/scoc-petition
—————————————–
—————————– CANADA FIRST IMMIGRATION REFORM COMMITTEE
—————————————–
—————————— P.O. Box 332, Stn. "B" http://canadafirst.net Etobicoke, Ontario M9W 5L3 cfirc@canadafirst.cdmail.biz Tel: (905) 897-7221
—————————————–