Also see:
Day 1: Asian boat lands Illegally
Day 2: "The Propaganda Starts"
Day 3 coverage: "It's not the Canadian Way"
Day 5: July 27, 1999
THE CHINESE ILLEGALS — ACTION ALERT, July 30, 1999
Second Boat load of Illegials Hits British Columbia! [Aug 12 '99]
———————————————————————-
CANADA FIRST IMMIGRATION REFORM COMMITTEE
———————————————————————–
P.O. Box 332, Stn. "B" http://canadafirst.net
Etobicoke, Ontario M9W 5L3 cfirc@canadafirst.cdmail.biz
Tel: (905) 897-7221
———————————————————————–
CFIRC BREAKING NEWS!
DAY 6 – TUESDAY JULY 27, 1999
THEY CAME HERE ILLEGALLY, THEY ATE THEIR DOCUMENTS,
AND PASS THE TIME BY HANDICRAFTING MAKESHIFT WEAPONS
W H Y
ARE THEY RECEIVING HEARINGS TO DETERMINE WHETHER THEY
SHOULD BE LET LOOSE ON US?
CANADA HAS EVERY RIGHT TO DETAIN PEOPLE WHOSE IDENTITY CANNOT BE PROVED
JUST THIS ONCE – LET'S PUT CANADIAN INTERESTS AHEAD OF
IMMIGRATION LAWYER'S INTERESTS
AND D E P O R T THEM!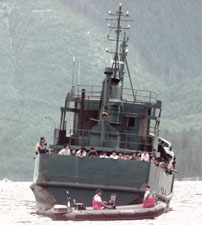 NATIONAL POST | Tuesday, July 27, 1999
RCMP increases security around migrants after
finding weapons Officials to rule if Chinese are set free
during claim process
Jim Beatty and Chad Skelton
The Vancouver Sun
VICTORIA – Police have tightened the security around 123 Chinese refugee
claimants currently detained in Victoria after RCMP officers discovered
several concealed items they fear could have been used as makeshift
weapons.
The increased security will mean the illegal migrants will be handcuffed
when they attend their first immigration hearing today — a hearing to
determine whether they can be released pending their refugee claims.
Police revealed the discovery of the weapons yesterday, a day after an
extensive search of the military compound where the Chinese refugee
claimants have been held since their discovery last week aboard a
dilapidated boat off the western coast of Vancouver Island.
Immigration officials say they were part of a human smuggling operation
that brings Chinese to North America.
The compound search was sparked after an RCMP officer noticed a migrant
attempting to conceal a tinfoil dinner plate. The Sunday night search
revealed sharpened pens, combs, safety pins and several solid brass
fittings removed from the floor of the gymnasium where the migrants are
being detained at Canadian Forces Base Esquimalt.
"We found hidden or concealed items that had the potential to be used as
weapons," RCMP Const. Tracey Rook said yesterday.
"One individual had taken a tinfoil dinner plate, had torn a piece off,
folded it a number of times and given it a very sharp edge so that it
could be used as a weapon."
None of the objects had been used against Canadian officials in a
threatening way.
Nineteen of the migrants have been identified as being involved in the
organization of the trans-Pacific shipment and have been segregated from
the rest. Const. Rook said the search and discovery of the weapons was
not specific to one group or another.
Today, the Immigration Department will establish two quasi-judicial
courtrooms at the military base. Four adjudicators will hear the cases
of the 123 migrants, all of whom are seeking refugee status in Canada.
The detention review hearing is primarily to determine whether the
migrants can be released pending their refugee claims or whether they
should continue to be detained.
Immigration officials say they will argue to keep the migrants in
detention.
"We are still not satisfied as to their identity," said Lorna Tessier,
an immigration spokeswoman. She said some of the migrants continue to be
evasive when asked direct questions. Only a few were carrying documents
that could prove their identity.
A team of lawyers who are being paid by government legal aid to
represent the migrants say they will argue for their immediate release.
Peter Golden, a Victoria immigration lawyer who is co-ordinating the
legal team, said six lawyers, each with an interpreter, will represent
the entire group. None of the migrants speak English.
The lawyers began yesterday morning by speaking to the migrants in
groups, explaining to them the legal process they will face today. Mr.
Golden said the lawyers were then to meet with the migrants individually
to receive instructions about what arguments to make in front of the
detention review hearings today.
Mr. Golden said it was difficult to guess how the migrants would fare at
the detention reviews.
"This is not a typical situation," he said.
The refugee claimants are all from the Chinese province of Fujian. They
have told immigration officials they left home in mid-June and travelled
in the cargo hold of the fishing boat for about 40 days before being
detained by Canadian officials.
Some said they paid as much as $39,000 (US) for passage to Canada.
The ship, which had no flag, no name and was listing badly, was spotted
in Nootka Sound early last week by a Fisheries Department aircraft and
was later boarded by the Canadian Coast Guard.
On board were 123 Chinese nationals — including 17 women and 13 teenage
boys — who were living in the cargo hold of the filthy boat. <end>
CONTACT YOUR MP
(BEFORE IT'S TOO LATE)
———————————————————————-
CANADA FIRST IMMIGRATION REFORM COMMITTEE
———————————————————————–
P.O. Box 332, Stn. "B" http://canadafirst.net
Etobicoke, Ontario M9W 5L3 cfirc@canadafirst.cdmail.biz
Tel: (905) 897-7221
———————————————————————–