Suspicious Canadian authorities intercept rusted, listing vessel off Vancouver Island
JANE ARMSTRONG | Globe and Mail
British Columbia Bureau; With reports from Canadian Press and Agence France-Presse Wednesday, July 21, 1999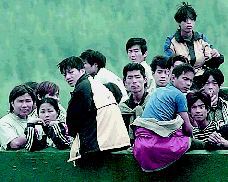 Vancouver — The Canadian Coast Guard intercepted a listing cargo ship crammed with about 90 Asians off the coast of Vancouver Island yesterday, apparently foiling a major human-smuggling operation.
A federal Fisheries and Oceans aircraft spotted the ship about 6:45 a.m. yesterday approximately 20 nautical miles from land, 300 kilometres north of Victoria. The Fisheries Department notified the Canadian Coast Guard, which sent a crew in a dinghy to intercept the vessel.
At least two people from the vessel attempted to make it to shore yesterday on a makeshift raft, RCMP Corporal Grant Learned said. But they sailed into the arms of off-duty Washington state police officers who were on a fishing trip. The RCMP arrested them and returned them to the ship.
Officials said that the appearance of the rusting 55-metre-long ship raised suspicions immediately.
"It met a certain profile," said George Varnai, regional manager with Citizenship and Immigration. "The vessel had no markings, no flag, no name and no normally available identification."
The discovery was one of the biggest arrivals of illegal immigrants by boat in recent years. In 1987, 173 people from India arrived in Nova Scotia by freighter, and the year before 152 Sri Lankans were found in two lifeboats off the Newfoundland coast.
The coast guard boarded the ship after it called for help, saying that it was tilting to one side, spokeswoman Micheline Brodeur said.
Jim Redmond of the Citizenship and Immigration office in Victoria said it is likely the voyage was initiated by organized crime and that there could be criminals on board.
"We don't know what kind of criminal element is on board but we do know it's [the ship's arrival] not necessarily good for the country because if it was, they would apply through the legal channels."
Mr. Redmond said the situation is typical of a human-smuggling operation. "It's hard on the people who are smuggled. It's organized crime at its worst."
Officials said last night that they still did not know the ship's origins or precise destination.
The ship was anchored about a half kilometre off shore at Hoist Point, between Gold River and Tahsis, about 100 kilometres north of Tofino. The Canadian Coast Guard ship Tanu was en route to the ship last night. A team of about 12 Immigration officials, Chinese translators and medical personnel were to board the ship. The RCMP, Health Canada and the Department of National Defence are also involved. Mr. Varnai said the ship would be towed to port, probably to Tahsis or Gold River.
The passengers were thought to be Chinese, he said. They included about 70 men and 20 women but no children. "Nothing of this magnitude has happened before on the West Coast in terms of smuggling," he said.
The passengers were thought to be from Fujian province in southern China, CTV News reported.
Authorities are worried about the welfare of the passengers, who were crammed into the ship's cargo hold.
"These are folks who I would imagine have probably had a tough journey over a long period of time," Mr. Varnai said. "What we were told by the coast guard early this morning is that the ship appears to have been on a long voyage and the people are certainly tired."
Cpl. Learned said health officials are considering whether to quarantine some of the passengers. They are concerned about infectious diseases such as tuberculosis and malaria and also about malnutrition, dehydration and dissentry.
About 20 people appear to need medical attention, he said. "Right now, the first thing we have to look at are health and safety concerns. Everybody's on the boat. Nobody comes off the boat."
Officials do not know exactly where all the passengers come from. Interpreters who speak several Asian languages have been sent to the scene. The coast guard reported that the passengers spoke Chinese, Mr. Varnai said.
It appeared the ship was headed for a remote spot, away from an urban centre at which to dock illegally, he added.
"The classic wisdom is . . . that vessels of this nature that land on isolated coasts, the individuals disembark, they get slowly but surely smuggled into the cities," Mr. Varnai said.
Because it was spotted at a northern location, it is likely the ship was bound for Canada, Mr. Varnai said.
He described yesterday's discovery of smuggled foreigners as highly unusual on the West Coast. He said stowaways are reported from time to time, especially on Canada's East Coast. But he has never seen an operation of this size on the Pacific Coast.
"It's rare, this kind of large, organized operation," Mr. Varnai said.
If it is determined that the passengers were indeed headed for Canada, they are likely to be detained until the Immigration and Refugee board eventually rules on their respective fates. They may also be deported to their country of origin.
For the time being, the illegal foreigners will be taken to a military base, either at Comox or Equimault, on Vancouver Island, Mr. Varnai said.
The area where the ship was discovered is characterized by sheltered tree-lined inlets and mountainous, rugged coastline. The Pacific waters are particularly cold there.
There are a few native settlements but the population is sparse. Getting around is done mostly on logging roads or by boat or airplane.
—————————————–
—————————————
COMMENTS AT THE END……… Cargo ship carrying illegal immigrants clears health check CBC NEWSWORLD ONLINE WebPosted Wed Jul 21 12:43:10 1999 GOLD RIVER, B.C. – Health Canada says there's no need to quarantine the aging ship found Monday off the coast of Vancouver that was carrying more than 100 would-be immigrants. One-hundred and twenty-two Asians were taken into custody Monday after their ship was discovered in the remote waters of Nootka Sound, about 300 kilometres northwest of Victoria.
The RCMP said all of the passengers had to remain on board until Health Canada checked the ship for infectious diseases such as malaria and tuberculosis.
Officials were also concerned about malnutrition, dehydration and dysentery among the ship's passengers. Health Canada officials now say there's no indication of serious illness. Officials say it's the worst case of human smuggling they've ever seen. "Nothing of this magnitude has happened before on the West Coast in terms of smuggling," said George Varnai, regional manager of Citizenship and Immigration. They estimate the group spent 38 days at sea. The illegal immigrants were bussed to Canadian Forces Base Esquimalt in British Columbia.
They will be detained at the base, awaiting an immigration hearing. At least two passengers attempted to leave the ship on a make-shift raft Tuesday but they were picked up by off-duty Washington State police officers, turned in to the RCMP and then returned to the ship. The ship had no markings on it but an official with Citizenship and Immigration says the people on board are Chinese. Varnai says this operation has all the hallmarks of organized crime.
"The vessel had no markings, no flag, no name and no available identification that ships normally have," he said. Even though it's unusual for the West Coast of Canada, stories of smuggling human cargo over oceans and across borders are nothing new. Varnai says the region's isolated inlets and remote terrain aren't easy to patrol and people dreaming of a better life in another country might slip by undetected.
"I would be foolish to pretend that it's absolutely impossible for a vessel to get in undetected, I'm sure it is possible, but we're trying to make it as difficult as possible," Varnai said. IF CANADA REALLY IS "TRYING TO MAKE IT AS DIFFICULT AS POSSIBLE" … WHY ARE THESE ILLEGALS "AWAITING AN IMMIGRATION HEARING"?
Some of the nicer aspects of the Vancouver Province story have been highlighted for the sake of reading pleasure and national pride VANCOUVER PROVINCE Last Updated: Wednesday 21 July 1999 Local News Cargo of 'smuggled' people held on mystery ship The Province Sarah Papple, Staff Reporter The Province, with Canadian Press NOOTKA SOUND — Ninety people on a ship moored off the west coast of Vancouver Island were surrounded by the Canadian Coast Guard yesterday.
The passengers, believed to be smuggled Chinese immigrants, had arrived in the middle of the night aboard the rusting 55-metre-long cargo vessel, which dropped anchor in Nootka Sound, between Gold River and Tahsis. Immigration, customs and police officers flew into the remote area to secure the ship. It was expected that the passengers would be left on board until today.
"Nothing of this magnitude has happened before on the West Coast in terms of smuggling," said George Varnai, regional manager with Immigration Canada. Officials could not immediately determine who had crewed the vessel on what was thought to have been a lengthy voyage. ********* But observers who got close to the ship saw the passengers smoking cigarettes, chatting and snacking on chips, tossing the bags into the ocean.
They were well dressed and looked healthy. There were 70 men and 20 women. ********* Witnesses said two men from the ship paddled to shore at first light on a makeshift raft. Two local fishermen picked them up and drove to a telephone at the Critter Cove floating resort, where they alerted the coast guard. Brian Krasko, a tourist from Nanaimo who saw what happened, said: "They were really agitated and they didn't speak any English at all. "These people must be really desperate to get out of their country if they came across the Pacific on a ship like that," he said.
At Critter Cove, two vacationing police officers from Washington state put the two Asian men in handcuffs and detained them until the Tanu, a Canadian Coast Guard ship, arrived. Krasko said the pair had a big wad of U.S. cash on them. ***** BIG WAD OF CASH … YET ARE "REFUGEES"?
Meanwhile, the tattered blue ship looked deceptively deserted. It bore no visible name, flags or numbers, was missing a front anchor and listed heavily to the right. New radar and global-positioning equipment was visible on the bridge. ***** The POOR people with state of the art equipment But when an RCMP helicopter landed on a nearby beach, men began to appear on the ship's deck. Coast guard personnel approached the vessel but found they could not communicate in English.
"They didn't even know what kind of interpreter they needed," said Krasko. The vessel was quarantined by the coast guard. About 20 passengers appear to need medical attention, RCMP Cpl. Grant Learned said: "Right now, the first thing we have to look at are health and safety concerns. Everybody's on the boat. Nobody comes off the boat." He said the Mounties are treating it as a criminal investigation.
<><><><><><><><><><><><><><><><><><><><><><><><><><><><><><><><><>
The National Post: …"Corporal Grant Learned, an RCMP spokesman … said medical officers and police had not boarded the ship because they were concerned about safety issues… 'We also have to know if there is a threat level to our officers before we go on,' he said. … THE SHIP'S PASSENGERS CAN NOW APPLY FOR REFUGEE STATUS IN CANADA." … (National Post, Wednesday July 21, 1999)
<><><><><><><><><><><><><><><><><><><><><><><><><><><><><><><><><>
All that remains is for Immigration Canada and the media to make believers of us all. Please, teach us to "like" and "identify with" these people. Let us really get to know them. Personalize their "ordeal". If you have to mention the smuggling fee, emphasize the compassionate angle. Make each one of us ask ourselves … "How would I like it if I got caught sneaking into a country, and then people said unkind things about ME?"
WE NEED YOUR SUPPORT!
LET'S TAKE CONTROL OF OUR BORDERS & REIN IN THE SUPREME COURT SIGN OUR PETITION NOW!
http://canadafirst.net/scoc-petition