Also see:
Day 1: Asian boat lands Illegally
Day 3 coverage: "It's not the Canadian Way"
Day 5: July 27, 1999
Day 6: July 28, 1999
THE CHINESE ILLEGALS — ACTION ALERT, July 30, 1999
Second Boat load of Illegials Hits British Columbia! [Aug 12 '99]
—————————————–
—————————–
P.O. Box 332, Stn. "B" http://canadafirst.net Etobicoke, Ontario M9W 5L3

CFIRC BREAKING NEWS! DAY 2 – THE LIES CONTINUE
(Don't forget to see Day 1 coverage on CFIRC) YESTERDAY: "Observers who got close to the ship saw the passengers smoking cigarettes, chatting and snacking on chips, tossing the bags into the ocean." (Vancouver Province, July 21, 1999) TODAY: "Human waste was evident on the deck and in the hold and buckets were overflowing." (Globe and Mail, July 22, 1999)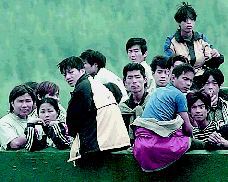 CONCLUSION: LUCKY NO ONE GOT SICK! YESTERDAY: "Observers who got close to the ship saw the passengers …. They were well dressed and looked healthy." (Vancouver Province, July 21, 1999) TODAY: "Immigration officials who boarded the ship early yesterday morning encountered passengers whose clothes were in tatters and whose shoes were falling apart." (Globe and Mail, July 22, 1999)
CONCLUSION: THE MEDIA JUST CAN NOT TELL THE TRUTH ON IMMIGRATION MATTERS
-=-=-=-=-=-=-=-=-=-
GET INVOLVED NOW! SIGN OUR PETITION AGAINST THESE TYPES OF IMMIGRATION ABUSES http://canadafirst.net/scoc-petition -=-=-=-=-=-=-=-=-
AS PREDICTED, TODAY ALL THE EMPHASIS IS ON THE "OFFAL" CONDITIONS ON THE VESSEL — WITH NARY A PEEP ABOUT THAT COAST-GUARD DODGING STATE OF THE ART RADAR SET UP THE CHINESE BOAT HAD:
CBC NEWSWORLD ONLINE Intercepted immigrants in custody in B.C. WebPosted Thu Jul 22 08:33:59 1999 ESQUIMALT, B.C. – After 39 days aboard a stinking ship a group of illegal immigrants caught Tuesday off Vancouver Island are being held in a gymnasium on a Canadian Forces Base, awaiting interviews from immigration authorities.
On Tuesday, a boat jammed with 122 Chinese trying to sneak into Canada was found off the coast of Nootka Sound, about 300 kilometres northwest of Victoria. Canadian authorities say they have identified 11 passengers they believe may be behind one of the biggest human smuggling operations ever discovered off the West Coast.
"We're keeping them as separate from the others as possible," said Jim Redmond, a spokesman for the Department of Citizenship and Immigration. The rest of the 104 men and 18 women who were found in the hold of the 36-metre fishing vessel are being held at Canadian Forces Base Esquimalt, just outside Victoria. Cots have been moved into the gymnasium and clothing and showers were provided. The weary travellers clapped and waved as they were led away on the base. Language problems are hampering efforts of investigators to question the passengers.
But NONE OF THEM APPEAR TO HAVE PASSPORTS OR OTHER IDENTIFICATION. Officials say it is an old trick for people trying to enter the country illegally. The lack of documentation makes it very difficult to deport them. Catherine Sas, an immigration lawyer in Vancouver says the Chinese authorities typically do not accept people without identity documents. "And so that puts us in the very difficult position, in a catch 22 situation — they can't get status in Canada, but Canada can't effectively remove them," she says. So far Canadian officials say they do not know who organized this smuggling operation, but it has all the hallmarks of organized crime. And little by little, some of the details are emerging. "The ship left … from Fuzhou (China)," said George Varnai, regional director for the department of Citizenship and Immigration.
"Our current assumption is they were trying to unload somewhere on the coast." One of the passengers has indicated he paid $38,000 U.S. for his passage. Those kinds of fees have made the smuggling of human cargo a huge international business, with smugglers leaving many countries trying to get paying passengers into Vancouver, Toronto, New York, Los Angeles and other North American cities. A similar ship was found deserted and sinking, off the Queen Charlotte Islands three weeks ago. Immigration officials admit they're investigating the possibility that boat may have carried illegal migrants.
More than a decade ago, two similar shiploads of people were found on Canada's East Coast: In August 1986, more than 150 Tamils were found in two life-boats off Newfoundland. They claimed refugee status, and many settled in Montreal and Toronto. In 1987, 174 people, most of them Indian Sikhs, waded ashore in a small community in Nova Scotia. Many of them went to Montreal, Toronto and Vancouver. The Chinese also have the right to claim refugee status. More will be known after they meet with immigration officials. If the Chinese do apply for status, Redmond says it could take up to two years for their appeals to go through the board.
IT COSTS $50,000 A YEAR TO KEEP A "REFUGEE" LET'S SEE, $50,000 X 122 "REFUGEES" … A CLEAR *6 MILLION!* DOLLAR SWINDLE Tho it can take up to two years, so lets assume 12 million. _______________________________________________________________________
IF "Chinese authorities typically do not accept people without identity documents" — NEITHER SHOULD CANADA. WILL THE U.N. SPANK US IF WE PUT OUR FOOT DOWN AND TELL CHINA (AND COUNTRIES WE MUST CURRENTLY BRIBE TO TAKE BACK THEIR DEPORTED NATIONALS) THAT WE WILL N-O-T ACCEPT A-N-Y OF THEIR NATIONALS UNTIL THEY RECTIFY SELF SERVING POLICIES? AND YET, AS THE FOLLOWING STORY SHOWS, CHINA APPEARS TO BE WILLING TO ACCEPT THEM BACK — BUT ONLY IF CITIZENSHIP CAN BE ESTABLISHED. HEY, THEY'RE NOT SPEAKING POLISH. ______________________________________________________________________
Vancouver Sun Last Updated: Thursday 22 July 1999 TOP STORIES Detained aliens investigated China says it will allow the 122 to return if citizenship can be established. Chad Skelton and Petti Fong Vancouver Sun ESQUIMALT — As immigration officials begin processing today the 122 illegal aliens who arrived Tuesday in Nootka Sound, the Chinese consulate in Vancouver said China will take them back if they are found to be Chinese citizens.
Consul Jiang Jing Yuan, who is in charge of governmental relations for the consulate, said Wednesday the ship's occupants would face only minor charges should they be deported to China. "We will not punish them," said Jiang. "We want to educate people and encourage them to not be victims of illegal human smuggling." Jiang said the Chinese government is actively pursuing "snakeheads" — the smugglers who charge people thousands of dollars to sneak them into Canada and other countries around the world.
"These people have brought an insecurity factor into Chinese society," said Jiang. "But the other people, they are victims of these snakeheads." None of the aliens who arrived Tuesday in the filthy cargo hold of a fishing ship have documentation, but are believed to be from southeastern Chinese province of Fujian. Officials at the naval base here believe the aliens — none of whom has yet claimed refugee status — spent 39 days aboard the ship. "We have not been able to find any documents whatsoever," said Jim Redmond, Vancouver Island manager for Immigration Canada. Police have identified what they believe are the 11 "ringleaders" of the suspected smuggling operation.
"We're keeping them as separate from the others as possible," Redmond said — noting they had been restrained with plastic braces. Redmond said immigration and police believe organized crime is involved in the human smuggling operation. RCMP spokesman Constable Grant Learned refused to say if any of the aliens had identified the suspects, but conceded that the ringleaders "did not come forward" on their own. Immigration officials believe they have identified the captain of the vessel — who Redmond said told them Canada was his intended destination. How the operation was organized has yet to be determined. But Redmond said one of the aliens told an immigration official through an interpreter that she paid $38,000 (US) for the journey. With 122 people on board, the voyage could have netted the smugglers millions of dollars. The ship used to transport the migrants has no identifiable markings, no flag of origin and no nameplate inside.
Most of the aliens speak a Chinese dialect native to the city of Fuzhou. Alice Young, a Chinese translator at Vancouver International Airport, said Mandarin speakers are generally agricultural workers in China. "[But] if they speak Fuzhou, it usually means they are from the city and have lived there for many years," Young explained. Young said the city of Fuzhou is economically prosperous by Chinese standards, but that has not stemmed the tide of refugees to Canada. A Canada Customs official told The Vancouver Sun that three Chinese people arrived at the airport on Wednesday claiming refugee status.
They are believed to be from Fuzhou. Jiang said the Canadian government can verify whether the 122 illegal aliens being held in Esquimalt are from China if they are able to get identification numbers. He explained that every person in China is issued an identification number by the government's security bureau. The illegal migrants will be held by Immigration Canada while their status is determined. However, they are entitled to have their detention reviewed by an Immigration Refugee Board adjudicator within 48 hours of their arrest. George Varnai, regional immigration manager for B.C. and the Yukon, said adjudicators will likely be brought into the detention facility for the hearings, or will speak with the migrants by phone this week. Under the Act, a refugee claimant can only be detained if they pose a risk to society, or if there is a reason to believe they won't appear at their scheduled hearing. Refugee determinations can take up to two years, during which time the claimant can apply for social assistance and health care. "It makes no difference how they landed in Canada," said Redmond. "They will still receive the due process." But as of Wednesday afternoon, none of the 122 migrants had made a refugee claim.
There hasn't been much opportunity for anyone to file a claim. It took several hours to tow the mystery ship to Gold River Tuesday night, where the migrants finally disembarked at about 2:20 a.m. Wednesday. They arrived at the Esquimalt naval base in three yellow school buses at about 10 a.m. Wednesday. They waited in the buses until mid-afternoon — escorted in pairs for washroom breaks — before being led in small groupsinto the Work Point barracks gymnasium.
The gym has been transformed into a detention and processing facility. Weights and exercise equipment were replaced with portable X-ray machines, medical equipment, folding cots, tables and chairs. Armed forces staff erected a fence to enclose the gym grounds. And while the barbed wire atop the old rusted fence tilted out — to keep people out — the new barbed addition to the fence tilts in. Soldiers also cleared brush from around the facility and erected a series of street lamps to illuminate the gym yard. Base commander Randy Maze said the renovations provide "clear site lines" for the dozens of RCMP and military police officers guarding the facility. Redmond said the aliens are in good spirits. "They're calm. They're not expressing any anger," he said. "They're polite to the officers. If they receive something from the officers, they're saying thank-you." Immigration officials plan to fingerprint the migrants and work with RCMP and immigration offices in China, Hong Kong and Taiwan to determine who they are. Dr. Hans Jung, senior medical officer for the navy on the West Coast, said only two of the migrants required medical attention for minor dehydration and hunger. "We're aware they have body lice, scabies … A good, clean shower and a hot meal will make them feel enormously better," Jung said.
-=-=-=-=-=-=-=-=-
Vancouver Province Last Updated: Thursday 22 July 1999 Local News These people breaking law, China says Keith Fraser, Staff Reporter The Province The Chinese government tries to discourage its citizens from paying large sums of money to be smuggled across the Pacific Ocean, a Chinese government source said yesterday. "We don't encourage such type of actions, human illegal smuggling. Our law strongly prohibits such actions." The source said many of the people being smuggled are farmers and are fooled by the smugglers into believing there's a better life for them in Canada or the United States.
"Now is not a very good time for immigrants, not only from China but from other parts of the world," he said. "Competition is very fierce" for jobs. Some end up in menial jobs and others in virtual slavery to pay off a debt to the smugglers, he said. If the 122 Chinese immigrants being detained on Vancouver Island apply for legal aid in order to get help in filing refugee claims, it's not clear if that would dramatically impact the cash-strapped Legal Services Society.
Legal-aid spokeswoman Sandy Shreve said the society has faced large "multiple-client" cases before but wouldn't discuss specifics.
IN THE YEAR 1998-99, THERE WERE 3,392 APPLICATIONS FOR LEGAL AID ON IMMIGRATION AND REFUGEE MATTERS, UP FROM 1997-98, WHEN THERE WERE 2,950. WHAT? NONE OF THEM HAVE (-YET-) FILED A REFUGEE CLAIM? OH, BY ALL MEANS, LET THE IMMIGRATION LAWYERS AT 'EM. REMEMBER THE KOSOVARS? NONE OF THEM WERE GOING TO STAY EITHER. OF B.C.'S 900 KOSOVAR REFUGEES, JUST -T-W-O- HAVE EXPRESSED AN INTEREST IN RETURNING.
-=-=-=-=-=-=-=-
WHAT — PRECISELY — IS THE PROBLEM HERE? IS IT POSSIBLE THAT THERE REALLY ARE PEOPLE ON EARTH THAT IMAGINE YOU C A N N O T GET INTO CANADA WITH A WING AND A TEAR? WHO HAS TO "BUY THEIR WAY IN"? BY THE WAY — GUM SAN — OR "GOLD MOUNTAIN" IS THE CHINESE NAME FOR A NORTH AMERICA PAVED WITH INCREDIBLE RICHES. INTERESTING THAT THIS LOT WAS UNLOADED AT GOLD RIVER. DELAYS IN UNLOADING THEM WERE "complicated by the lack of bio-hazard suits available to officers until late Tuesday night." (National Post, July 22, 1999)
-=-=-=-=-=-=-=-=-=-
IN THE WAKE OF THE COX REPORT (DETAILING DECADES OF RED CHINESE PILFERING OF AMERICAN NUCLEAR SECRETS)– "U.S. COMPANIES ARE REFUSING TO SHARE IMPORTANT INFORMATION WITH CANADIAN DEFENCE CONRACTORS THAT EMPLOY NON-CANADIANS OR EVEN THOSE WITH DUAL CITIZENSHIP" (Globe and Mail, June 25, 1999) TYPICALLY, CANADA RESPONDED BY FRETTING OVER PEOPLE'S "RIGHTS". IMAGINE HOW DELIGHTED OUR BIGGEST TRADING PARTNER (AND ALLY) WILL BE TO LEARN THAT …
Half of Chinese refugees abandon claims, go to U.S. Adrienne Tanner National Post (July 22, 1999) Chinese refugee claimants, the second largest group of asylum seekers in Canada, are more likely to abandon their claims than those from any other country in the world. For the past two years, half of the refugee claims from China were abandoned before they went to Immigration and Refugee Board hearings, suggesting that Canada is merely a temporary stop-off for many migrants headed to the United States.
"There's the perception that the United States is still the land of milk and honey," says Catherine Sas, a Vancouver immigration lawyer. "That Canada is a nice place, but if you really want to become super wealthy, you've got to go to the U.S." Of the 1,494 Chinese refugee claims settled by the board during the last fiscal year, 750 were abandoned when claimants failed to show up for their hearings. The story was the same the year before, when 479 of the 968 Chinese refugee claims were abandoned.
Law enforcement, immigration and legal experts say many Chinese migrants file refugee claims in Canada simply to buy time until they can find a way south. They fly in by plane or stowaway on cargo ships, often smuggled in by professional people, traffickers or "snakeheads" who charge as much as $70,000 for entry to the West. "Within the past few months, we have had three documented cases where people have come to the U.S. on cargo container ships," said Carey James, the U.S. Border Patrol's chief agent for western Washington. The journey often begins in the port cities of Fujian where it is easy to hook up with smuggling rings, says Yael Fuchs, the Washington co-ordinator of the Laogai Research Foundation, an American-based human rights organization focusing on China.
Typically, the migrants land in Western Canada and then head straight to New York and other cities along the Eastern seaboard, said Sergeant Bill MacDonald, of the RCMP immigration branch in Ottawa. Police have had some success intercepting illegal migrants at the border, but fear that for every one caught, dozens more get through. The biggest concern is that these people are queue jumpers, Sgt. MacDonald said. "They haven't gone the proper route to get into Canada legally. So, we don't know who they are. They haven't been screened medically or criminally." Just before Christmas, nine people were charged with helping smuggle hundreds of Chinese immigrants over the American border at the St. Lawrence River near Cornwall, Ont. Then, in February, four women were caught trying to cross the Lewiston/Queenston bridge over the Niagara River by clinging to a piece of plywood on the undercarriage of a truck. Two were near death from carbon monoxide fumes when they were found.
-=-=-=-=-=-=-=-=-
AND FINALLY —
GATECRASHERS ARE NOT WELCOME National Post editorial — Thursday, July 22, 1999 One hundred and eight men and 14 women were caught trying to enter Canada on Tuesday. Under the watchful eye of police, immigration officials and a gaggle of reporters, an unmarked, unflagged, unsanitary freighter disgorged its human cargo onto Vancouver Island, after spending a full day anchored just offshore. Many of the smuggled arrivals, thought to be from China, were smiling and waving; others were too exhausted to do much of anything. For now, all 122 are being detained in a guarded gymnasium while their immigration status is being examined, and the weariest receive medical care.
This isn't the first time bedraggled foreign nationals have washed up on our shores. In 1987, 178 South Asians sneaked into Canada on another freighter; a year earlier, 152 Tamils landed at Newfoundland, in dinghies. In both cases, these sea-sick guests received refugee status, even though it was discovered they had actually arrived not from any war-torn homeland but from Europe, where Canada's generous welfare was not available. These latest arrivals certainly won't be the last tranche, either. The International Organization for Migration estimates that four million immigrants are "trafficked" every year, feeding a $10-billion black market. Canada's unguarded shores, and easy access to the U.S., makes us an obvious port of call. At this point, little is known about these latest stowaways.
It is thought they might have paid up to $40,000 to be smuggled to our shores — a staggering fee, paid off through years of indentured servitude often including prostitution. While fascinating, the particular details are largely irrelevant when determining what Canada's policy on gatecrashers should be. To accept these arrivals without question would send three powerful messages. First, it would condone and reward illegal people-smuggling.
Second, it would send a message to would-be immigrants that our rules and processes for immigration are meaningless. It would confirm that a quicker and more certain way to live in Canada is to deliberately avoid the legal process and attempt to sneak in. Finally, and, most importantly, it would admit that our borders are unguarded, and that the hospitality of our citizens — through welfare and other social programs — can be commanded, not earned. Such an abdication of sovereignty will only serve to raise public enmity against legitimate, lawful immigrants.
Canada should welcome immigrants. Immigration has been the foundation of our progress as a nation. But there is an important moral difference between law-abiding immigrants and scofflaws that cannot be ignored. If it is proven that these stowaways' first act in Canadian territory was to attempt an illegal entry by avoiding Canadian customs and immigration law, then there is little reason to let them stay. To do otherwise is to punish those who land in Canada and apply lawfully.
-=-=-=-=-=-=-=-=-=-
SOME THINGS NEVER CHANGE. OVER 200 YEARS AGO, ANOTHER VISITOR TO THE NOOTKA SOUND OBSERVED A CHARACTER FLAW THAT CANADA HAS MANAGED TO QUIETLY ENSHRINE IN THE NATIONAL CHARACTER. OUR 50% TAXATION RATE SUBSIDIZES THOSE WHO TAKE ADVANTAGE WHILE WE ARE STILL INCAPABLE OF PRESENTING A UNITED RESISTANCE TO SYSTEMATIC EXPLOITATION OF OUR WEAKNESS) "Those who lived in the Sound were not united in the same cause; for the weaker were frequently obliged to give way to the stronger party, and plundered of every thing, without attempting to make the least resistance."
(Captain James Cook – April 1778) GET INVOLVED NOW! SIGN OUR PETITION AGAINST THESE TYPES OF IMMIGRATION ABUSES http://canadafirst.net/scoc-petition
—————————————–
—————————–
CANADA FIRST IMMIGRATION REFORM COMMITTEE
—————————————–
——————————
P.O. Box 332, Stn. "B" http://canadafirst.net Etobicoke, Ontario M9W 5L3 cfirc@canadafirst.cdmail.biz Tel: (905) 897-7221
—————————————–
——————————