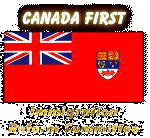 The latest news on what the government is planning, critical analisis of government reports like "Immigration – Not just numbers" and analysis of government policies.
Immigration Reform Postcard! Get involved now! Send an online postcard with an Immigration Reform message directly to the new Minister of Immigration! Free – Easy and Fun!
[AUG 28 '99]
NDP TRIES TO INTIMIDATE CFIRC WITH ACCUSATIONS OF "HATE" AND THREATENS TO CRIMINALLY CHARGE US!!!
PETITION: LET'S TAKE CONTROL OF OUR BORDERS & REIN IN THE SUPREME COURT
Financial Posts's Diane Francis hammers the immigration boondoggle!
Ottawa to Double Immigration to Canada??? Half a Million now!!!
[Aug 99] Time To Bring Canadian Immigration Policy into Line With Public Opinion
Poor Screening of Immigrants Poses Serious Health Hazard, Says Vancouver Doctor
[April, '99] CFRIC lobbies Ottawa for Immigration Reform
The government refuses CFRIC's presentation to the Immigration hearings, but guess who they did hear from? Do you really think they represent the majority of Canadians