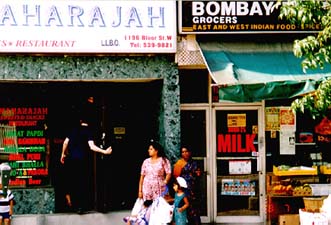 For 86 consecutive months, Canada's unemployment rate has been stalled at 9 per cent. That optimistically low figure represents only those actively seeking work/collecting Employment Insurance (One third of those theoretically eligible, currently qualify to collect the benefits they were compelled to pay into).
Canada's unemployment numbers do not include those who have simply given up, those living on welfare, living at home, or living on the streets of a once-great nation. According to the Toronto Sun, March 31, 1998, almost 10% of Canada's population is living off welfare. Welfare recipients (including seniors) in Ontario are about to be pressed into forced labour (some in the private sector) as the province implements workfare.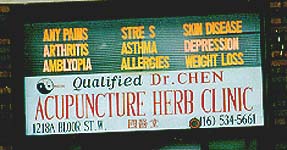 Canada need to bring in sign painters?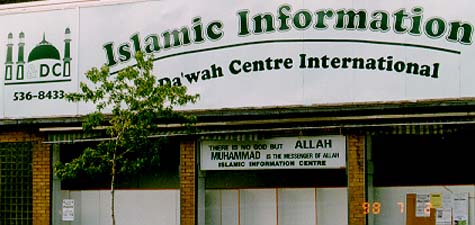 Under the circumstances, it's hard to imagine that Canada faces a legitimate shortage of airline ramp attendants, craft instructors, sign painters, hairdressers or cooks, but the Department of Citizenship and Immigration thinks so. Some of the most marginalized employment opportunities are listed in that overseas recruiting tool known as the GENERAL OCCUPATIONS LIST, right along with intensely competitive positions such as administrative officer, fashion designer and social worker.
When did Canada stop producing a glut of home-grown graduates in these fields? Many of these jobs could certainly be filled domestically; some are so vague and nebulous as to provide nothing more than an excuse , while others are unintentionally comic. For instance, why should we bring gunsmiths (ignorant of our peculiar byzantine registration system) to a nation committed to eradicating legal gun ownership?
What about strippers?
The feds are adding exotic dancer to the Occupations List. Naturally, the girl has to prove she's qualified in an interview with the visa officer. Will a nurse be present? What about refugee strippers? Meanwhile, Poland and Ukraine have agreed to cooperate in fighting prostitution and sex slave trafficking to the West. … According to a recent report by the International Organisation for Migration, more than 100,000 Ukrainian women, many of them minors, have been trapped and enslaved as prostitutes in the west. (Reuters, July 16, 1998) Does Jerry Springer know about tabloid immigration?
When we examine the professions, the disaster begins to take on distinctly man-made dimensions. Canada may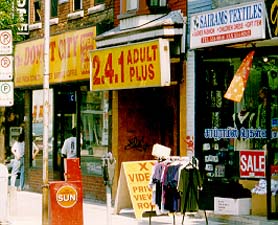 not be producing a sufficient number of marine and naval engineers to keep up with demand, but medical secretaries? Where was our far-sighted prophetic government before the shortage of marine and naval engineers became so acute that we had to begin importing them? If we aren't producing enough, why not promote the idea HERE and promote training or do naval engineers come cheaper elsewhere? The London Daily Telegraph, November 30, 1997 reports that doctors from overseas training in Britain are replacing staff and working unsupervised and unpaid for the National Health Service. …
They are attracted to Britain for training that is not always available in their own countries and the prestige of working for the NHS. … In 1990, 21 per cent of all hospital doctors in England were from outside the EU [European Union]. By 1996, this had risen to 24 per cent. This is the kind of money-saving option that will no doubt appeal to the government of Canada; except that in large parts of Asia and Africa, up to 90 per cent of the population are infected with hepatitis B (London Times, Feb 17, 1998) The most infectious blood-borne disease, hepatitis B can be passed to a patient even if the doctor is wearing latex gloves (Toronto Star, March 1, 1998) Is this a trend worth pursuing?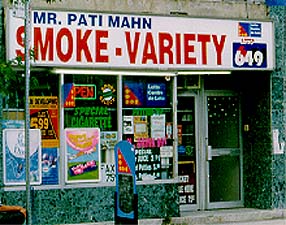 Will Canadians Find Jobs Here?
Hansard is the official transcript of the House of Commons. This exchange took place between John Reynolds (West Vancouver—Sunshine Coast, Ref.) and Lucienne Robillard, Minister of Immigration, on October 28, 1997 — judge for yourself.
Mr. Reynolds: Last Thursday the minister justified increasing current immigration levels contending that the Canadian economy was growing, inflation was down, interest rates were low and hundreds of thousands of new jobs had been created. The same day the prime minister asked the United Kingdom Chamber of Commerce 'to take our jobless youth off our hands and hire them as interns.' Who is right on Canada's ability to absorb more immigrants, the minister or the prime minister?
Mme. Robillard: Mr. Speaker, I am very proud that we can welcome even more immigrants into this country, because they are contributing to the development of our economic and social life. It is very clear from the figures we have that we can increase the number of new arrivals into Canada next year and we are very pleased about this.
Mr. Reynolds: Mr. Speaker, I think the prime minister was right. There is 16% youth unemployment in the country right now. Will the minister admit that she is wrong and revise the immigration levels?
Mme. Robillard: Mr. Speaker, there is no study or analysis showing a direct connection between the rate of unemployment and immigration to this country. None whatsoever. — None but the evidence of our own eyes.
An Immigration Canada press release dated March 8, 1998, boasts the number of foreign workers issued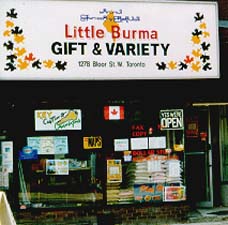 employment authorizations for computer/software jobs (through all channels, including validation and NAFTA) for 1997 was close to 4,000. Yet, Damian R. Kanarek, president of Infotask International, writing in the July 18, 1998 Globe and Mail, says, There is no shortage of software developers in the Western world. There is a shortage of cheap software developers. … A 30-year-old American or Canadian developer with five to seven years of experience can demand far more than the $46,000 and $60,000 that a 30-year-old Indian developer will get. So, what do companies do? They don't hire expensive local staff. They cry about there being a 'shortage' thus pressuring the government to allow them to bring in cheaper foreign staff. … Companies should be honest and call it what it really is. What kind of government betrays the aspirations of its own citizens? Recently graduates of DeVry Institute launched a class-action suit against the school, having discovered too late that there ARE no jobs for them (at a living wage) in this country. Many of our best graduates head to a less-taxed U.S. Direct and indirect costs to the taxpayer are incalculable while Immigration Canada hustles to invent new excuses to bring cheap labour in to displace skilled Canadians.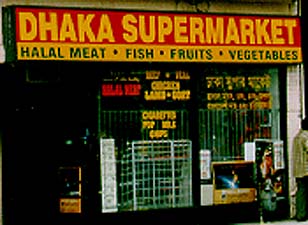 This is bad enough, but should Canada be advertising low-grade job prospects overseas? No-brainer and/or hobby postings are published along with a score * which advises the prospective immigrant how much each specific work category is worth to their over all rating. An occupation found on the General Designated Occupations List is good for 10 points, plus the number of points shown in the ETF column (points increase with experience). Fluency in one of the official languages is worth just 9 points. Curiously, while a PhD earns 16 points, bakers pick up a quick 15. Is a foreign diploma really so worthless? If it is, why are we bothering? (Guide for Applying for Permanent Residence in Canada)
But more than that, Canada is steadily undermining the very terms of the social contract. According to the Globe and Mail of July 11, 1998, we have been learning to tolerate higher and higher unemployment levels, (typically twice those of the United States) at a time when our immigration numbers are approaching record highs. Unemployment in Canada has steadily risen since the 1950s (4.2 per cent), the 1960s (5.1 per cent), the 1970s (6.7 per cent), the 1980s (9.3 per cent), and, in the 1990s, it has hit peaks nationally of 11 per cent. For youth, unemployment stubbornly stands at more than double that figure.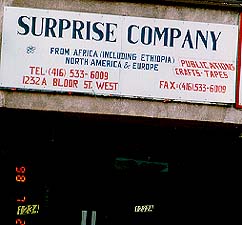 Automation is stealthily replacing not just jobs, but whole sectors of employment; yesterday's receptionist is today's futile experience in the age of voice mail . Technology has made travel agents largely redundant. Laboratory assistants are unnecessary where routine tasks have been relegated to automated systems — and what has escaped? We are already successfully interacting with automated booking systems, on-line banking, automated tellers, syndicated selling — centralized labour saving systems which serve no immediate purpose other than to eliminate wages, pensions, sick leave, holiday pay, and, ultimately, careers. However, something else is being eradicated: machines produce goods, but they don't buy them, and they don't pay taxes. People still require social services, even as there are fewer employed paying into the system, or are, as presently, at ruinously high taxation levels.
Again, immigrants tend to use social services at disproportionate rates (free English language instruction being just the most visibly indefensible example). As immigrants age, (as they must) they will naturally rely ever more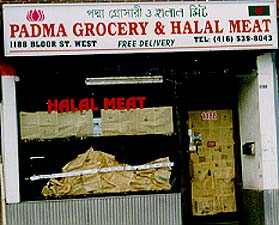 heavily on services supported by a shrinking work force. Indeed, they might very well consistantly withdraw a disproportionate share over the course of their entire lifetime, when we consider what will be contributed by a workforce which is being perpetually downsized. Yet, haven't we been repeatedly told that we need immigrants as our population ages, as if we need millions upon millions of, quite possibly, unemployable people to keep us and our machines company through our dotage. Canada has chosen the slow, deliberate route to penury; so, our population swells. And it might be argued that people who failed to sort out their own poverty and problems back home are unlikely to solve ours here.
The GENERAL OCCUPATIONS LIST describes itself as, a working tool for the selection of independent immigrants .
Another document prepared by Immigration Canada entitled, Do You Want to Immigrate to Canada? offers Settlement assistance … and loans to help with transportation to Canada.
NOC Title Occupational Factor ETF* 1221.0 Administrative Officers 1 7
7437.0 Air Transport Ramp Attendants 1 5
6433.5 Airline Station Agents 1 7 3213.0 Animal Health Technologists 5 15 5231.0 Announcers and Other Broadcasters 1 15 5131.4 Art Directors 3 15 6252.0 Bakers 1 15 1434.1 Bank Clerks 1 5 6271.2 Barbers 1 2 7266.1 Blacksmiths 5 2 6463.2 By-Law Enforcement Officers 5 7 7247.2 Cable Television Maintenance Tech 3 7 7247.1 Cable Television Service Technicians 3 7 5244.1 Carvers 1 15
4212.0 Community and Social Service Workers 5 2 1226.0 Conference and Event Planners 1 1 6242.0 Cooks [as distinct from chefs] 10 7 1244.1 Court Recorders 5 15 5244.8 Craft Instructors 1 15 0122.2 Credit Managers 3 15 5131.2 Directors 3 15 4216.2 Driver's Licence Examiners 1 1 4216.1 Driving Instructors 1 1 6681.1 Dry Cleaning and Laundry Machine 1 2 Operators 4166.0 Education Policy and Researchers, 1 17 Consultants and Program Officers 7244.0 Electrical Power Line and Cable Workers 5 15 2242.0 Electronic Service Technicians 1 7 (Household and Business Equipment) 6272.2 Embalmers 1 15 4213.0 Employment Counsellors 3 7 1222.0 Executive Assistants 1 7 5243.3 Exhibit Designers 1 15 0721.0 Facility Operation Managers 1 15 4153.0 Family, Marriage and 5 18 Other Related Counsellors 5243.2 Fashion Designers 1 15 1434.3 Financial Clerks 1 5 1114.2 Financial Examiners and Inspectors 3 7 1114.3 Financial Investigators 3 7 6262.0 Firefighters 3 5 2122.0 Forestry Professionals 1 17 7342.2 Furriers 1 2 5244.2 Glass Blowers 1 15 2225.2 Golf Course Superintendents 1 7 7383.1 Gunsmiths 5 7 6271.1 Hairstylists 1 2 4169.4 Historians 1 18 4164.2 Home Economists 1 15 4164.3 Housing Policy Analysts 1 15 6481.1 Image Consultants 1 5 5242.0 Interior Designers 1 15
4164.4 International Aid and Development 1 15 Project Officers 5125.3 Interpreters 1 15 7344.1 Jewellers and Related Workers 1 15 5123.0 Journalists 3 15 5226.2 Key Grips 1 15 5111.0 Librarians 3 18 5211.0 Library and Archive Technicians 1 15 and Assistants 4169.5 Linguists 1 18 1232.0 Loan Officers 3 5 7383.2 Locksmiths 5 7 7332.2 Major Appliance Repairers/Technicians 1 15 5226.5 Make-Up Artists 1 15
7342.3 Milliners 1 2 7322.0 Motor Vehicle Body Repairers 1 2 5212.4 Museum Extension Officers 1 7 5212.3 Museum Guides and Interpreters 1 7 2261.0 Nondestructive Testers and Inspectors 3 5 3144.0 Other Professional Occupations in 10 15 Therapy and Assessment 7445.0 Other Repairers and Servicers 1 2 7335.0 Other Small Engine and 1 7 Equipment Mechanics 5226.7 Other Workers in Motion Pictures, 1 15 Broadcasting and the Performing Arts 1223.0 Personnel and Recruitment Officers 3 15 5221.0 Photographers 1 2 5244.4 Potters 1 15 5254.0 Program Leaders and Instructors in 5 5 Recreation and Sport 1224.0 Property Administrators 1 5 5227.3 Props Persons and Set Dressers 1 7 1225.0 Purchasing Agents and Officers 1 15 2262.2 Railway Accident Investigation Officers 1 15 7314.0 Railway Carmen/women 1 2 7441.0 Residential and Commercial Installers 1 2 and Servicers 6421.0 Retail Salespersons and Sales Clerks 3 2 4143.0 School and Guidance Counsellors 1 17 4216.3 Sewing Instructors 1 1 7343.2 Shoe Repairers 1 2 7343.1 Shoemakers 1 2 5223.4 Sign Painters 1 2 7332.1 Small Appliance Servicers and Repairers 1 7 4164.5 Social Survey Researchers 1 15 4152.0 Social Workers 5 17 5244.5 Stained Glass Artists 1 15 7342.1 Tailors and Dressmakers 1 2 5212.8 Taxidermists 1 7 7246.1 Telephone Installers and Repairers 1 15 1113.2 Traders 3 7 5125.1 Translators 1 18 6431.0 Travel Counsellors 1 15 7341.0 Upholsterers 1 7 7344.2 Watch Repairers 1 15 7265.0 Welders 1 15
* NOC = National Occupation Classification
* ETF = Educational and Training Factor — The level of education/training for average
performance in the occupation in which you are qualified to work in Canada.
Revised: May 21, 1997
The list above contains only the most egregious examples. You may wish to visit the Government of Canada site and find others: http://cicnet.ci.gc.ca/english/immigr/occ/occup1.html
for admissability requirements and calculations, see: http://cicnet.ci.gc.ca/english/faq/ask-17e.html