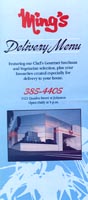 Click on Mings Menu to see an enlargement of their prices for all food.Cho is cagey about the cost of feeding the illegals. He says he provided meals from his menu. "I gave them a little discount from the going rate." Cho's takeout menu shows dinners in the $10.00 range, before taxes.
Thus, a ballpark figure for feeding the illegal ingrates would be about $60,000! Ming's Restaurant has won the "Best Chinese Menu" award for the last five years, from 1995 to 1999 given by the Victoria News.
Speaking of the complaining illegals now turned cuisine critics, a confident Henry Cho says: "If they don't like it, it won't bother me at all."
Sign our petition against illegal immigration!