Canada is making great strides. A week ago a couple of 
NDP wannabees wanted CFIRC charged with hate
 for "noticing" that tuberculosis is a threat to Canadians. Today, that threat has Canada's front line immigration officers threatening to walk off the job!
On Friday 40 Tibetans simply showed up at a downtown shelter and claimed to be refugees. One would-be refugee told CBC News he came to Canada because "you'll be accepted."
CBC Newsworld | Aug 18, 1999
---

CBC Newsworld <excerpted> WebPosted Aug 16 1999 6:45 PM EDT
More Tibetans Arrive at Homeless Shelter
TORONTO – Another 28 Tibetans arrived at the Seaton House shelter last night in FIVE TAXIS DIRECT FROM THE FORT ERIE BORDER CROSSING.
They join the 30 from last week and now there's close to 60 staying at Seaton House. There's only 550 beds at this city- run men's hostel… and THE TIBETANS DIDN'T WANT TO STAY IN THE MAIN QUARTERS.
"IT WAS INCONGRUENT WITH THEIR LIFESTYLE and many of them are holy people,"says Boris Rosolak, the Seaton House manager. "THEY FOUND IT TOO CROWDED FOR THEIR LIKING. SO THEY WERE MOVED TO THESE MORE PRIVATE ROOMS."
---
So hostelling arrangements, good enough for Canadians, are hopelessly inadequate by Tibetan standards are they? What next – a hunger strike? Ironically, this arrogance may have spared some of Canada's growing legions of the homeless exposure to a deadly disease …
---

Tibet refugees may carry deadly TB Five claimants in quarantine; immigration officers threaten walkout over disease fears
At least five of the several hundred Tibetan refugee claimants who have crossed the border from the United States into Ontario recently have the frightening drug-resistant strain of tuberculosis, immigration authorities have confirmed to The Globe and Mail.
Worried about the risks of catching the TB microbe — which can be spread by a cough or a sneeze — immigration border guards are threatening to walk off the job.
The five are among nine infectious Tibetan TB carriers who are or were being quarantined in Toronto after going through medical screening. The number of those with dormant TB is not known.
Multidrug-resistant tuberculosis is not only virulent and deadly if left unchecked, but also is extremely difficult and expensive to treat. One TB specialist estimates that the total cost for one MDR patient is more than $ONE-MILLION.
Sister Mary Jo Leddy, a Roman Catholic nun and refugee advocate, cautioned against stereotyping the dispossessed as diseased. Still, she wondered why, if the problem is so serious, immigration and health officials HAVE NOT NOTIFIED HER and others sheltering Tibetan refugee applicants.
"How come we don't know? We're living with them," said Sister Leddy from Romero House, a Toronto refugee shelter.
The actual numbers of those with active TB may be higher because NOT ALL OF THE 400 TIBETANS WHO HAVE MADE REFUGEE CLAIMS SINCE LAST NOVEMBER [!!!] HAVE HAD MEDICAL TESTS, nor do the numbers take into account those waiting in a Buffalo, N.Y., shelter for refugee-interview appointments in Canada.
"That is the concern that was raised with us by health authorities," Immigration Department spokeswoman Giovanna Gatti said yesterday. "We take any incident where public health is at risk seriously and treat it with priority, and right now we're working together with public-health authorities to develop a plan to minimize putting the Canadian public at risk." REFUGEE CLAIMANTS HAVE 60 DAYS TO HAVE A HEALTH-SCREENING TEST FROM THE TIME OF THEIR APPLICATION.
Under an agreement between Canada and the United States, migrants who appear at the border posts in Fort Erie and Niagara Falls are often asked to wait in Buffalo until such appointments are scheduled. Canada is obliged to consider their claims, and ILLNESS IS –NOT– A BAR TO PROCEEDING.
Directors of La Casa, the Buffalo shelter that is the main clearing house for Canada-destined refugee claimants before they proceed to the Peace Bridge, COULD NOT BE REACHED.
The health risk has alarmed immigration officers working at the border posts. They are threatening to walk off their jobs.
"This is a very dangerous situation for both the immigration officers and the public since exposure to the disease does not produce immediate positive results at testing and therefore we may be allowing infected individuals into the general population," one officer wrote to another in internal E-mail correspondence.
Dr. Monica Avendano, a respirologist and head of the TB program at West Park Hospital in Toronto, said yesterday that all MDR cases in Toronto and the surrounding southern Ontario area are treated at her hospital.
She said that there are currently 11 MDR patients at West Park. She declined to say if any are Tibetans.
"I'm sorry I cannot tell you any specifics. . . . How many are Tibetans, how many are not Tibetans I won't tell you."
Last year, Dr. Avendano told The Globe that the drugs for MDR tuberculosis cost about $250,000. If one added the cost of hospital care, the inability to work and, sometimes, the need for surgery, THE COST WOULD BE MORE THAN $1-MILLION FOR ONE PATIENT. [nb. Canada does not test immigrants & refugees for HIV AIDS either]
Even then, there are no long-term studies showing whether such expensive treatment works in the long run or whether patients relapse within five years.
Relapses are worrying for TB experts such as Kenneth Castro, director of the division of tuberculosis elimination at the U.S. national Centers for Disease Control and Prevention.
"If we sit back and allow drug resistance to grow unchecked, we may one day be faced with incurable tuberculosis," he told the Washington Post.
Alan Lennon, senior Ontario business representative of the Canada Employment and Immigration Union, has more immediate concerns.
"One is our members at the border dealing in an interview situation with these individuals and therefore being exposed to tuberculosis.
"Also, without proper controls either in the States before they come to Canada, or at the Canadian border, THERE MAY WELL BE PEOPLE RELEASED INTO THE CANADIAN PUBLIC WHO POSE A HEALTH THREAT TO PEOPLE THEY MEET ON THE STREET, PEOPLE WHO GET ON THE SUBWAYS, THE STREETCAR, BUS, SHOPPING PLAZAS, WHATEVER."
Mr. Lennon also said that non-governmental organizations such as La Casa do not deal just with Tibetans.
"So it's not clear who's been there, what they have been exposed to and what they may be carrying."
WHERE TB STRIKES
While tuberculosis is a rare disease in Canada (about seven cases a year per 100,000 people), the number is higher among certain groups, such as aboriginals, people with HIV and immigrants from developing countries.
The Ontario Medical Association says there are about 2,000 new cases of TB in Canada each year. Toronto, with 450 to 500 cases of TB a year, has an incidence rate three times the Canadian average.
Last year, Kaarim Kurji, then associate medical officer of health for York Region, north of Toronto, estimated THERE MAY BE AS MANY AS 6,000 CASES OF ACTIVE TB WAITING TO DISPERSE.
In the early 1990s, New York City, suffered a frightening outbreak of MDR TB. So far, authorities there have spent more than $700-million (U.S.) to bring the epidemic under control.
(ESTANISLAO OZIEWICZ, The Globe and Mail, Tuesday, September 7, 1999) http://www.globeandmail.com/gam/National/19990907/UTUBEN.html
nb: This is additionally distressing when the same page reports: "Hospitals often miss malnourishment among aged"
---
Health Canada: Hey, a little TB's no reason to restrict immigration.
Once again, how high does the corruption go in Canada's immigration-biz?
---

HEALTH CANADA
Proceedings of the National Consensus Conference on Tuberculosis December 3-5, 1997 (Last modified June 11, 1998)
Immigration Recommendations
4.1 It must be acknowledged that TUBERCULOSIS IN IMMIGRANTS, REFUGEES, VISITORS, STUDENTS AND THOSE RETURNING FROM COUNTRIES WHERE TUBERCULOSIS IS ENDEMIC IS THE MAJOR ISSUE FOR TUBERCULOSIS CONTROL AND ELIMINATION: before, at and after arrival.
4.2 THE ISSUE OF TUBERCULOSIS SHOULD –NOT– BE A REASON TO RESTRICT IMMIGRATION.
4.3 CURRENT POLICIES AND STRATEGIES FOR THE CONTROL OF TUBERCULOSIS IN THESE GROUPS DO –NOT– APPEAR TO BE VERY EFFECTIVE and indicate that they need to be evaluated on a priority basis.
4.4 Strategies must be modified and/or developed as a priority to effectively detect and prevent tuberculosis in these groups.
4.5 The control of tuberculosis in these groups must consider the following issues: screening with tuberculin skin testing, HIV screening, barriers to case finding and case holding, specific procedures for individuals from high-risk countries, the relative burden of illness in particular groups, education, medical insurance, –MULTICULTURAL ISSUES–, involvement of affected groups, access to the health care system.
GOVERNMENT OF CANADA
http://www.hc-sc.gc.ca/hpb/lcdc/publicat/ccdr/98vol24/24s2/24s2f_e.html
* * * *
Note recommendations 4.1, 4.2, 4.3:
Immigration represents a threat in terms of tuberculosis control. Current strategies are not effective. Ergo – tuberculosis (in "manageable" amounts) is good for you?
---
PROTECT YOURSELF AND YOUR FAMILY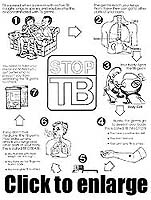 Find out about TB – and How to protect yourself