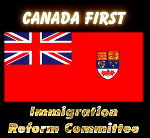 On September 14, 1997, the United Chinese Community Enrichment Services Society (Canada's largest Chinese organization) accused Immigration Canada of setting discriminatory country-by- country immigration quotas.
The immigration department responded with break-neck haste — within two days: September 16, 1997
Canada Does Not Set Immigration Quotas
OTTAWA — Lucienne Robillard, Minister of Citizenship and Immigration and M.P. for Westmount/Ville-Marie, responded today to media reports alleging that the department of Citizenship and Immigration sets immigration quotas on a country-by-country basis.
"I must correct inaccuracies that have been reported recently concerning immigration levels," the Minister said.
Citizenship and Immigration annually assigns processing targets to missions based on the volume of cases in process and on historical data from previous years; this is to ensure that cases are processed efficiently and to monitor the shifts in workload which would require a reassignment of resources.
These processing targets are reexamined throughout the year. The suggestion that Canada uses this management tool as a means of favouring or preventing certain groups of people from migrating to Canada is absurd. The facts speak for themselves. To date in 1997, the five leading source countries for immigration are:
Hong Kong — 18,200
People's Republic of China — 14,000
India — 13,800
Taiwan — 10,375
Pakistan — 8,200.
[N.B. these figures are PRIMARY immigrants, dependant family members are not included]
"Our actual figures for 1996 as compared to the forecast for that year are tangible proof that the government does not follow a quota system in our immigration planning," Minister Robillard noted. The Immigration Plan for 1996 had set 195,000 – 220,000 as the overall range of immigrants and refugees. The actual number of landings exceeded that plan: a total of 225,313 immigrants and refugees. (Press Release, September 16, 1997) If these figures are indeed based on "historical data from previous years", shouldn't Canadians expect to see a little European immigration?
Lucienne Robillard is a Quebecoise, her riding and her region are exempt from federal immigration policies. Quebec is the only province permitted to select the number and kind of immigrants it wishes to accept. Although Quebec consistantly falls short of projected numbers of immigrants it would theoretically be willing to accept, (the City of Toronto takes in more immigrants over all) Quebec nevertheless enjoys 1/3 of federal immigration transfer payments.