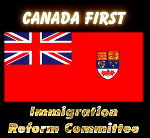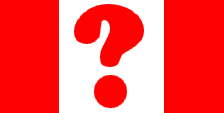 Trusting Citizenship and Immigration Minister Lucienne Robillard's assurance that she sought a broad range of views on the 172 recommendations proposed by her Legislative Review Committee, the Canadian Immigration Hotline commissioned a Decima Research Poll to sound public opinion on key immigration issue. We had hoped to be able to present the findings to the Minister in either Vancouver or Toronto.
Like many other immigration reformers, we were turned down. Ironically, Decima found that only 36.1% of Canadians had heard of Mme Robillard's hearings, while 63.0% had not. ["Are you aware that the Government of Canada is conducting a review of immigration policy and is seeking public input?"] This, we believe, is a further reason, consistent with other findings of the poll, to have a five year moratorium on immigration, during which there is a full public debate — not a two month rush-to-judgment, –followed by a binding national referendum on immigration policy.
This is the position we've advocated in a written submission to Mme Robillard. Our poll, which questioned 2002 Canadians, between February 7 and 15, 1998 and which has an error margin of +/-2.2, strongly suggests that Canadians want a breather from the heavy immigration flood of the past 5 years, during which we have accepted more than 1.2-million people.
The poll we commissioned found that Canadians:
want a 5-year moratorium on immigration so that we can get the unemployed back to work
believe that immigration levels are too high
believe that immigration intake is out of balance and that too many come from the Third World
believe immigrants should qualify themselves to come here. Immigrants should learn English or French before they get here.
Furthermore, there's a wakeup call contained in the poll. A substantial minority of Canadians, especially in the areas of high immigrant concentration want fewer visible minorities.
*For the past five years, Canada has admitted between 200,000 and 225,000 immmigrants annually. Do you think this number is:
B.C. Alberta Too high 44.5% 49.4% About right 43.8% 35.8% Too low 6.8% 6.4%
*Do you support a five year moratorium on immigration so that unemployment levels can be reduced?
National Yes 50.0% No 43.9% Don't Know 5.7%
*Today more than 85% of immigrants come from the Third World. Do you believe this figure is:
National B.C. Alberta Ontario Too high 48.3% 56.6% 52.9% 51.2% About right 39.6% 34.6% 34.3% 34.6% Too low 3% 2.2% 3.0% 2.6%
*Immigrants should not upset the ethnic balance of a community.
National B.C. Alberta Ontario Agree 43.7% 46.3% 41.5% 39.45 Disagree 36.1% 35.6% 39.9% 38.8% Don't know 3.8% 3.4% 5.6% 4.5%
*Should Canada require that immigrants and refugees be able to speak English or French?
National B.C. Alberta Ontario Quebec Yes 72.65% 69.2% 70.8% 69.8% 84.3% No 24.6% 26.7% 28.2% 27.1% 13.9% Don't Know 2.55% 3.2% 1.0% 2.75% 1.5%
*Should we accept more, fewer, about the same:
People of African/Caribbean origin
National B.C. Alberta Ontario Quebec More 9.1% 14.0% 11.0% 8.64 7.7% About the same 53.3% 53.4% 54.6% 49.35 53.8% Fewer 28.0% 24.5% 25.4% 29.1% 32.7%
People of South Asian (East Indian) origin
National B.C. Alberta Ontario Quebec More 6.6% 6.1% 3.7% 7.4% 6.9% About the same 51.6% 48.2% 47.6% 49.1% 55.4% Fewer 32.1% 37.6% 39.1% 29.9% 31.9%
People of East Asian (Oriental) origin
National B.C. Alberta Ontario Quebec More 7.9% 4.7% 5.6% 7.1% 11.55 About the same 51.9% 48.1% 49.5% 50.9% 52.9% Fewer 31.1% 40.2% 36.9% 29.4% 30.0%
People of European origin
National B.C. Alberta Ontario Quebec More 20.9% 23.8% 22.1% 22.3% 21.5% About the same 53.4% 51.1% 53.3% 50.2% 55.5% Fewer 16.6% 15.6% 15.6% 15.5% 17.8%