"Persons and groups critical of Canada's virtual open-door immigration policy are being systematically excluded from what is supposed to be open consultations with the Legislative Review Committee," charges Paul Fromm, editor of the Canadian Immigration Hotline.
"Many of us who have been excluded will demonstrate at 8:30 a.m.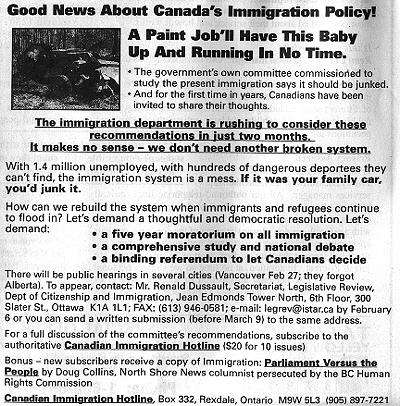 tomorrow as the hearings open to protest this undemocratic act," Fromm adds. The hearings, which open in Toronto, March 3, intend, according to Renald Dussault, Executive Head of the Legislative Review Secretariat, to "accomodate a broad range of views." Fromm and many other critics, however, were informed 10 days ago that there was no room for them at the Legislative Review consultations. "Citizens for Foreign Aid Reform commissioned an extensive poll on Canadian attitudes to immigration precisely for these hearings," says Fromm. "Now we're being told, 'Put it in the mail.' This Legislative Review consultation is a farce. It's the immigration lobby talking to the immigration lobby — the same old special interest groups. Who speaks for the Canadian majority?" "Our poll found that 50% of Canadians support a 'five year moratorium on immigration so that unemployment levels can be reduced'," says Fromm. The poll was conducted by Decima Research between February 7 and February 15, 1998.
"Canadians feel immigration levels are too high and are very uneasy about the preponderance of Third World immigrants," says Fromm. Nationally, 43% found present immigration levels too high. This figure rose to 46.4% in Ontario. Asked about the levels of Third World immigration, 48.3% nationally found them too high. However, this figure rose to 51.2% in Ontario.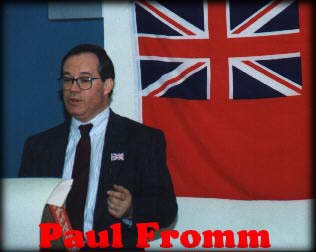 Nationally, 43.7% felt that immigration should not alter the ethnic balance of their neighbourhood. "Our poll shows that Canadians have serious concerns about both the numbers and the makeup of present immigration. They want a breather. It's time their voices were heard," says Fromm. "Last week's hearings in Vancouver were a travesty," said Fromm, who along with Reform MP John Reynolds, his party's immigration critic, and longtime immigration reformer and former member of the Immigration Appeals Board Charles Campbell were turned down in their bid to make presentations before the committee.
"However, no fewer than three ESL lobby groups presented and all predictably opposed the requirement that prospective immigrants be able to speak English or French. Sadly," Fromm added, "no one pointed out that these groups were merely protecting their vested interest — a steady flow of linguistically challenged clients!"
Canadian Immigration Hotline is published monthly. Canadian Immigration Hotline, Box 332, Rexdale, Ontario, M9W 5L3. 905-897-7221l Fax: 905-277-3914