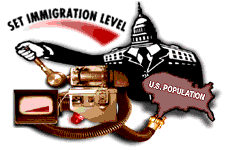 RE: "Our" public education system's failure and IMMIGRATION
The only predictor of a student's academic success is mother's level of education. Our nation's destroyers, now running the US and various state governments, have established the forced importation (called "immigration) of uneducated, illiterate third worlders by the millions. Many of these imports cannot read or write in the "native" languages. In some cases (Hmong), they HAVE no written language! But they do know how to breed, with fertility rates 200-700 % higher than American white and black women, who average one year of college vs. the elementary school level of the "New Americans." Thus we now have the "New Schools".
This study of education failures (Fed Brief 99-33) is nothing less than a mirror of the populations currently streaming into the US, part of the plan to destroy us from within. GENOCIDE. It is the path to slavery for our nation's Euro-American people. As our public schools collapse (and that is imperative now, if we are to save the Republic and educated, thinking middle class), the plan unfolds today at an exponential pace.
In California, more than half of the state's budget is spent on education. My research revealed that virtually every third world student was labeled "at risk", triggering all kinds of extra, costly services. The REAL losers are the Euro-American White boy and girl. They pick up the crumbs leftover. And the White and Black American citizen taxpayers are the serfs, paying the bill why OUR CHILDREN (not the imports) get nothing.
Many WHITE EURO-AMERICAN parents pay twice: taxes for our emerging third world public schools while also subsidizing their kids "private schools" tuition. Some home school, at great cost to their households, and isolating their kids from their natural allies who share their values. The "opportunity" school voucher programs being proposed by our maximo-leaders are for the POOR: immigrants, of course. Increasingly, tax-subsidized charter schools are race/ethnicity based, with Afrocentric, American Indian, etc. staffs and culture at their core.
Given the academic predictor: parents' education level (and the fact that most immigrants are vastly undereducated), we can NEVER get these foreign import students to perform at the same level as their American white peers. Period.
But the TRANSFER OF WEALTH, from American taxpayer to imported, impoverished family with "great family values" persists under the guise of helping students who are simply bottomless pits of dollar diversions. I have come to believe that is part of the protocols to (economically) destroy Euro-Americans.
Then we who are Americans must ask ourselves a profound question: *WHY DO WHITE AMERICAN BOYS HAVE THE HIGHEST RATE OF SUICIDE? *WHY ISN'T THIS RECOGNIZED AS THE ULTIMATE "AT RISK" CHILD? *WHY DO WHITE AMERICAN GIRLS TEST LOWEST ON SELF-ESTEEM TESTS?
Is it because they feel rejected in school? Is it because our culture is denigrated by the culture destroyers who have infiltrated and taken over our public educational system, with ample help from a Congress intent upon ethnic cleansing and cultural genocide accomplished through current immigration policies???
WHERE ARE THE SOCIAL PROGRAMS that Ms. "I can't relate to the pilgrims" lesbian-misfit Donna Shalala would pick our pockets to cover costs associated with 'helping the children' if only these children were NOT Euro-Americans???
No, OUR children will suffer, wither, and die, literally as a direct result of today's public educational system.
What sane people allow this to happen even as they shuffle off to work to pay Uncle Samuel to give us more?
This assault on OUR children is itself enough to result in the civil war I believe is inevitable as our people wake up to what is REALLY going on.
And every President/Vice President, Congressman and bureaucrat who persists in bringing even one more cash drain, low IQ, high fertility, destined-to-low performance in our society's social systems, should be labeled, and then tried, as a traitor.
Ms. Terry Graham
P.S., If our lying Secretary of Education lies again to tell us that Baby Boomers and the Baby Boom echo are responsible for our population growth nearly equaling that of India, and thus, burdening our schools, I will vomit. Take a look at the demographics/race of the "New American Students" and tell me: How did so many European-Americans — who made up 90% of the stock of the baby boom — give birth to ASIAN, LATINO, and OTHER Non-European students. Genetic mutation????