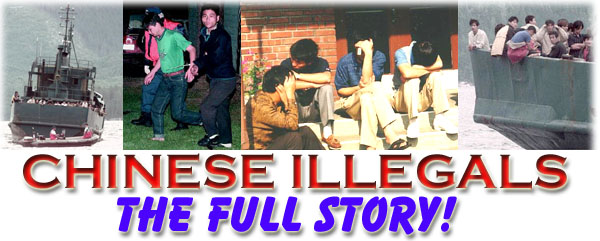 Stowaways land as anti-smuggling planning starts Seattle-bound Chinese discovered when ship diverted to Vancouver
Ian Bailey and Mark Hume National Post, with files from The Canadian Press Wednesday, January 05, 2000
VANCOUVER – The discovery of 25 Chinese stowaways in a ship's container marks an escalation of illegal migration just as the armed forces, police and customs officials are preparing to develop a plan for dealing with human smuggling.
J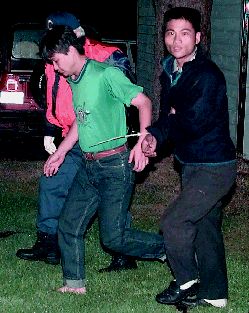 im Redmond, an Immigration spokesman, noted that 100 stowaways were found in Canadian ports last year, mostly on the east coast and usually in groups of one or two.
"But this is a larger number," Mr. Redmond said yesterday. "It's too soon to call this a trend, but we're certainly going to have to monitor the situation closely."
The RCMP, the military and the Customs Department, involved in dealing with the 600 Chinese migrants who came to the west coast last year in boats, will meeting on Jan. 20 to develop a strategy for dealing with new arrivals expected this year, said Mr. Redmond.
On Monday, the 25 Chinese stowaways were found living in "semi-trailer truck"-sized containers on the California Jupiter, a Seattle-bound ship making a stop in Vancouver.
The shipping agent, New Jersey-based NYK Line North America was fined $375,000 for the incident, the largest penalty ever handed out by Canada Immigration.
The ship was not allowed to leave port until the fine was paid. Calls to NYK were not returned.
Also Monday, Seattle officials found 12 Chinese men in a ship. A day earlier, 18 stowaways were found in a ship at Long Beach, Calif.
In Vancouver, the 25 men — 21 adults and four juveniles — were being held at a downtown pretrial centre being processed by Immigration officials. All were in good health despite spending at least 15 days locked in the depths of the ship.
Rob Johnson, an Immigration spokesman, expects most will claim refugee status. He said the "very well-attired" stowaways are from Fujian province in China, home of migrants on the four boats that arrived in B.C. last summer.
The ship was to head straight for Seattle, but was diverted to Vancouver because of a port backlog in the United States.
The men were found after Canadian agencies, including the RCMP, Canada Customs and Immigration, homed in on the container ship, acting on a tip from U.S. authorities, officials said.
An alert customs agent, crawling through the depths of the Jupiter, heard voices coming from one of hundreds of containers piled within the ship, RCMP Corporal Grant Learned said yesterday.
The ship left Hong Kong on Dec. 20. The RCMP has concluded the stowaways were headed for Seattle, where the cargo was to be offloaded.
"That would lead you to suggest that Canada was not the destination point for these people," said Cpl. Learned.
RCMP said the captain and crew were co-operative and apparently had no idea the stowaways were aboard. Still, police are conducting an "international investigation" to find the smugglers, said Cpl. Learned.
—— Tuesday, December 28, 1999
B.C. MPs not surprised Ottawa knew early about illegal Chinese Two Reformers: 'They could have turned them back at an early stage': MP
Keith Fraser and Adrienne Tanner The Province
VANCOUVER – Two B.C. Reformers say they are not surprised by secret government documents that indicate Ottawa knew months in advance that a wave of Chinese migrants might be heading to British Columbia.
"It's not in their philosophical bent to stop people from coming into this country illegally, it's just not," said Randy White, a Reform MP. "I haven't seen it yet in all the six years I've been trying to get people deported. We use tax dollars to fight deportation."
John Reynolds, a Reform MP, agreed with his colleague.
"For whatever reason, they kept it secret, wanted to keep it secret, possibly so there wouldn't be any anger before it happened," said Mr. Reynolds. "The whole department seems to operate that way in everything they do."
Mr. White said if the government knew, it should have taken immediate action.
"They could've done the same thing the Americans did, they could have turned them back at an early stage," he said.
"If they didn't have the intestinal fortitude to do that, they could have at least prepared for it instead of putting the whole country up in a great battle about it."
Mr. Reynolds said the Liberal government should have contacted the Chinese government to put a halt to the 600 migrants who eventually arrived on four boats during the summer.
"The Chinese offered to help us stop it from happening. There's no reason we shouldn't have cooperated with them to solve this problem."
The secret government documents revealed that immigration officers warned the government that a crackdown on the flow of migrants into the United States had made British Columbia an attractive entry point, and that smuggling rings would try to smuggle large numbers of migrants into Canada.
Meanwhile, a poll has revealed that half of British Columbians believe the migrants should have been sent straight home.
Their opinions were gathered in a poll of 500 people across British Columbia carried out by Pollara from Dec. 1 to Dec. 6.
When asked how the government should have handled the situation, 45% said the migrants should not be allowed to stay and should be sent home; 30% agreed with the government's response in detaining the migrants until their refugee hearings; 12% believed the migrants should be allowed to work until their refugee hearings are held; and 3% said they should be allowed to stay on compassionate grounds.
Don Devoretz, a professor and immigration specialist at Simon Fraser University, was surprised the anti-migrant sentiment wasn't higher. "Forty-five percent isn't very high when you consider that 30% to 40% of people believe we shouldn't take immigrants in general. That is only a marginal increase."