The Canada First Immigration Reform Committee (CFIRC) hit the streets of Victoria on Saturday, October 2, to collect signatures on its petition calling on Parliament to deport the illegals, the recent Fukienese invaders, and to invoke the "notwithstanding" clause of the Constitution to require ALL would-be immigrants or refugees to apply and be vetted abroad.
CFIRC activists took up their post on Douglas Street outside the Eaton's Centre. The petition signing had been announced that morning on C-FAX Radio. Passersby were attracted by brightly lettered signs announcing the petition to deport the illegals.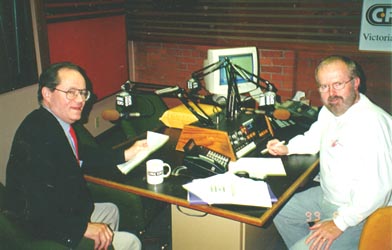 Paul Fromm talking about Immigration Reform on C-FAX Radio
A car screeched to a halt. Eager hands reached out the window: "We'll sign," said the couple inside. And so it went for over an hour and a half — young and old, pensioners and workingmen and women in their work clothes, even a few native Indians and Indians and Chinese lined up to express their displeasure at Canada's toothless laws that invite the invasion that is now under way.
Many passersby echoed one lady's statement: "It's about time: Where have you guys been?"
The odd surly pedestrian mumbled, "racist!" One hysterical woman became almost incoherent ranting about the "holocaust." A cursory examination of the neighbourhood revealed no gas chambers in sight. A small gaggle of scruffy leftovers from a pro-illegal demonstration eye-balled the CFIRC team. Howeever, they grew discouraged seeing the overwhelming support for the petition and eventually faded away into a local countercult youth haunt.