Smithers Residents Apply "Canada First" to Native Land Claims
Angry residents of Smithers and Houston, B.C. greeted Premier Ujjal Dosanjh at an April 26 photo opportunity where he was to sign a memorandum of understanding to guide land claims negotiations with the Wet'suwet'en Band.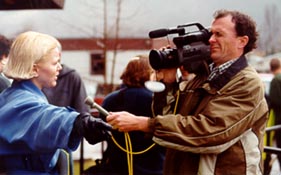 The demonstrators, led by spokesman Noelle Labby, used the "Canada First" approach suggested by Paul Fromm, Director of the Canada First Immigration Reform Committee and the Canadian Association for Free Expression. Fromm had been invited to do two talks in Smithers and Houston on threats to the freedoms of Majority Canadians posed by such New World Order schemes as gun control, native land claims, massive immigration and restrictions on freedom of speech, especially recent proposals by the B.C. Human Rights Commission.
Dosanjh was to ink the memorandum of understanding at a 5:00 p.m. ceremony at the Wet'suwet'en Band Office which was, until recently, a carpet store. According to The Interior News (April 26,2000): "'We're signing a government-to-government political accord,' said Wet'suwet'en Chief Negotiator Dan George."
Apparently alerted by RCMP shadows who hovered near the 25 protesters, mainly loggers and tradesmen, as they rallied at a nearby hotel, Dosanjh's entourage made a last minute change of plans and moved the ceremony several blocks away to another Indian centre.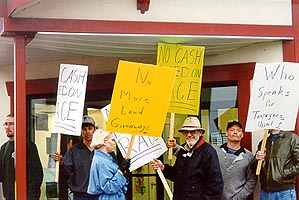 .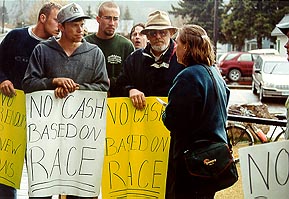 The protesters followed him marching several blocks through a heavy rain. They demanded that Dosanjh put the interests of Canada and Canadians first. Signs read: "No Cash Based on Race," "Who Speaks for the Taxpayers, Ujjal?" "No More Land Giveaways", and "Submit Treaty to Referendum."
Labby accused the B.C. premier of meddling and worsening race relations between Whites and Indians with the land claims proposals.
Local residents fear a freeze on their homes and farms after The Interior News indicated that the negotiations would be "establishing interim measures to protect areas while negotiations are taking place [to] leave land and resources for the Wet'suwet'en to come back to and use."
Protesters complained of two types of policing. The RCMP wouldn't tolerate Whites blocking roads. However, loggers have faced Indian roadblocks that have imperilled small local loggers and put them in danger of losing their businesses. The RCMP let the roadblocks remain for weeks.
The protest attracted extensive local radio, television and newspaper coverage.
Earlier Noelle Labby had gained prominence as an outspoken opponent of the Nisga'a land giveaway and had stood up for the rights of small loggers in disputes with the B.C. government.