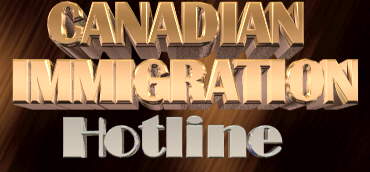 "Four out of every five Canadians [78%] say immigrants shouldn't be allowed to sponsor their families into the country until they're off welfare, [should we assume EVERYONE is collecting?] according to two immigration department surveys. The national surveys also found 61% of Canadians are in favour of immediate deportation of immigrants convicted of crimes. … The polls of more than 4,300 Canadians were conducted by EKOS and Environics Research groups between October 1996 and January 1997." (Toronto Sun, October 2, 1997) As usual, the press had to resort to the Access to Information Act to obtain the results. The immigration department callously admits the polls are used to set the "department's COMMUNICATION STRATEGY and not for setting POLICY." (Toronto Sun, Oct. 2, 1997) How heartwarming to discover that as a voter and taxpayer, your input is restricted to determining what kind of propaganda you'll be listening to next year. However, let's be fair. There are times when the immigration department does use feedback to shape policy: "Ottawa has spent thousands of dollars to find out what Chinese Canadians think about automated telephone answering systems.
The Chinese Technology Survey was conducted by Environics Research Group for the immigration department between December 1996 and last January. … The two-question survey obtained by the Toronto Sun asked how they [Chinese Canadians] felt about listening to a tape recorded message and pressing different numbers to obtain help. … The survey also asked if they agreed with the department's immigrant investor program, in which people are given landed immigrant status here if they invest $350,000. Most agreed. [No kidding] … Immigration spokesman Denis Boucher said the survey was conducted before his department automated their telephone help lines nationwide. 'We wanted to know how they (Chinese) felt about having to deal with electronic equipment,' Boucher said. 'We wanted to gauge their attitude.'" (Toronto Sun, Oct. 4, 1997)
Who Approved This One
"The U.S. Food and Drug Administration said yesterday it had taken a major step toward approving thalidomide, bringing the drug notorious for causing birth defects a step closer to the U.S. market. … An FDA advisory panel has recommended approval of the drug for the treatment of a side effect of leprosy." (Globe and Mail, Sept. 23, 1997) The side effects of unscreened immigration just keep providing us with new challenges, don't they? Just as a matter of interest, what is the current leper population in North America? (Apparently, enough to warrant the resurrection of this certifiably monstrous drug.) Can lepers have children? Would it be unfeeling to ask what kind of aggressive public health measures are taken to protect an unsuspecting and susceptible population?
Dictator's Henchman Advises Immigration Department
Here is another in a series of high-profile cases intended to reassure Canadians that the Immigration and Refugee Board is doing the very best job it can. Mohamed Sheik Olow was hand-picked by Siad Barre to serve as deputy governor of Somalia's North-West Province during Barre's murderous campaign against ethnic Isaaqs in the 1980s. Olow was declared a refugee in 1991 and won Canadian citizenship in 1995. "According to an Oct. 12, 1993, ruling by the immigration department, senior officials of the former Barre regime are denied asylum in Canada. … Immigration department spokesman Kevin Sack said the measures against former Barre officials could be applied retroactively, but couldn't explain why no action was ever taken against Olow. (Toronto Star, Aug. 28, 1997) "Doubts were later cast on Olow's claims when he testified before the immigration and refugee board on behalf of a suspected Somali war criminal who was later deported.
The board said at times Olow's testimony was not plausible and that he attempted to clear himself of all blame for crimes against humanity." (Toronto Sun, Aug. 28, 1997) — "precisely at the time when he was acting governor." (Toronto Sun, Aug. 27, 1997) Toronto's Somali community is underwhelmed by the presence of Mr. Olow here and his involvement with the refugee board, according to Osman Ali, chairman of the Somali-Canadian Association: "There are hundreds of Somalis in Toronto who were officials, some of them senior to Mr. Olow." (Toronto Sun, Aug. 29, 1997) Mr. Olow must have been born under a lucky star! Despite Immigration and Refugee Board efforts to distance themselves from yet another embarassment, Mr. Olow has occasionally done "some translation work for the IRB in the past, Olow is a liaison for a special working group set up this year by Immigration Minister Lucienne Robillard to deal with Somali refugees who want to become Canadian citizens. He's even had two private meetings with Robillard." (Toronto Sun, Aug. 28, 1997) It was initially reported that Mr. Olow made a living as an interpreter at IRB, but IRB officials have hastened to deny any such thing "Olow declined to say what his main source of income is. 'I support myself in many ways. Where there is a will there is a way,' he added." (Toronto Star, Aug. 28, 1997) Mr. Olow has decried media coverage, claiming that such unwonted attention is "harassment" and an "abuse of his rights as a Canadian." (Toronto Sun, Aug. 28, 1997) It is fortunate that the sensitive Mr. Olow is neither of European descent, nor teaching in Peel County. He would be horrified at the abuse of rights which can pass relatively unnoticed there.
CRIME WATCH
Failure to Deport Leads to Death
"One of the two teens charged with the first-degree murder in the execution-style shooting of Mohammed Mirhadi in a North Vancouver movie theatre in February was a failed refugee claimant who had been ordered out of the country before the killing took place. The other is a refugee claimant [illegal] who stands to lose his landed immigant status and be deported if he is convicted.. … Jon Ottelo Moroury, 18, and his father, mother, and sister were denied refugee status by both the Immigration and Refugee Board and later by the appeal division of the board. A removal order was issued, but was stayed September 11, 1996, when they sought leave to appeal to the Federal Court. … The other man charged with first-degree murder, Michael Caster, 19, is also a refugee from Iran. He and his family were granted refugee status and then granted landed immigrant status on September 17, 1992." (Vancouver Sun, Sept. 17, 1997) Now, the victim Mirhadi was no prize. He was a member of the drug-pushing Iranian ethnic mob, the Persian Pride. "Mirhadi is alleged to have been trafficking cocaine to earn his living before his death." [See Canadian Immigration Hotline #91, April, 1997) QUESTIONS: Who released gunman Moroury? Why should failed refugee claimants be allowed to appeal from within Canada? What criminal record check was done on Michael Caster and family before granting them refugee status? Write and ask your MP.
Smugglers Flood Toronto With Oriental Prostitutes
The first media stories shouted that Oriental "sex slaves" had been freed after police raids which resulted in the arrests of 22 women and the laying of over 750 prostitution and immigration-related charges. The ring "may have raked in between $2-million and $3-million a year from operations in Toronto, Vancouver and Los Angeles." (Toronto Star, September 12, 1997) The screaming headlines turned out to be melodramatic. This was less a story of slavery than it was a story of Asian whores being smuggled into Canada to ply their trade. "Staff Sergeant Larry Tronstad, a Peel Region police officer involved in the joint-forces investigation [said]: 'I wouldn't characterize them as sex slaves, but clearly they weren't allowed to move about freely.'
Others worked as hookers in their native countries and came here simply for the money. … Recruiters in Thailand, Malaysia and Singapore would pay money to young women. … Brothel owners here would pay recuiters as much as $15,000 per woman, then demand repayment from her. … The woman would work as a prostitute for about three months, turning about 350 tricks, before the brothel owner was paid in full." The Toronto Sun (September 12, 1997) reported: "After that debt was clear, they would then be paid on a commission basis, clearing up the rest of what was owing to come to Canada [up to a further $25,000]. Depending on the girl, that could take another six months to a year. … After that the girls could continue to prostitute themselves." Newspaper pictures of the prostitutes appearing in court showed girls in furs, leather and attractive mini-skirts, accomplished whores, not broken sex-slaves. "Kitty Chu-Wai Hing, the 33-year old suspected madame, … came to Canada close to 10 years ago and was close to getting her landed-immigrant status. … Investigators claim the complex ring … has ties to the Big Circle Boys." "Kitty Chu, 33, of Markham and Judy Tam, 25, of Scarborough — alleged by police to be the ringleaders in the operation — each face 135 prostitution charges and other, immigration-related counts." (Toronto Star, September 12, 1997) The brothel "operator, a woman they knew only as Senda, took care of everything. She picked them up from the airport, had a doctor examine them, paid for their apartment, arranged their tricks and even took them on a shopping spree." (Toronto Sun, September 14, 1997) "Clients were largely drawn by ads placed in small ethnic newspapers." (Toronto Star, September 12, 1997) The Toronto Sun (September 12, 1997) reported: "Taiwanese and Cantonese interpreters translated court proceedings for the accused. … Chu, a hard-looking 33-year-old, with a see-through blue blouse, glared around the courtroom. Her co-accused, Tam, 25, with bleached orange hair, a black T-shirt and grey jacket, scowled."
Question: How did women who spoke little or no English manage to get through immigration? Consequences? Maybe a Little Holiday Would Cheer You Up "The immigration official who released Clinton Gayle on a $2,000 bond as he awaited deportation has returned to a job in Ottawa after a two-year diplomatic posting in sunny Trinidad. Gayle was never booted out of the country and later shot and killed Metro Police Const. Todd Baylis during a drug bust. Ivan Rashid's return comes as preliminary court proceedings get under way in a $121-million lawsuit against the immigration department by, among others, the families of Baylis and his partner, Const. Mike Leone [who was wounded]. … Immigration spokesman Denis Boucher said Rashid will resume regular duties in Ottawa.
He won't disclose Rashid's new job. … He wasn't recalled and he's not under suspension,' Boucher said. … [Rashid] was stationed at the Canadian High Commisssion in Port of Spain. … A spokesman for the High Commission in Trinidad said Rashid held 'decision-making' powers as to who would be allowed to enter Canada … Immigration officials stressed that Rashid won't be speaking to the press." (Toronto Sun, Sept. 24, 1997) Gee, what a surprise! Every bungled case, every questionable tactic, every new embarassment is met with the same weasel-strategy down at immigration Canada, "It would not further the matter to comment publicly at this time."
Incarcerate Illegals to Catch War Criminals, Reformer Urges
"Reform MP John Reynolds says Ottawa must move immediately to stem the flow of modern-day war criminals getting into Canada. 'We've got to come up with a solution that is going to stop Canada from being the dumping place for not only war criminals, but also other criminals,' Reynolds said. A confidential government report obtained by the Toronto Sun in March revealed Canada was unable to deport up to 250 torturers, terrorists, death-squad killers and senior officers of murderous regimes because of lax immigration laws and staff shortages. … Reynolds called on Ottawa to scrap the Immigration and Refugee Board (IRB) and set up an American-style system in which refugee claimants are held in special facilities up to 72 hours while extensive criminal checks are done. Then he wants a judge, not a politically appointed IRB adjudicator, to decide whether the claimant can stay or must go." (Toronto Sun, October 4, 1997 A few facts about Immigration "judges": They have no legal background, the annual salary ranges from $61,800 – $72,900.
There are a total of 19 citizenship judges in Canada (roughly 1/3 the number in 1994. There were 54 then). There is one solitary sitting judge for the entire province of B.C. Oversights? Failures? Loopholes? Immigration bloopers? (all figures, Globe and Mail, Sept. 23, 1997) "In just six months, the number of [war crime, genocide] suspects jumped 50 per cent, to 300. Among the most recent entrants to Canada are five members of a Honduran death squad, including one who killed himself after being accused in Canada of sexually abusing a child. Three Ethiopians who escaped from that country after being indicted on genocide charges have pending deportation cases here. Its estimate is probably low, the report says, as more than 1,000 recent arrivals from Somalia, Ethiopia and Rwanda, and nearly 400 from the former Yugoslavia, plus 18 from Cambodia, await the opening of their refugee claims. … Ms. Robillard [Canada's Immigration Minister, enthuses:] many countries do not even know how many war-crimes suspects have passed inside their borders. [Isn't that great? We are unique in having a rough estimate of just how many homicidal maniacs are at liberty among us!] … [According to the Vancouver lawyer who represented the son of Siad Barre, the former Somali warlord,] 'the public has an unrealistic expectation, he said , 'that somehow the border is a barrier to keep bad people out and allow good people in." (Globe and Mail, October 4, 1997) It's unfortunate this individual did not elaborate what specific function a border serves, in his estimation. An opportunity to collect tariffs, and, of course, GST? The spot where you levy a $350,000 charge for citizenship? It's anyone's guess in a country that defines a patriot as someone who cares more for each and every potential refugee and immigrant on the planet than for themselves, their family or neighbours.
There is another aspect to this lackadaisical 'border-watch'. Canada has been aggressively pressing for the deportation of several elderly 'suspected' Nazi collaborators, despite extraordinary tampering with the judicial process and in direct contravention of Mr. Chretien's own assurances while serving a term 'upstate' as Justice Minister. Oh well, they're not coming for us, yet. Right? The fact remains: a 20, 30 or 40 year old expert in brutality is, in the general way of things, demonstrably more of a threat to Canadian interests than is an 80 year old invalid.
Ethiopian Rapist Deported
"Shewangza Victorello, 30, of Armstrong Ave., was jailed for two years less a day on Tuesday for sex assault with a weapon and forcible confinement. … [He] was arrested naked from the waist down wearing only a red, cherry-flavoured condom. … Victorello entered Canada in March 1991 as a refugee from Ethiopia." (Toronto Sun, Sept. 25, 1997) Victorello, who has a criminal record, came here from Ethiopia six years ago and has been living on welfare, [Justice Janet] Wilson noted. 'He has no work history to speak of,' she said. … The victim, a prostitute, testified Victorello approached her and they made a deal. … When she went back to his room in a boarding house … she changed her mind. But Victorello prevented her from leaving, took out a 30-cm [12 inch] butcher knife and threatened her. He then slapped and punched her, and tore her pants off before sexually assaulting her." (Toronto Sun, Sept. 24, 1997) Why, if he had a criminal record, was he not summarily deported? Why not write, phone, or FAX your MP and inquire?
Somali Pervert Restrained
"A Somali refugee claimant who was booted out of the country was tranquilized during his deportation flight to prevent him from constantly masturbating. The unidentified man also had his hands bound and was escorted by two immigration officers and a doctor on the flight home to Mogidishu, last weekend. …The man, who lived in Toronto, arrived about a year ago and filed a refugee claim, which was rejected because of alleged serious criminal activity here. Details of the crime were not available, but one officer said 'nearly all Somali refugee claimants are accepted. Very rarely are they deported.' Police and jail guards said the man masturbated in public, and several times officers had to stop him while being transported to court in police paddy wagons." (Toronto Sun, Sept. 25, 1997)
Chinese Drug Peddlar Stays
Should we be accepting immigrants from nations where no extradition treaty exists? The answer apparently, is a resounding YES! "Last May, a six-week trial ended with a jury finding [Chi Ho] Chan, 45, guilty of 16 offences, ranging from conspiracy to possess the proceeds of crime to fraud and possession of counterfeit credit cards. The jury rejected Mr. Chan's claim that he was only a middleman who did not realize that the blank credit cards he produced were being used by a criminal organization. … Most of the charges Mr. Chan faced involved possessing instruments used to produce credit cards and other forms of documentation." (Globe and Mail, October 2, 1997) Found guilty in May, Mr. Chan was released on his own recognizance. After surrendering his passport, the landed immigrant failed to turn up for sentencing on June 19. He has been traced via Taiwan to Hong Kong, where he was observed trying to use a personal credit card as recently as September 30.
Mr. Chan leaves a wife and four children (behind in Canada). No extradition treaty exists with China or Taiwan. He is expected to be sentenced in absentia on October 6. Counterfeit credit cards represented about 30 per cent of the fraud reported last year. "[Siu Hung] Mok, 41, a native of China who arrived in Vancouver [as a refugee claimant] on Oct. 29, 1986, had been ordered deported from Canada in October of 1991, four years after he was convicted of robbing the Chinese Fisherman's Hall, a Vancouver gambling house. He was sentenced to four years for robbery, an additional year for using a weapon in the offence and two more years for pointing a gun at a police officer. … Immigration officers sought to deport Mr. Mok on three occasions, first in May of 1992, and again in June and July of 1997, but each time he was able to avoid removal. Most recently, an immigration adjudicator [name, as always, unpublished] ordered his release on $5,000 bail on Aug. 5 — just weeks before police arrested him for drug smuggling. … Mok was arrested in Vancouver after police found seven kilograms of high-grade heroin, with a street value estimated at $5-million, in barrels of arsenic shipped to a warehouse in the Toronto suburb of Mississauga." (Globe and Mail, September 18, 1997) The story has one more delightful aspect, police were tipped off when Vancouver Customs officers thought it odd that 350 barrels of arsenic were being shipped to a company they had never heard of.
Police removed the arsenic before sending the barrels on to the warehouse in Mississauga. "Police said that triggered a frantic search by the conspirators for the missing drugs. A man who worked at the warehouse was abducted, bound with duct tape and [for a day and a half] punched, kicked and beaten with steel pipes … because they suspected him of stealing the heroin" (Globe and Mail, September 18, 1997)
Guyanese Rapist Deported — At Last
Jadduroy James Hera, 60 year old father of seven was deported July 30 for the vicious rape of a 79 year old woman during a 12 hour crime spree. He was found guilty and sentenced to 5 1/2 years. Upon his release a year ago, Mr. Hera renounced his Guyanese citizenship in a bid to remain in Canada collecting $915 in monthly welfare payments. A straight-faced immigration spokesman boasted, "We are pleased with his speedy removal from Canada." (Toronto Sun, July 31, 1997) His crime took place in 1993!
You can reach the Canada first Immigration Reform Committee at:
P.O. Box 332 Station 'B'
Etobicoke, Ontario
M9W 5L3
CANADA