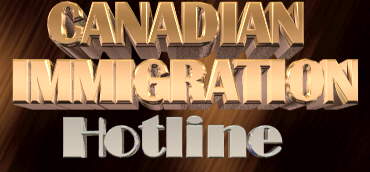 It makes no sense. We allow in hordes of "refugees" who can't speak English and who have no marketable job skills. We then spend a fortune to teach them English and low-level job skills to compete with native-born Canadians, especially those on the lower end of the skills scale, who are already having the greatest difficulty finding jobs. "A federal employment programme is helping new Canadians overcome language and cultural barriers to the workplace. As a result of a partnership between the Calgary Catholic Immigration Society (CCIS) and Ottawa, 14 recent immigrants now look forward to productive jobs in the hospitality industry after completing a professional cook training programme. … Qiao Wa Chan came to Canada five years ago after practising as an electrical engineer in her homeland China. But, speaking almost no English, her credentials meant little here, and she was forced into part-time dishwashing and a paper route to survive. … More than 9 ,000 newcomers came to Calgary last year from 104 different countries, [society executive director Fariborz Birjandian] noted. 'We have to help with settlement and integration.'" (Calgary Herald, May 10, 1997) Why? Why, if we need any immigrants at all, don't we insist that they qualify themselves before coming to Canada by learning English and developing a marketable job skill? "Human Resources Development Canada has spent about a million dollars sponsoring initiatives like the professional cook programme."
Screen Surge of Third World Immigrants for Parasites, Doctors Urge
"There is a changing profile of immigrants and refugee claimants to Canada, with over 80 per cent of the new immigrants in 1991 coming from Asia, Hong Kong, Africa, Mexico and Central America (Statistics Canada). Employment and Immigration Canada currently requires all immigration applicants to have a complete medical examination prior to entry. However, refugees had not previously been required to comply with these regulations until they applied for immigration or for an open work permit (for example, food handling). More recently, attempts have been made to ensure that refugees are seen and receive medical attention shortly after arrival in Canada. Since 1981, routine screening for intestinal parasites has not been part of the required complete medical examination for new immigrants and refugees. However, in the past decade, many North American studies have documented a high frequency of infection with intestinal parasites in these populations with prevalence of parasitic infections ranging from 29 per cent to as high as 61 per cent in certain subgroups. These studies suggest a need for a review of the guidelines for primary care physicians regarding screening. There have been two Canadian studies looking at screening of immigrant populations, and both suggest a re-examination of the current no-screening policy in well-defined immigrant or refugee populations known to have a high prevalence of intestinal pathogens. One was a randomized controlled trial on the effectiveness of a screening programme for intestinal parasites among 398 Southeast Asian refugees; 58 per cent tested positive.
There was a significant reduction in the prevalenvce of hookworm and Ascaris lumbricoides in the screened group. In the second Canadian study of 1,839 heterogeneous refugee claimants in Montreal, helminths (most commonly Trichuris trichuria and hookworm) and the pathogenic protozoa (Entamoeba histolytica and Giardia lamblia) were recovered in 539 (29.3 per cent) persons after screening of a single stool specimen. Country of origin was the most important predictor of infection. … There are four potential reasons for screening for stool pathogens in new immigrants. First, is the high prevalence within certain well-defined immigrant populations of asymptomatic infection with parasites (for example, Entamoeba histolytica, Hymenolepsis nana, Giardia lamblia, and Taenia sollum) that may be transmitted within the household, day-care centres, specialized institutions or in schools within the community. This may lead to reinfection or new infection in previously uninfected persons; second, infected persons with potentially harmful parasites may not seek appropriate medical care; third, certain parasites (for example, Strongyloides stercoralis) may survive in humans for many years and later become a threat to personal health; and, fourth, there may be increased utilization of health services and cost due to imported parasitic infections. … Screening of selected high-risk individuals is recommended based on high prevalence of intestinal pathogens in these individuals and lack of correlation with symptoms. Specifically, all new immigrants and refugees should be considered high risk unless the country of origin is the United States, New Zealand, Australia, Japan and Western Europe. Screening after arrival in Canada should consist of ova and parasite (O & P) examination performed on a stool specimen." (The Canadian Journal of Paediatrics, 1994; 1(6))
"Investor" Program Offers Virtual Risk-Free Returns for Rich Foreigners
If you were a wealthy foreigner, how would you like to "invest" $350,000 in Canada, part of which you could borrow, be assured of getting your "investment" back at the end of five years, and get Canadian citizenship thrown into the bargain? Sounds too good to be true? However, it is true and only in Canada! "Ontario hopes to lure rich immigrants to a new investor fund that could generate up to $35-million for infrastructure projects across the province. The venture capital fund launched [April 30] is owned by the province but will be managed by Murray & Co. Asset Management Inc. .. The fund is open to foreigners with a net worth of at least $500,000 who are willing to invest $350,000 over five years in exchange for a Canadian visa. … Ontario has lagged behind most other provinces in taking advantage of the federal programme, netting only $130-million, or about 4 per cent of money invested since 1986. … The money from the infrastructure fund will be invested in businesses with assets of less than $35-million and which are involved in municipal or provincial infrastructure projects. Under a financing package for prospective investors, … investors may borrow up to $350,000 by putting up a $125,000 prepayment to cover interest charges and costs associated with running the fund. While the investment is not guaranteed, participants can count on getting their $350,000 back at the end of five years, fund officials said, because the money will be funnelled into government-sponsored projects backed by operating leases or user-pay contracts. 'We will be looking at very secure sources of income,' said Blake Wallace, a director and partner of Murray & Co. … Immigration lawyer Mendel Green … said that lawyers and consultants will get a 'finder fee' of about $20,000 for selling the fund abroad." (Globe and Mail, May 1, 1997)
Where Did All the Investor-Class Money Go?
Asked whether Canada's Immigrant Investor Programme is working, Immigration Minister Lucienne Robillard told Pacific Rim Report on CBC Newsworld (July 27, 1997) "Uh, yes, it work! [sic] And now we have that program since 1986, we can tell you that we, in the country, we succeed to attract $3.6-billion dollars!" However, consider: "Foreign investors pulled $3.5-billion out of Canada in May, mostly by selling off government bonds and other money market debt instruments, Statistics Canada reports." (Globe & Mail, July 25, 1997)
CRIME WATCH
Macau Triad "Dragon" Comes to Canada
"The leader of a warring Macau triad gang has slipped past authorities disguised as a business investor and emigrated to Canada. Official sources confirmed the "dragon head" of the Wo On Lok – also known as the Shui Fong or "Water Room" – gang moved to Vancouver with his family in October last year. The revelation of the underworld figure's emigration to a popular destination for Chinese migrants is expected to embarrass Canadian immigration officers. It is likely to put them under pressure to use sweeping powers to expel the newcomer, who is known as Shui Fong Lai. On his application form, the 42-year-old told immigration authorities he was an investor who had started out as a labourer in the construction industry. In March last year, his lawyer withdrew his application to emigrate to Montreal, which had been sitting in the Canadian Commission in Hong Kong for nearly two years. Newcomers have to invest a minimum of $350,000 (HK$1.96 million) to settle in the French-speaking city. Lai's application was lodged again at the Canadian Consulate in Los Angeles three months later under a British Columbia investment programme, and was fast-tracked through and approved. Lai is said to have been entered into a central computer system, but his application was apparently not distributed around the network. Experts said Lai's background as a construction worker should have alerted officials to his triad connections under a system of checks used by Canadian authorities. The Shui Fong, a Macau branch of the Hong Kong-based Wo On Lok and the14K, have been waging a turf battle which has claimed 14 lives. Lai was not the only alleged criminal to slip through with about 40,000 people who emigrated annually from Macau to Canada. Lee Chau-ping, 42, the drug dealer known as the "ice queen", was allowed to settle in Canada after she applied in Seattle and promised to invest in a fast-food chicken franchise." (South China News, June 16, 1997)
You can reach the Canada first Immigration Reform Committee at:
P.O. Box 332 Station 'B'
Etobicoke, Ontario
M9W 5L3
CANADA