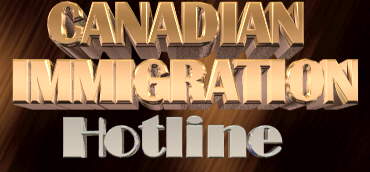 "Three refugee claimants [illegals] from China were caught with their pants down at Vancouver airport [January 15]. They sneaked into the washroom and stayed there almost all day until immigration officers flushed them out. 'We had to go and get them,' said airport immigration manager Paula Bennett, whose staff has been dealing with a larger-than-usual flow of refugees from China and Iran since last month. Bennett said the three were following smugglers' instructions. They're advised to stay in the toilets to make sure authorities can't connect them with an airline.
They are also told to destroy their passports and other travel documents to conceal their real identity and route of travel. 'If we can't tie them to the aircraft, we can't find their itinerary,' she said. Three Iranian refugee claimants arrived yesterday. On Tuesday, an angry Swede [sic?] — formerly from Iran — punched an immigration officer in the face and damaged his tooth after being called for an interview. Bezad Sayyah is charged with assault causing bodily harm and aiding and abetting the entry of illegal immigrants.
Sayyah was with five aliens, a woman and four children, said RCMP Cpl. John Buis. On Tuesday, 13 refugee claimants — 12 Iranians and one Nigerian — arrived from Asia. In December, 115 refugees arrived, mostly from and Iran and China. That's about 20 over the December average." (Vancouver Province, January 16, 1997) Any scamn artist who destroys his documents should be summarily denied entry. Why can't the authorities insist that the airlines impound all travel documents and hand them over to the immigration authorities? Where there's a will, there's a way. One has to assume that the will is lacking on the part of government officials.
CRIME WATCH
Somali Crooks Rip Off Northwestel for $11-Million in Phone Scam Scheme
"It was a computer that unwittingly rousted Northwestel's phone scammers. Late last year, the telephone company noticed its network, covering the Northwest Tettitories and the Yukon, being stretched to capacity at strange hours. … In a three-week long investigation, the RCMP discovered evidence of the existence of a fraud ring making thousands of free calls to London, Hong Kong and a number of African countries. On January 23, police made 12 arrests in Yellowknife, all taxi drivers and members of the city's 20-to-30 family Somali community.
Five days later, RCMP arrested another 10 in Inuvik believed to be in on the scheme; they were Somali, Egyptian, Lebanese and Pakistani. The accused have been charged with theft of telecommunications and are due in court on March 25. The total value of the calls stands at $11-million — and may go much higher once Northwestel gets the next telephone bill from its overseas carrier. … Some of the accused could be deported if they are convicted. Federal immigration officials are contemplating charging some of them for forging documents after several visas, passports and a lamintor were confiscated. Some of the accused blame the raid on police racism."
( British Columbia Report, February 17,. 1997) Of course, the cry of "racism" is the last resort of the criminal and the scoundrel in this guilt-ridden society! Once again, we ask: How did this lot get into the country? What criminal background checks did they pass? Who's responsible? Is anyone's job on the line? Write or phone your MP and ask.
Tamil Gangs Who Can't Shoot Straight Strafe Suburban Donut Shops in Feud
Doesn't anyone coming into this country get screened? At times, one wonders. Rival gangs of well armed Tamil youths take special pride in invading each other's territory and trying to gun down opponents, usually at donut shop hangouts. "The blood has dried and gone now, but the bullets have left their mark in Metro Toronto. They have left their marks on V., a man who seems to tire easily since gunfire wounded him. He can hardly stand now. At times, he stoops from a phlegm cough. He can't work and is afraid to talk about the shooting that, Metro Police suspect, left him a victim of a gang war based in the local Tamil community. … Since July, 1996, tit-for-tat shootings have left citizens afraid that they will become innocent victims of wild gunfire in which bullets often miss their targets. 'They're not very good shots and somebody else is going to get hurt,' a Metro cop said. Shootings in the past seven months have wounded at least six people believed to have Tamil gang links."
(Toronto Sun, February 15, 1997) Canada has an "estimated 150,000 Tamils, most of whom live in Metro. … Police have blamed the violence on two gangs, the Scarborough-based A.K. Kannan and their larger rivals, the VVT of Etobicoke. Police say the gangs are fighting for turf, including their share of the heroin trade. Kannan's leader was jailed last summer for heroin trafficking. Police say the 100-member gang derives its name partly from the AK-47, a military-style rifle used in one Metro shooting. Kanna's rivals, the VVT, take their name from a Sri Lankan village. They have an estimated membership of 200, police say. …
Tamil Eelam Society president [Sita]Sittampalam said parents try to send their young people abroad because Tamil youths are viewed as 'a target' by the Sri Lankan Army. 'Unfortunately, when these young people come here, they are without parental counselling, without parental control.'" If so, why should such lawless, unsupervized youths be allowed into the country in the first place? Inspector Roy "Teeft, of Scarborough's 42 Division, [says] criminal gangs have operated in Metro's Tamil community for several years, but there were few high profile incidents, until escalating violence came to public attention with a blast of AK-47 rifle fire, last July 28. Dozens of rounds were fired from the rifle and other guns during a gang firefight near a plaze on Eglinton Ave., E. at Markham Road. Along with an AK-47, police said the fighters used a shotgun, a .45-calibre pistol, a 9-mm pistol, and a .308-calibre rifle.
They also had machetes in their cars. With three of its members wounded in the shootout, Kannan was out for blood. But when it bungled two retaliatory hits in August, police said VVT only got angrier. In one case, gunmen fired near an Etobicoke doughnut shop but missed their targets. … Like more established crime groups, police say the Tamil gangs make money through extortion, credit card and cheque fraud, gun sales and drugs. Police say the guns come from North American Aboriginal people from Montreal — where Tamil gangs also operate." It's comforting to know that Allan Rock is cracking down on law-abiding gun owners and leaving the privileged natives in peace.
Vietnamese Masterminds Fake Car Crash Claims
"A Vietnamese courthouse translator is believed to be the mastermind of a massive scheme to defraud the Insurance Corporation of B.C. (ICBC) by helping people stage fake car accidents and file phony injury and damage claims. Details of the alleged $1-million scam involving 51 people of Vietnamese origin, mostly Vancouver residents, were given by ICBC officials at an October 24, [1996] news conference. ICBC described a complex plot to defraud ICBC in which 11 car accidents were faked, 10 in Vancouver and one in Nanaimo. According to ICBC officials, the largest civil insurance fraud in Canadian history could get even larger because up to 18 more defendants involved in three more accidents could be added to the action started in B.C. Supreme Court. … According to ICBC's statement of claim, the 11 faked accidents between May, 1991 and August, 1995 involved what is known in the insurance industry as a 'capper'. … The capper is a person who gains experience in injuries such as whiplash and insomnia which depend for diagnosis on the alleged victim's complaint rather than on medical tests. In addition, the capper recruits people for faked accidents, tells them how to proceed and what to say to the police and ICBC. …
In this conspiracy, ICBC alleges that the capper is court translator Lin Nguyen of Surrey. He has also, from time to time, acted as translator for various doctors and lawyers in connection with ICBC claims on behalf of other defendants in the case. … Reporters were shown a dramatic videotape of an informant interviewed during the investigation in which he explains, in Vietnamese, exactly how accidents are faked. … A pattern analysis of the allegedly staged accident showed that 10 of the 11 were virtually identical. One vehicle went through a stop sign, often in Vancouver's Knight Street area, and struck a second car when there were no independent witnesses.
The damage to the vehicle was always the same, as was the type of injuries reported. … The investigation was sparked by some false wage loss claims at a Lower Mainland stucco firm which led ICBC investigators to many of the defendants. The defendants came to Canada over a long time span ranging from 1984 to recent years. … ICBC is seeking compensation for the costs of adjusting, investigating and taking legal actions against the alleged conspirators. .. It states that the 51 defendants conspired to defraud ICBC of at least $660,000, but with all costs the total loss could be more than $1-million. …
The defendants include a fisherman, labourer, equipment operator and student. However, many are related to each other, such as brothers, cousins and husband and wife. … ICBC senior vice-president Neil Weatherston said there is no escaping the fact that the defendants all come from a single ethnic group." (The Vancouver Courier, October 27, 1996)
You can reach the Canada first Immigration Reform Committee at:
P.O. Box 332 Station 'B'
Etobicoke, Ontario
M9W 5L3
CANADA