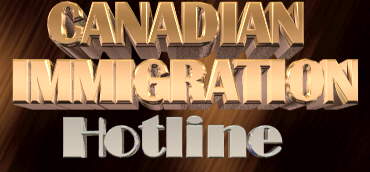 "According to the Canada Year Book, in the twenty-five years between 1903 and 1928, 27,660 immigrants were deported from Canada." (JF White, Canadian Forum, June, 1932) Today, "the federal government has no idea of the whereabouts of more than 20,000 foreigners — some with criminal records — who have been ordered deported. That's half the 40,632 outstanding deportation orders issued in Canada since 1993." (Sun Media, January 15, 2000)
Canadian Pays for Gov't Failure to Deport Illegal
"Jim Lindala lies in a coma in a Toronto hospital today, and his family wants answers from the Immigration Department which, for five years, failed to enforce deportation orders against the illegal immigrant who put him there. Mr. Lindala, 63, is a retired school principal who was leaving on a dream vacation with his wife from Toronto's Pearson Airport on December 6. A two week cruise awaited the couple in Hawaii. But as Mr. Lindala was unloading luggage at the airport from the back of a family van, he was hit by the airport limousine that careened up the ramp and struck him from behind. … His leg had been severed. Mr. Lindala was rushed to hospital where he suffered a stroke from the trauma of the accident and fell into a coma. He remains on life support and in critical condition. … The driver of the limousine was Mohammad T. Belfeteymouri Shafi, an Iranian whose refugee claim was first documented by Immigration Canada in 1989. Before his claim could be heard, he was convicted of assault and mischief and, in May, 1992, sentenced to four months imprisonment. He was denied refugee status in 1994 and ordered deported the following year." (National Post, December 31, 1999)
The callous "hey, we're in no hurry to enforce the law, but collecting taxes from you on time in another matter" attitude of the Canadian Government was blatantly clear in comments by Giovanna Gatti, an Immigration Department spokesman. "Asked whether Mr. Shafi should still be in Canada, [she] said: 'He is someone who would be removed from Canada at some point.'" No hurry: Wait until he's killed or maimed a few more Canadians. The slack attitude of the authorities didn't improve after their previous botch had been revealed. "Mr. Shafi was charged with careless driving after the airport accident and fined $365. … After the accident, Mr. Shafi was arrested by immigration officers and released following a detention review on December 11. Mr. Shafi is now free on a $4,000 performance bond, which only requires him to pay the money if he fails to report when required by immigration authorities."
There is no accountability within the Immigration Department. Who was responsible for executing the deportation of the Iranian illegal? Why was he not deported five years ago? Will anyone be fired or demoted? If not, why not? Ask your MP. When a person is ordered deported, he should be immediately incarcerated until such time as his speedy exit from the country can be arranged.
Immigration & The High Cost Of Flying
Shoplifting is reflected in higher prices; insurance fraud means higher premiums; welfare abuse shows up in higher taxes, yet when we purchase exorbitant domestic airline tickets, our brains revert to auto-pilot. Without competition, we can brace ourselves for higher fares — but how much of that price goes toward the old scamster deposit? "Illegal migrants entering Canada by air have become so routine that international airlines are expected to provide a security deposit to Immigration Canada every year. … Levying fines each time became too much of a hassle for the department — and so airlines now pay a security deposit. … Only the costs of removal are covered by the fines. Expenses for refugee hearings, detention, legal aid and food are still borne by taxpayers. … Both Canadian Airlines and Cathay Pacific confirmed Thursday that they have a line of credit filed with the immigration department, though neither airline would say how much that deposit was. … Rene Mercier, a spokesman for Immigration Canada in Ottawa, agreed there is evidence people smugglers are involved in some air arrivals. … 'In the case of the boat arrivals, it's clear cut that it's organized smuggling,' Mercier said. 'It's not that clear cut when it's an aircraft and it's just one or two people.' (Vancouver Sun, January 7, 2000)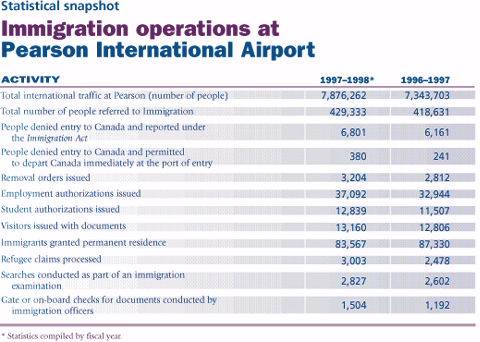 Really? "Police sources say many flights carry 30 or more illegals. During the flight, they hand over their passports, visas and other identification to a smuggler, who often travels in first class." (Globe and Mail, February 2 1999) Voltaire said: No problem can withstand the assault of sustained thinking. If Immigration Canada has failed to solve this high altitude shell game over decades, it suggests something more than customary incompetence. Every passenger is required to show identification to board an international flight, but the airlines "say their agents are often fooled by easily forged, permanent resident cards issued by Canada's Immigration Department. Known as IMM 1000s, the cards are issued by Canada's overseas offices to immigrants who have been approved for landing in this country. … Introduced in the 1950s, the cards have not been updated despite increasing fraud. [That is, the cards have no photo-ID, no computer data strip, no biometric or high-tech validation, and are often sold by landed immigrants to smugglers] … In 1998, the last year for which statistics are available, 4,813 people arrived at Canadian airports with either false documents or none at all." (National Post, February 11, 2000) On the other hand, it's an immigration story — it may be worse than we think. According to Victor Wong of the Vancouver Association for Chinese Canadians, "an estimated 8,000 refugee claimants have arrived at Canadian airports without identification since the first [detected smuggling] ship arrived July 20." (Canadian Press, December 20, 1999) How about a tethered goat on every flight to eat everyone's ID and a mass-sprint at Customs?
What, … Me Worry?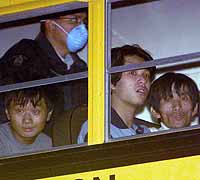 Got a refugee claim? Well, get busy! Under intense advocate lobbying pressure, self-designated refugees will find "Phallus Gone" and "Falun Gong" are performing nicely this season as tickets to advance their "refugee" claims. Pleading "Christian Persecution" is a risky business among people who sense that "Mr. Lee" may not be head of the Christian faith. The fourth Chinese among the 590 illegals to arrive on last summer's rustbuckets has been recognized as a refugee by the Immigration and Refugee Board. "Immigration Canada announced that it would appeal the IRB's decision to grant asylum to one of the Chinese migrants who claimed persecution as a result of his membership in the Falun Gong religious sect. … Some 493 of the migrants applied for asylum and 169 cases have been completed, with 92 applications rejected, four accepted, six withdrawn and 67 abandonments, meaning that the migrants who filed applications disappeared. [Completed, but by no means settled — or deported. Five months, and still two-thirds to go? How big will the backlogs be by the end of the summer?] … Fujian has a history of emigration, as summarized by the so-called three eights: eight million Fujianese are abroad, 80 percent of Taiwanese people are of Fujianese descent, and Fujianese are eight percent of Hong Kong's population. One study found that over 80 percent of those leaving Fujian for North America were employed, mostly as store owners, blue-collar workers or farmers, earning 1,000 yuan a month." (Migration News, Vol. 7, No. 2, February, 2000)
With spring in the offing and absolutely no discouragement from immigration officials, we can expect a barrage of pro-boatpeople propaganda to herald the first arrivals. In a bit of an understatement, "Tory MP David Price said the number of illegal migrants to Canada is unlikely to decrease. 'This situation is obviously on its way to becoming out of control,' he said. What irks opposition MPs is the amount of attention being paid to wannabe refugees who arrive by boat — about two per cent of the total who come to Canada. Most foreigners arrive by plane and have a good chance of being waved through and told to have a nice stay, according to the customs officers' union. Serge Charette, national president of the Customs and Excise Union, said front-line customs officers are in many cases students who lack the training of customs inspectors. Students get about two weeks of training compared with 14 weeks for inspectors. 'Most of the training they (students) get is not how to detect terrorists or illegal aliens,' he said. 'It's how to greet people.' (Sun Media, January 15, 2000)
Try Not To Laugh: Canada Bans Terror Fundraising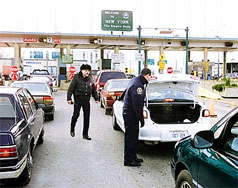 The 21st century will bring new tools to protect us from terrorists, transnational gangsters and smugglers of human and other contraband. Yet, does anyone really imagine that Israeli-style airport security, lengthy border queues, ubiquitous surveillance cameras, close financial scrutiny, and the consequent loss of freedom, will countervail Canada's naïvely juvenile policies? Just for example, one of the characters in the alleged cross-border bomb conspiracy) was denied refugee status in 1994 and simply dog-paddled his way through a Byzantine appeals process until Canada quietly stopped deporting Algerians in 1997. Recently, under intense pressure from the U.S., Canada pledged to outlaw terrorist fundraising, but does anyone expect Ottawa to make good on its promise, if ethnics disapprove? "The Algerian and Muslim communities in [Montreal] have been in the spotlight since Dec. 16, when police told reporters about 'the arrest of several people of Algerian origin' over thefts of laptop computers, passports and other valued items from cars in the city's downtown business district.' … Police used careful language yesterday, saying their intent was to let Muslims know that these thieves might try to sell them stolen goods or extort money from them. … They warned Muslims to be on guard against thieves during the Ramadan period, a time they said Muslims are particularly generous. … 'We regret that our action led some people to believe that all members of the Algerian community or those of Muslim faith were associated with these criminal acts'. … [Of all this abject grovelling,] John Asfour, president of the Canadian Arab Federation [said] 'What's the use of it now?' The police should have corrected themselves immediately, because they were wrong to include the nationality of eight thieves in their assertions." (Montreal Gazette, February 10, 2000)
| | |
| --- | --- |
| Sheema Khan | On a roll, Sheema Khan, co-ordinator of the Ottawa-based chapter of the Council of American Islamic Relations, has asked for and received a written apology from CBC's Royal Canadian Air Farce for the unpardonable offence of spoofing the cross-border bomb affair in a skit where Terrorist Depot offers frequent fatwa points. "In the last six months, [Ms. Khan's organization] has also received two other media apologies." (Ottawa Citizen, January 29, 2000) The loss of your own freedom of expression (as we've mentioned) is the age-old reward for all those who would circumscribe someone else's right to speak. As if to underscore the point, 650 Tamils representing 55 organizations demonstrated outside the Toronto Sun to protest an article that alleged: "Canadian Tamils' crime is funding international insurgencies. … In the article, John Thompson, director of the Toronto-based Mackenzie Institute, estimated 30,000 of the 180,000 Tamils in Canada are here illegally and that drug trafficking, welfare scams and credit card fraud by Tamils in Canada are funding political insurgencies around the world. … Thompson was quoted as saying Canadian Tamils have forced Sri Lankan women into prostitution to fund insurgency. … Thompson later issued a denial of the prostitution allegation. But he also reiterated: 'Tamil Tigers and their supporters do engage in illegal fundraising activities in Canada. … Gary Anandasangaree of the Canadian Tamil Youth Development Centre said … 'We will not tolerate the type of discriminatory, blatantly racist — in our opinion — articles that you have written against our community in the past and also against other visible and ethnic minority communities. … [Tamil spokesmen] said they wanted assurances that discriminatory articles will not be published in future." (Toronto Sun, February 13, 2000) |
Just as in the Ressam case, the message is clear: "There are no legitimate concerns — only racism," a mindset that Ottawa has ironically fostered and encouraged every step of the way. However, outside the circle of expressed ethnic displeasure, Ottawa must now equally reassure someone who carries an even bigger stick — the director of the U.S. Congressional Task Force on Terrorism and Unconventional Warfare — and he is not mincing words: "'Canada's been a staging point and transit point for terrorists for a long time,' said Yossef Bodansky.
There were key people in Canada who were part of the network related to the World Trade Centre bombers. There is a vast infrastructure, networks, probably several thousand strong, resilient, well entrenched. … 'Unfortunately, a lot of the Muslim organizations, because they're waving the flag of blanket accusations or whatever, are reluctant to look inwardly,' the renowned international threat analyst said. 'They could have been the instrument to point fingers or restrain the radical minority from doing naughty, naughty things. They didn't do it.'" (Vancouver Sun, January 8, 2000) Ottawa might want to put on its thinking cap and find a way to protect both feelings and security: "Daood Hassan Hamdani, an Ottawa economist and author of encyclopaedia entries on Islam in Canada, estimates the Muslim population has more than doubled since the 1991 census." (Ottawa Citizen, January 29, 2000)
Non-Speakers of English & No Intention to Work: Another Batch of Winners
The Committees of the North Atlantic Assembly are the "social" arm of NATO. In 1996, they found in Canadian government officials and analysts a society of backpatters: "Implicit in some of their assertions is also a criticism of the United States and Europe for having failed to implement well thought-out immigration strategies and finding themselves plagued by social tensions related to immigration. [Such smugness, despite the fact that even then] the task of teaching English to immigrants was an increasing burden, as larger numbers of newcomers did not speak it upon arrival (close to 50%, versus 15% in 1985). Coincidentally, those who do not speak English also tend to have a lower level of education and require greater support to become competitive in the job market." (Immigration, Integration and the Fight Against Crime: Lessons from the USA and Canada, NAA, October 9, 1996)
As many as 1.9 billion people, one-third of humanity, have some knowledge of the English language. Having emerged as the pre-eminent international language, English also serves as the currency of air traffic communications around the globe. Any nation that is really serious about qualified immigration would simply dismiss as unfounded any claim that English-language preferences or requirements for immigration are discriminatory. On the contrary, those who scream about delays and hold ups in the immigration process might put idling time to better use preparing for life in Canada.

http://cicnet.ci.gc.ca/english/pub/facts97e/1l.html .

Overview of immigration 1997 http://cicnet.ci.gc.ca/english/pub/facts97e/1k.html
An Overview Of Immigration 1997 –
(based on principal applicant and dependants)
Speak neither English nor French: Do not intend to work*
| | | |
| --- | --- | --- |
| Overall | 42.00% | 32.92% |
| Family class | 53.29% | 47.05% |
| Refugee class | 46.33% | 22.00% |
| Skilled worker | 31.40% | 23.39% |
| Business class | 64.75% | 51.00% |
| Other category** | 23.87% | 16.95% |
| Montreal profile | 42.01% | 30.20% |
| Toronto profile | 38.80% | 33.78% |
| Vancouver profile | 48.41 | 34.02% |
* – Includes those who legitimately "do not intend to work" — e.g. students and housewives. However, within the "do not intend to work" category, the proportion self-identified as "student" is annually declining. ** – Includes live-in caregivers, retireds, provincial nominees, deferred Removal Order class and post determination Refugee class. "In 1994, close to 70,000 of the immigrants who arrived in Canada who were 15 years of age or over had little or no ability in English or French." (Growing Together, "Fitting In", Citizenship and Immigration Canada)

Toronto TB Rates: A Language Issue?
In a report prepared for the provincial government, the Toronto District Health Council conceded that "the high rate of tuberculosis is directly related to the number of residents that come to the city from countries with a high incidence of the disease. … According to the council's report, 47.6 per cent of Toronto's residents are immigrants, compared with 19.3 per cent of residents in the rest of Ontario. But many of the immigrants have recently arrived in Toronto and they speak neither English or French, the report found. In Toronto, 6 per cent of residents don't speak English or French, compared with 1 per cent of residents in the rest of Ontario. 'It is a significant difference,' [council executive director, Scott] Dudgeon said. If Torontonians cannot speak the language, they are less likely to gain access to health services he said. One way to improve overall health care in the city is by adding and improving culturally sensitive services, especially in the area of prevention, he said." (Globe and Mail, December 1, 1999) Is this stuff scripted at the Culturally Abled Clearing House? Let's forestall the lavish buffet of impending speciality expenses by enforcing existing legislation that requires both language ability and a clean bill of health as prerequisites for entering Canada.
Police Fear Catching TB From Immigrants Criminals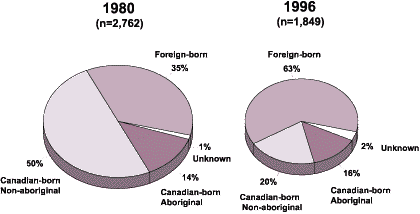 "One of the first men charged in Project Osada II, a large police probe that arrested [45 alleged members of a far-reaching East European organized crime ring] in Toronto, Ottawa, Montreal and Windsor, appeared in bail court yesterday wearing a surgical mask over his mouth and nose. A source told the National Post that he refused to be tested for tuberculosis and police are weighing their options. Officers were apparently alerted to the potential danger by a medical officer of health. … Officers involved in his arrest are now fearful they might have contracted the life-threatening infectious disease. … It is not known how many police officers or jail guards may have come into contact with the suspect." (National Post, December 15, 1999) For obvious reasons, the people we really ought to be worrying about are prisoners coming into contact with him. That this aspect is not even mentioned in the article suggests a public health disaster in the making.
Given the pathology of the average criminal mind, it might be overly optimistic to expect newly-released prisoners to do the socially responsible thing and invest their precious first days of liberty sitting in a doctor's office, awaiting the results of a voluntary tuberculosis test. It later transpired that the man with TB was not considered a threat: "TB Control Program staff have examined the situation and said there is no risk." (National Post, December 17, 1999) But how jolly to know that in Canada, prisoners have the right to refuse testing for a reportable disease. Presumably even Canadian health officials are aware that Russia's explosive TB epidemic got its start in the jails? What of the ever-escalating numbers of undocumented illegals who are scooped at border crossings and tossed in jail? Jails warehouse large numbers of people in close quarters — an arrangement that suits the TB bug right down to the ground. Another instance where a legitimately "caring" and "compassionate" society would demand and scrutinize the criminal records of all those who wish to join us: "Apart from your stated unwillingness to disclose any details about your past and the psycho-social cruelty of pressing you on any of your "issues", can you at least slowly close your left eye if you think you might be enriching us with prison-acquired tuberculosis?"

The Colour of Crime
Canada's politically correct elite tries assiduously to protect the taxpayers from uncomfortable facts about the immigration flood allowed into this country. Even casual observers of Toronto area courts report the disproportionate presence of blacks, many of them recent immigrants, among the accused. Of course, hard numbers are carefully kept from us. An associate has recently compiled the following instructive statistics. The Metropolitan Toronto Police post a daily Internet summary of major news reports about crime. When people are sought for the commission of a crime, race is often mentioned as a descriptor. However, in these politically correct times, when an arrest is made, race is not mentioned. For the month of October, 1999, a total of 339 individuals were sought for a variety of offences. Of these, 221 or a staggering 65 per cent, were black; 101 or 30 per cent, were white; 16, or 4.7 per cent, were Oriental; and 1, or .2 per cent, was described as Aboriginals. Incidentally, according to 1996 Census: Ethnic Origin, Visible Minorities published by Statscan, blacks, in 1996, constituted a mere 6.4 per cent of Toronto's population. Apologists will, of course, alibi that statistics about persons suspected of committing a crime do not prove these people did commit the crimes. That's true. However, the statistically lopsided figures — 6.4 per cent of the population contribute 65 per cent of the suspects — strongly suggest a serious problem. Of course, not all blacks and not all black immigrants are criminals, but there seems to be a critical problem of poor screening. But, you're not supposed to notice.
Who Killed Farah?
In early December, three bloody garbage bags containing the limbs of a little girl were found in a once-quiet park on Toronto's lakeshore. "After a month of following up what turned out to be a false lead — that the suspects were Spanish speaking — the coroner last week released results of further forensic study on the girl that revealed she was of South Asian origin." (National Post, January 21, 2000) On January 19, her father, Muhammad Arsal Khan, 36, a machinist originally from Pakistan, and step-mother, Kaneez Fatima, 45, a Canadian citizen, were charged with the first-degree murder of their five-year-old daughter, Farah. For all the troubling questions this raises about the catalogue of ills that passes as an immigration and multicultural policy; we don't hear much about the underlying causes of the little girl's gruesome life and death. Back home, "the man charged with killing Farah used to lock [her natural mother] in the house when he went to work and abuse her when he got home. … And it is all over this corner of the [northern Punjab] that women are abducted and forced into marriages, where women are killed for even a rumour of adultery and where stepchildren such as Farah are shunned as bad omens. … When he finally decided to leave [his first wife, Khan's] family paid $600 to the young mother for Farah's custody and to be rid of the woman. … [Khan sold $25,000 worth of land] to get himself to Canada through a brokered second marriage." (Globe and Mail, January 29, 2000)
| | |
| --- | --- |
| Farah Khan, school photo | Good Canadians know better than to ask about diversity-rich practices like arranged marriage, but what exactly, does a 45-year-old bride bring as dowry? Her citizenship status? Was this unfortunate child bought and paid for as the most eloquent possible plea for admission to this country? Ought such practices to be winked at under a multicultural banner proclaiming: "There are no differences — only enrichments!" The potential for abuse within the system of arranged or brokered marriage pales beside newly announced plans to recognize the migratory rights of the same-sex-partner-du-jour. In the case of Farah, her short, tragic life is an indictment, not so much of backward foreign practices, but of our own. Farah survived less than a year in the country most committed to multiculturalism and the dangerous idea that life is a nebulous one-world, group-hug, love-in. As it turns out, had Farah's parents only wanted to remove her from school to impose the barbarous rite known as female genital mutilation, they'd have been at complete liberty to do that to her as well (in a day when most advanced nations insist upon medical examinations for young girls at risk before and after trips "home".) |
"On Dec. 8, a day after remains of a little girl's body were found in Colonel Samuel Smith Park, Farah's stepmother told [the school principal] and her teacher that the family was returning to Pakistan because of a relative's illness. … [The principal] said she had no reason to be suspicious. It often happens that parents inform the school that their children will be absent for a while to visit their homeland." (National Post, January 21, 2000)
Justice — Or The Usual?
Haitian immigrants Evens Sannon and Patrick Lucien "took turns raping a teenager at their Montreal apartment in 1996 while the other held her down. … Instead of taking the lack of remorse in the gang rape as a reason to come down hard on them, the judge took it as a reason to give the two men conditional sentences which meant they could serve them at home if they respected a curfew and did some community service. In her comments, [Quebec Court Judge Monique] Dubreuil said: 'The absence of regret of the two accused seems to be related more to the cultural context, particularly with regard to relations with women, than a veritable problem of a sexual nature.' … The Quebec Court of Appeal overruled Dubreuil on Thursday and imposed 18-month sentences. … [Even so, the cynic will wonder whether anything resembling justice prompted this reversal] Ethnic communities were outraged that the judge made it sound like Haitian men considered it normal to mistreat women." (Toronto Star, January 7, 2000)
"Why Don't You Go Back to Ethiopia?" Judge Asks
"A young man who couldn't find his way to court and appears in no hurry to become a Canadian citizen was given a scathing lecture by a judge yesterday. 'What are you doing in this country if you're not a Canadian?' asked Ontario Court Justice Ross Webster after Dereje Woldegabriel pleaded guilty to several snubs of the justice system and confessed he wasn't a citizen, despite being a long-time resident. 'Are you going to be?' Webster queried. 'Not right now,' was the answer. Woldegabriel, 21, had pleaded guilty to two charges of failing to appear in court and one of breaching a release order, incurred while he was on probation for a theft charge. Assistant Crown attorney John Skowronski observed that six of 10 convictions on the Ethiopian-born man's record were for failing to comply with court orders. 'When he's released he doesn't show up and when the court shows leniency he (abuses) it,' said the Crown, asking for a jail sentence of 60 to 90 days. Before giving Woldegabriel 90 days in jail, Webster asked him: 'Why don't you go home (to Ethiopia)? We don't need you here clogging up the courts.'" (London Free Press, December 22, 1999)
Fraudster Deported
"Bhupinder Singh Sahota, 39, has 56 convictions with crimes in almost every province and hasn't been out of jail for longer than two weeks at a time since 1986, an Immigration and Refugee Board said in its deportation decision released yesterday. … Last July, police said, Sahota posed as a businessman looking for a home and called a female [real estate] agent to pick him up at Pearson Airport. When she stepped from her car, Sahota jumped in and drove off. Police said Sahota also stole money from agents when they were showing him houses or speaking with them in their offices. In July, 1990, Sahota was convicted of defrauding an auto dealership of 20 cars after issuing a stolen cheque for $200,000 as a down payment. In December ,1994, Sahota was jailed for robbing a male broker of his car and cell phone. Using cheques stolen from the agent's car, Sahota fraudulently signed purchase agreements on two houses worth $400,000 and $600,000." (Toronto Sun, November 4, 1999) No wonder Canadian businesses treat customers like criminals. Interesting, but how did he gain entry to Canada in the first place?
Race Doesn't Matter (They Say) Sikh Power Takes BC NDP By Storm
"Ujjal Dosanjh has received tens of thousands of dollars from Indo-Canadians [in Toronto] and in other cities to support his campaign to become Canada's first Sikh premier. … Dosanjh said Friday he appreciates the national support he has received from Indo-Canadians. … At a fund-raising event in Mississauga, Ont. two weeks ago, more than $40,000 was presented to Dosanjh by the 450 who attended. … While Dosanjh himself has held special events with his Indo-Canadian supporters, he also told a reporter at the Mississauga dinner that he doesn't see himself as an ethnic politician." (Vancouver Sun, January 8, 2000) "The NDP has grown to 24,000 members from 13,000. Of those, 10,000 joined the party under what is known as bulk memberships, meaning their cards came into party headquarters in batches of more than 50 with minimal donations attached. The majority are Indo-Canadians. … Some reports have said that those who voted have been unable to speak English or even read the ballots. They have nevertheless managed to cast their votes as they have been supplied with lists on what way to vote." (National Post, February 4, 2000)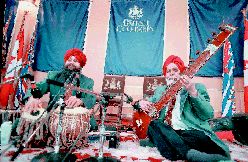 The ceremonies in BC. According to a Vancouver Province poll, if a real election were called right now, the results would be: Liberals, 69%; NDP, 18%; Reform 8%; Green, 2%
"One leadership candidate, Len Werden, a longtime union leader, said … he did not want 'to point fingers' but it is clear to everyone that Mr. Dosanjh is the main beneficiary of the mass sign-ups. … The party audit found 1,300 people — 15% of the NDP's B.C. membership — did not know they had joined the party. … There is another problem — one not addressed by the NDP audit — in which new members had their sign-up fees paid by a third party. … Mr. Dosanjh may yet win — but he could destroy the NDP in the process." (National Post, February 11, 2000) But surely that is the question Canadians ought to be asking themselves: Is the system being subverted to throw up an NDP premier who just happens to be a Sikh — or a Sikh premier who just happens to be an NDPer?