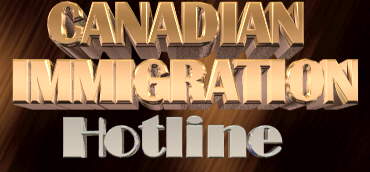 Isn't tolerance wonderful? If you find someone (other than a Canadian) who is really tolerant — let us know? Natasha Ruckpaul's human rights complaint claims "she was unfairly dismissed last May as the interpreter co-ordinator at the refugee camp at CFB Gagetown outside Fredericton. One of the reasons given by her supervisor for the abrupt firing three weeks into the job was Ms. Ruckpaul's nationality, she says. People assumed she was a Serb because her first name is a common Serb name and because Serbian is one of the seven languages she speaks. Earlier she had been told by the supervisor: 'There are complaints about your nationality from the local population.' … Ms. Ruckpaul, 27, [of mixed ethnicity] is asking the Canadian Human Rights Commission to order sensitivity training for all Immigration Department employees working with refugees across Canada. She also wants a formal apology from the department, payment of legal expenses, compensation for lost wages and unspecified damages for pain and suffering." (National Post, November 4, 1999)
Replacing Canadians
Canada's political establishment apparently doesn't care that its immigration policies are replacing native-born Canadians. Actually, from their point of view it's a good thing. They get rid of people with some sense of human rights and replace them with grateful voters, many hailing from countries where human rights don't exist. These won't be people keen on protecting liberties like freedom of speech that they may never have known. "The Conference Board of Canada in August 1999 released a report that concluded that the number of skilled Canadians migrating to the United States rose more than fivefold between 1986 and 1997, from 17,000 to 98,000. By the Board's reckoning, the equivalent of 69 percent of Canada's computer science graduates between 1995 and 1997 emigrated, as did 56 percent of the nursing graduates and 52 per cent of engineering graduates." (Migration News, September 1999) Canada's response? As always — replace 'em!
Immigration Canada was a partial sponsor of the first ever conference on the recognition of foreign credentials, held in Toronto October 12 – 15. There, Simon Fraser University Chancellor Milton Wong said that Canada should "review the qualification process to make it more inclusive.
We need to start placing more emphasis on an individual's ability to learn and be flexible, instead of static credentials like diplomas or degrees." (Toronto Star, October 14, 1999) The relentless pressure on Canadian licensing bodies to accommodate foreign credentials is hooked in to the great big guilt machine: It's YOUR fault he's driving a cab! Elsewhere, a major public debate has erupted over Nepalese plans to "give permanent status to 20,000 temporary teachers in publicly funded primary and secondary schools. Recent reports that some would-be beneficiaries had already sneaked into the system — using forged certificates bought from the north Indian states of Bihar and Uttar Pradesh — have fuelled concerns. … Balkrishna Neupane, a lawyer who has taken the matter to the Supreme Court, claimed that 30 per cent of the beneficiaries would be non-Nepalis. … Another 30 per cent of the available slots would go to holders of forged certificates from Indian institutions. The remaining 40 per cent of vacancies would be claimed by those who originally failed selection tests." (South China Morning Post, August 31, 1999) Nepalis may be free to say such things — Canadians aren't.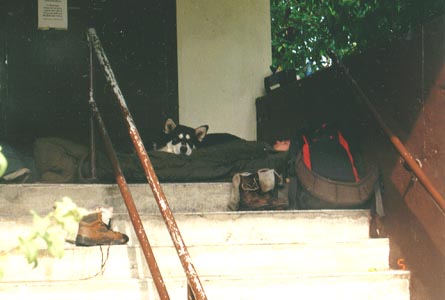 Poor Canadian forgotten by government. The government is too busy falling over each other to help the "refugees"
A forgotten poor Canadian and his dog on the left, while healthy well fed "refugees" mill about on the right
Handling The "Globally" Homeless

How would you ease Toronto's homeless crisis? Pre-emptively, if you happened to be Canada's new Immigration Minister. Why not drive your little Welcome Wagon out to intercept and reward "refugees" as they arrive at the airport? Never mind the fact that the vast majority of Toronto's homeless appear to be the home grown variety — but then, who cares about Canadians anymore? When Ms. Caplan's new pilot project was launched December 1, Canadians were not inconvenienced with anything like a public announcement. The scheme, "provides every refugee claimant who arrives at Toronto, Niagara Falls and Windsor with a photo ID card verifying they are in the process of claiming refugee status. In turn, the card allows claimants to immediately access Canada's generous social safety net.
Claimants are entitled to welfare, health care and other social programs while waiting for their claims to be heard, but, under the old system, they first had to fill out a series of forms about their personal situation, and then wait until the forms were processed before obtaining any benefits. … [Cruelly — this used to take up to 17 days! Immigration spokesman Doug Kellam] conceded officials are concerned that once the photo ID benefit card is granted, there's no longer an incentive to fill out the forms, which ask questions about the claimants personal situation — including any criminal record." (Toronto Sun, December 17, 1999) However, Canadian citizens heading to B.C. have a waiting period of several months before they qualify for welfare benefits.
Art Of The Scam
Let's say the Minister of Immigration and senior officials head for Hong Kong to investigate some persistent problems. "The following is an extract from their report: 'In Hong Kong we had conversations with the British, Americans, Australians and United Nations officials as well as with our own staff [and RCMP and Health advisors]. All immigration services in Hong Kong, including the British, described exactly the same problems as ours: extensive fraud, complete disregard for the truth or legal oaths, ready use of forgery, bribery or any other devices to gain the ends desired. All agreed that almost every migrant is lying about something.'" (Freda Hawkins, Canada and Immigration: Public Policy and Public Concern, p. 133, McGill-Queen's University Press, 1988) While the publication date (1988) is distressing enough, it's important to remember that the meeting took place in 1964. Speaking in the House of Commons at that time, then Immigration Minister René Tremblay said: "There exists a well organized and highly efficient illegal Chinese immigration system involving forged documents and photographs, schools that coach immigrants in false identities, persistent use of false declarations and other abuses. … Contrary to popular belief, a large number of these illegal Chinese immigrants are not close relatives of Canadian residents." (ibid. p. 143)
He is referring to "slots" or "paper families"; that is, false accounts of family composition or the creation of fictitious relatives dating from the first interview with a Canadian immigration official, to lay the groundwork for later "family" reunification. Canada was determined, even in those far off days, to expiate memories of the bachelor society, exclusion laws and head tax by any means necessary. Thus, illegal Chinese claims were granted an unprecedented degree of latitude, and by 1960, the numbers of illegal and irregular claims was completely out of hand. And yet, how often have we heard about the 1960 General Amnesty, the 1964 Period of Tolerance, or the (still in effect in 1988) Adjustment Statement Programme? Under the programme, immunity was granted those who voluntarily came forward to describe the true extent of their family and recount the manner in which they had illegally entered the country. This was presumably to be accompanied by a vigorous policy of prosecution and deportations. "From June 1960 to July 1970, 11,569 Chinese had their status adjusted. … Several attempts have been made to terminate the programme … but strong representations from Members of Parliament, members of the Chinese community, and others secured a postponement." (ibid. p. 133)
New immigration regulations in 1967 prompted the Deputy Minister to recommend termination of the ongoing amnesties in these terms: "If [the programme] is continued beyond the introduction of the new Regulations, those who have already made adjustment statements will attempt to create new 'slots' for relatives and those who have not made adjustment statements will have the opportunity of creating a larger 'paper family' based on the broader admissible classes. … This Programme and the special privileges it gives to the Chinese does not conform to the new policy of universality and non-discrimination." (ibid. p. 134) Thirty years later, more of the same. Over the course of the summer, when new revelations began to emerge about missing visas, computer tampering, packages of money and extravagant gifts at Canada's Hong Kong mission, one more putrefying vessel would steam over our Western horizon and the media spotlight would shift accordingly. Is this the real reason the governing Liberals were so eager to fire up the old Welcome Wagon each time? What bitter irony if admission of the 600 boatpeople served merely as a bit of legerdemain to draw the eye from the spurious admission of hundreds of thousands via Hong Kong and other chronically problematic missions?
Three years ago when Dutch authorities broke a Canada-bound human smuggling ring, Canadian officials could barely disguise their annoyance: "A criminal syndicate has smuggled as many as 5,000 people, mostly Iranians, into Canada using false passports over the past three years. … Dutch authorities say they are astounded that the case has received no public attention in Canada and that only one RCMP officer has been assigned to pursue the investigation full-time." (Globe and Mail, December 6, 1996) This summer, as the hulks continued to disgorge their contents on the West Coast, we learned that the going rate for a Canadian visa in Eastern European newspapers is $25,000 US. "The ads also say results are guaranteed, cash on delivery. Some members of Canada's Bulgarian community are denouncing the scams which they say allow dishonest migrants to cheat the system. … They say the scam continues in Canada, where some of the people working with the government to assist the new arrivals are alleged to be encouraging them to claim refugee status as persecuted Gypsies or ethnic Macedonians.
The majority of the almost 500 Bulgarians who've claimed refugee status in the past three years have been accepted. But Amnesty International say they've never heard of the persecution of Macedonians in Bulgaria. Bulgaria's consul-general … doesn't like the fact that his country's name is being tarnished. But he says there's not much Bulgaria can do if Canada chooses to accept the claims." (CBC Radio, September 3, 1999)
Prejudice in Richmond, B.C.
"In the city of Richmond, 40 percent of the population are ethnic Chinese, yet only 16 per cent are registered voters." (Migration News, Vol. 6, No. 12, December, 1999) No doubt the expert will be delighted to explain precisely how this is our fault, but then again, perhaps that 24% is simply not interested in Canada's political process? "Canada's racial problems should not be blamed on the 'white' community alone, the Chinese are also responsible for contributing to racial tension. A survey launched by the Vancouver's [sic] Chinese-language daily Ming Pao reveals that the Chinese customs and behaviour have often contributed to racial tension. … According to the polls' findings, seventy-seven per cent agree Chinese immigrants follow customs that have contributed to racial tension, … seventy-nine per cent disagree that Chinese should live in segregated neighbourhoods, … fifty-seven per cent believe they unconsciously discriminate against people of another race, [while] eighty-seven per cent say Chinese people should adopt Canadian customs. … Editor-in-chief Foster Lo commented that people need more understanding instead of labelling whatever happens as racism. 'Prejudice is both between the Chinese and non-Chinese,' Lo said. But Chinese should examine themselves first. The newspaper also mentioned behaviour which irritates many non-Chinese; such as, speaking Cantonese or Mandarin loudly in mixed settings, picking ears or clipping fingernails in public, building outsized homes in bungalow neighbourhoods, poor driving habits and failure to observe queues at stores. The poll also noted divisions between those who have been in Canada for generations and more recent arrivals.
There has always been conflict between these two groups. … The slurs from the newcomers hurled at those Chinese who were born in Canada are especially hurtful. … Though self-examination does not come easily to Chinese people, Lo said that such an attitude is required if the community is to get along in the greater society." (The Other Side of Racial Prejudice, Chinese Around The World, a Ministry of CCCOWE document, December, 1995)
Poor Performances Mar Debut
The IRB's travelling medicine show is holding auditions for the 200 boat people detained at (or rather, prevented from running away from) the old Prince George Jail. The ersatz refugees' craft was a disappointment given the fact that the cast has had ample opportunity to "consult" with immigration lawyers and commit the script to memory. Still, given UN-approved rehearsal facilities, we're confident that the winning formula will be found; only let the cast familiarize itself with the material and we should anticipate award-winning two-hankie performances. On opening night however, one "claimed religious persecution as a Roman Catholic in China, but did not know the church is led by the Pope. … [Another] … testified that he escaped out a second-storey window at a family-planning office where he had been detained overnight in China in October, 1998, after officials discovered his wife was seven months pregnant with their second child. … 'I would just be afraid if the government catches me, they will sterilize me and put me in jail,' he told Donald Galloway, the hearing's presiding member for the Immigration and Refugee Board. … 'In our village, lots of guys have had [sterilization]. After this operation, they can't work anymore.' Mr. Galloway noted the claimant contradicted his own evidence several times about his escape, the whereabouts of his pregnant wife at the time of his arrest, and the couple's use of birth control. He also questioned why the man would leave his wife behind if she were also in danger of being arrested and sterilized." (Globe and Mail, December 16, 1999)
Hey, whatever. The purportedly debilitating effects of a vasectomy are seemingly too bizarre even for IRB comment. If this actor actually hails from a village as he says, it's unlikely that birth policies exist at all; these are confined to urban areas where prospects for money making improve exponentially. In China and elsewhere, population movement is normally driven by a desire to improve economic opportunity. There's nothing very new in that, but Canada remains an isolated freak on an ever more sophisticated world stage. Merely by pointing the Singh Decision at our head, any liar, scoundrel, gate-crasher, crook or welfare-leech can hold us to ransom — and in classic Stockholm Syndrome terms — we immediately fall in love. As a matter of interest (although seemingly not to the IRB or Immigration Canada) it is natural disasters, and not birth policies or politics, that produce the majority of refugees. "The 1999 World Disasters Report, an annual [Red Cross] survey of humanitarian trends, said last year's 'natural disasters' were the worst on record and caused more damage than ever before — creating 58 per cent of the world's refugees." (Globe and Mail, June 25, 1999)
Trend? What Trend?
First parachuted in to bolster the "female quota," Elinor Caplan was subsequently invested as Immigration Minister. Canadians almost certainly sympathized with the woman winched into place at the height of the boatpeople crisis, but she quickly showed herself to be someone the pro-immigration lobby can only describe as "a pleasure to work with." Her maiden statement says it all: "Canadians need to learn more from their government about immigrants' contributions to the country in order to eliminate tensions and misunderstandings. 'I think there's a lot of confusion and it's difficult to engage the public in discussion around the importance around immigration.'" (Globe and Mail, August 5, 1999) Eerily similar, a witness to WTO protest havoc in Seattle, Bill Clinton espoused identical concerns about developmentally stunted people who foolishly imagine they can resist imposition of the New World Order. "After being driven through the streets of broken glass and police lines, … Clinton moved quickly to adapt to new conditions. … At two appearances the following day, Clinton departed from his prepared text to emphasize that it would be necessary from now on to explain to people more clearly the ways that trade benefitted them." (TIME, December 13, 1999) All together now: "Voters and taxpayers are idiots. All our instincts are wrong. Why do we force the government to keep cranking out propaganda and circumscribing our rights? Why can't we just appreciate everything they do for us instead?"

That Churning Sensation
A recent report found Toronto-the-enriched enjoys "a higher incidence of tuberculosis, low-birth-weight babies, teenage pregnancy, sexually transmitted diseases, AIDS and food poisoning than anywhere else in the province. … But [don't worry! be happy!] it is too early to pinpoint the specific causes of Toronto's unimpressive report card because the city is still undergoing massive social changes [executive director of the Toronto District Health Council, Scott] Dudgeon added. It is also difficult to say why, for example, Toronto had more incidents of food poisoning than anywhere else." (Globe and Mail, December 1, 1999) Could it be the restaurants? "Documents obtained by the Saturday Sun show more than 500 eateries have been dinged by health department inspectors in the past three years for violations that range from failing to keep machinery clean to [using uninspected meats, failing to remove mouse droppings from food processing and storage surfaces, failing to store pesticides in a location away from food, failing to maintain hazardous food at a safe holding temperature, and fly and] cockroach infestations. … Councillor John Filion, chairman of the board of health … said diners would stop going to hundreds [of restaurants] if they knew what was going on behind the counter. He has called for the city to publish restaurant inspection results." (Toronto Sun, December 4, 1999)
The Enrichment Syndrome
By definition a brain drain starts at the top. However easy to blame provincial governments, years of massive federal cutbacks to social transfer payments will play a part in the inevitable collapse when it comes. The federal Human Resources Development department's Toronto Labour Market News, (January-March, 1997, Issue # 7) warned: "Wellesley, Womens College, Doctors Hospital, North York Branson, Runnymede, Northwestern, Salvation Army Toronto, Grace, Dewson Private Hospital, Orthopaedic and Arthritic Hospital, and Bellwood Health Services are scheduled to close. Thousands of employees could lose their jobs as a result of the planned mergers, closures and downgrades of Torontos hospitals." The news devastated the medical community and very likely set off the stampede of Canadian trained doctors and nurses heading south. Little wonder, then, that the ruling Liberals are loathe to admit that a brain drain (of their own making) exists. What intrigues us is the probable price-tag of the cultural revisions once implemented at Doctor's Hospital, and detailed by a visibly affected CBC: "In the heart of downtown Toronto is the Kensington [Market] community. Seventy-five per cent of all new immigrants to the city pass through there. Since the early fifties the demographics of this part of Toronto have changed dramatically. The Doctors Hospital, the main health care provider in the neighbourhood, responded by changing with the community. The hospital recruited physicians, nurses, and other staff who could speak the language of the surrounding ethnic groups. … Even the different attitudes about family has changed the hospital's structure.
Doctors have created bigger waiting rooms to accommodate the number of people who accompany a patient to their appointments. And sometimes the family wants to come into the examining room and doctors must deal with issues arising from a very Western notion of confidentiality." (The Health Show, February 26, 1997) Several questions beg answers: If Doctors Hospital was most geared to serving immigrant needs in the area with the highest proportion of immigrants in the city with the largest immigrant population, why did it fail? At what cost? How many other institutions have similarly reinvented themselves, craving custom of the immigrant market only to go belly up? How many of these flops do we ever hear about? Eaton's and Canadian Airlines are just two commercial endeavours that spring to mind; both went down still wildly signalling to attract the seemingly indifferent multicultural customer.

All Cultures Are Equal
Unless you're a woman. Although officially outlawed by the British in 1829, the rite of self-immolation known as suttee persists in Uttar Pradesh and Rajasthan. In the old days, wives were sometimes sacrificed before their husband's expected death in battle. Instances today are rare, but "since 1930, eight cases have been reported from the district around Satpura, a village about 290 kilometres east of New Delhi. … In accordance with an ancient Hindu rite, Charan Shah stepped onto her husband's funeral pyre. She knelt at the foot of his burning body, touched her forehead to the fiery embers and remained motionless until she was dead. Weeks later, police still guard the spot where the 55-year-old widow committed ritual suicide, preventing her neighbours from worshipping the site and erecting a temple in her honour. [Followers believe that such women become demi-goddesses capable of answering prayers] … Authorities say Mrs. Shah had given no indication that she would kill herself after her husband, Man Shah, died of the tuberculosis that had afflicted him for 30 years. … Police refuse to acknowledge it as suttee … [Should they do so] every witness could be charged with culpable homicide. … Women's groups say that no matter what it is called, the incident shows the desperation of widows in tradition-bound rural areas. Such women are often shunned and degraded by their husbands' families." (Globe and Mail, December 15, 1999) Meanwhile back at the ranch "police are looking for the husband of a newly married East Indian woman who was terrorized and had her passport stolen after arriving in Toronto to live with him. Police said the 21-year-old woman — married in an arranged marriage in India earlier this year — arrived in Toronto last week. She was picked up the next day by her husband and three men and driven to a remote area in Vaughan and told to hand over her passport on threat of death. … Police are looking for her husband and another man. Amrik Singh Gill, 31, of Toronto, is charged with robbery and kidnapping. The husband's name is not being released until an arrest warrant is issued" (Toronto Sun, December 18, 1999)
Toronto The Not-So-Good
"Toronto has become a haven for criminals from around the world. 'The problem that we face in Toronto … because it is such a multicultural city, is that it attracts a lot of foreign criminals,' … Toronto Police Service Superintendent Ron Taverner told a news conference. 'Quite frankly, we don't know how many foreign criminals are here, but we suspect it is in the thousands.' … In fact, the problem has become so vexing that Toronto police set up a fugitive squad during the past few years, the only North American city to do so." (Globe and Mail, September 29, 1999)
Oops, We Goofed (Again)
Just as in the Todd Bayliss case, the immigration department "missed" someone slated for deportation. Just as in the Bayliss case, that is small consolation for a grieving family. "The Israeli soldier suspected in the beating death of Matti Baranovski should have been deported from Canada after being found guilty of an assault 12 days before the teen's murder. Daniel Weiz's name came across the police blotter on Oct. 15 after he assaulted a Toronto boy and a necklace was stolen. On Nov. 2, Weiz, 19, pleaded guilty to assault. … Weiz was also charged with assault in relation to an Oct. 5, 1998 attack, but those charges were withdrawn. … Under Canadian law, a landed immigrant with a criminal conviction faces deportation. But officers in the immigration department said no deportation proceeding had started against Weiz. 'This guy slipped through the cracks,' one immigration officer said. 'We were not even aware of him.' … Weiz, an Israeli citizen who has had landed immigrant status in Canada since 1985, flew back to Israel a week after Baranovski's bloody murder. … He arrived in Toronto in August, on leave from the Israeli army, to visit his dad, who lives in Thornhill." (Toronto Sun, December 17, 1999) Three people — two of them minors — have been arrested.
Greasing The Legal Aid Mill
Last year 2,600 special minister's permits were granted to immigrants who were initially refused entry. Of these, 1,352 (52%) went to convicted felons: "335 went to violent offenders, including murderers, armed robbers and rapists. Some 988 went to criminals such as bank robbers, drunk drivers, thieves and fraud artists. Twenty-nine were issued to people with other criminal backgrounds, such as terrorists." (Reader's Digest, October, 1999) Remember! Even when they are caught counting on their fingers, immigration lawyers and collateral predators are driven by the highest and finest humanitarian principles.
Guyanese Wife Killer Still Clogging Our Courts
From the December 10, 1999 National Post: "A man who was found guilty four times in the deaths of his wife and sister — and who successfully appealed three of those convictions — is going to the Supreme Court of Canada to try to overturn the fourth conviction. Mohammed Khan, a mechanic originally from Guyana, was convicted in 1996 of killing both his sister, who was found dead in his freezer in 1990, and his wife, found in his bathtub in 1996. After successfully appealing those convictions because the cases were incorrectly tried at the same time, he was convicted again for killing his sister. … That conviction was overturned last year for lack of evidence. Also last year, he was convicted again for killing his wife. In that case, a jury found that Khan had suffocated the 70-pound woman, who had recently returned from hospital, and placed her in a bathtub filled with water to make her death look accidental. He was the beneficiary of a $300,000 life-insurance policy on her. … In September, Martin Glazer, Khan's lawyer, argued for a stay of judicial proceedings in the death of Khan's sister" — the one who must have fallen into his freezer.
The Case of the Missing Sri Lankans
"Mounties and Canadian immigration officials are trying to track down seven Sri Lankan men believed to have abandoned a [Cypriot registered] cargo ship now in Toronto. 'We are working with Canada Immigration in their investigation,' said RCMP Const. Michele Paradis. She said the seven sailors jumped ship while it was docked in Montreal. The vessel then sailed to Hamilton and , ter a change of captains there Sunday, the men were discovered missing. … She also said the seven men's whereabouts remain unknown and that as of last night no warrants had been issued. Paradis did hold out the possibility the Sri Lankans may return to their boat. 'They could just as easily want to get back,' she said. 'If they want to return we will definitely help them.'" (Toronto Sun, November 9, 1999) It's incredible that anyone would really think so.
It's Been Lovely, But I Have To Scream Now
We have repeatedly warned that relentless immigration will end by savaging more than just our freedom of speech. While you still can, say goodbye to your freedom of movement: "Any person coming into or leaving Canada should be required to check in at the border, say opposition MPs. Both Tories and Reformers say exit controls are the solution to keeping track of the more than 20,000 foreigners — some with criminal records — who have been ordered deported, but the government has no idea of their whereabouts. Tory MP David Price concedes such a system would not only keep tabs on the criminals, it would require every Canadian to keep the government informed of his or her comings and goings. … Of 40,632 outstanding deportation orders issued since 1993, police and immigration officials are only actively pursuing 11,108 of them for removal. Immigration officials concede they have no idea where another 20,743 of the wanted individuals are." (London Free Press, November 30, 1999) In the New Canada, the trend is jolly Draconian policies for the long suffering majority and very special exemptions for the very privileged few. While a new border policy may penalize law abiding Canadians, there's a nice little pat on the head for those who neglected to bring their ID when they set out for Canada from half way around the world.
Oh well, these little oversights happen — often. Immigration Minister Elinor Caplan announced yesterday that by the new year, she will use her discretionary power to grant landed status to 2,800 self-styled refugees. "The 2,800 refugees who stand to benefit are mainly from Somalia and Afghanistan. … Up to 10,000 refugees are in Canada waiting for landed status, which means they can't vote, get loans for university or work in professions such as education or health care, or travel out of the country. Those recognized by authorities as refugees, but who don't have documents to prove their identity, have to wait five years before they get landed status. Ms. Caplan is expected … [to drop] the requirement to three years." (Globe and Mail, December 4, 1999) Hey, why not opt for Canada's four-star immigration package? "Between 1996 and 1998 approximately 15 per cent of immigrants to Canada were refugees." (Vancouver Sun, November 22, 1999)