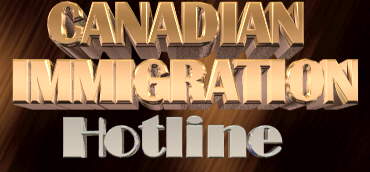 Plain and simple, people of European descent will become an endangered species in Canada. The federal government's genocidal immigration policy is nothing less than replacement of one population (European) by another (Third World) Statistics Canada has conformed this. Vancouver author Wayne MacLeod wrote StatsCan to inquire when whites will slip into minority status in Canada.
Our counterparts in the U.S. will become a minority around 2050! Writes M.V. George, Chief of the Population Projections Section of StatsCan in an October 16, 1998 letter to MacLeod: Our section "has developed and published Projections Of Visible Minority Population Groups, Canada, Provinces, and Territories, 1991-2016. If the assumptions underlying these projections were to prove correct, the proportion of visible minorities in Canada would double between 1991 (10%) and the year 2016, when the proportion would be in the order of 20%.
This shows a doubling of the proportion (from 10% to 20%) over a period of 25 years. … If another doubling (from 20% to 40%) were to take place over the subsequent 25 years (no an impossible scenario), this would mean that by about the early 2040's, the proportion of visible minority population could have reached 40% in Canada." In terms of the status of people of European origin, the news, actually, is even worse. Indians/Eskimos/ Metis are not considered "visible minorities" by StatsCan. According to the 1996 Census, 1.1-million people identified themselves as Aboriginals, or about a further 2.82 per cent of the Canadian population. (1996 Census: Ethnic Origin, Visible Minorities) In addition, the Aboriginals have a very high birthrate.
Immigration Goals for 1999 — Another Robillard Slap at the Unemployed!
Immigration Minister Lucienne Robillard has once again given a sharp slap across the face to Canada's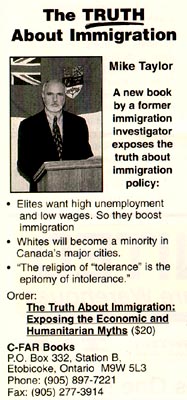 unemployed. In her October 7 statement to Parliament, entitled The Immigration Plan for 1999 –Canada: A Welcoming Land, Robillard announced a goal of 200,000 to 225,000 for 1999. It's too bad Canada is not a very welcoming land for Canada's unemployed.The present government, while piling up huge Employment Insurance fund surpluses, has denied large numbers of the unemployed the benefits the paid for.
With official unemployment stuck at close to 1.4-million Canadians, or 8.4 per cent of the workforce, we simply don't need any newcomers. We commissioned a Decima Research Poll of Canadian attitudes to immigration in February and found that a majority of Canadians backed the idea of a five year moratorium on immigration to allow us to get our own unemployed back to work. Mme Robillard has failed to put Canadians first. Why must we import foreign workers? Why not train the huge pool of unemployed and overlooked Canadians? In her statement that she was "pleased to see that the number of immigrants sponsored by their immediate families is on the increase", Robillard is once again showing a heartless disregard for Canadians.
Family class immigrants need demonstrate no language or job skills. Many of these people will have trouble making a contribution to Canadian society and will, if recent trends continue, be a burden to Canadian taxpayers. Canada should have close to full employment before contemplating further immigration. The more one sees of Canada's present uncaring immigration policy, the more convincing becomes former immigration investigator Mike Taylor's conclusion that Canada's immigration policy benefits elites who want to keep unemployment high and wages low. Taylor recently published his conclusions in The Truth About Immigration: Exposing the Economic and Humanitarian Myths. (Available for $20 from CFIRC)
Bad Experience With "Skilled" Foreign Workers
The Immigration Department publishes a ponderous list of occupations that are supposedly in demand in Canada and for which no competent Canadians can be found. Alleged skill in one of these trades gets an immigrant applicant immediate brownie points. Such professions as cook, airport ramp attendant and gun smith — in gun-hating Canada! — to say nothing of exotic dancer (stripper) can qualify an applicant for admission. So, just how skilled are these "skilled" workers? Rick Petryshen of Vancouver writes: "I find it completely ironic that in the list of desired occupations the immigration department is encouraging there is not one classification ranking 'politician' as a favoured occupation.
Maybe this lies at the root of the problem. In my line of work (refrigeration mechanic/gas fitter) the system continually is letting in so-called tradespersons in this field while Canadian trained people are either unemployed or working short hours. Of the many foreign trained immigrants I have personally worked with, who got handed a Journeyman's ticket upon arrival, most were absolutely incompetent. Also, they seem to be willing to work for a wage disproportionate to the norm. To be fair though, I have worked with immigrants whose skill levels were exceptional, typically from Australia, New Zealand, Poland, Germany and Great Britain.
Of the incompetents I've worked with, they typically tend to find a niche in their own communities or get a government job. Very few last in the service business. Yet our illustrious immigration department keeps 'em coming! I just finished working for a company with a gentleman (really a great guy) who is from Finland. He just received his green card and is moving to Florida. He's had it with Vancouver — taxes, the cost of living, health care! Don't the politicians see this! Even the immigrants want out!!! The problem is Canucks can't get a damn green card!"
Poorly Screened Immigrants Cost for ESL
Language Instruction for Newcomers to Canada (LINC) is a massive federally funded ESL program. Last year's timid hope, expressed in the report Not Just Numbers , that, as a show of good faith, newcomers might toss a little something into their own language training, was shot down in flames when legions of elderly Asians took to the streets with their placards "No railroads without us".
— As if! Any faint hope that the taxpayer was to be given a break in this incessant round of paying for Third World language upgrading vanished when Ottawa boosted the budget "about 30 per cent, to $134 million this fiscal year. … Few of Toronto's 70,000 new immigrants each year handle English well. … Last year, [only] 32,434 adults in Ontario took them [the classes]." (Toronto Star, July 25, 1998) For those who are motivated to "bother", English-as-a-Second-Language training generally provides "free" (taxpayer funded) childcare, "free" (taxpayer funded) transportation, and a spot at the (taxpayer funded) welfare trough.
Oh, Why Don't We Just Shoot Ourselves? They're So Much Better Than We Are Anyway
The Toronto Star has become Ottawa's premier cheerleader for this "policy of replacement". A sick-making item extols the virtues of the fabulously superior immigrant child; only mentioning Canadian children for the sake of unsavoury contrast. You might think that the betrayal of the native-born child's hopes and dreams; their complete absence wherever programme funds are doled out, would make for a newsworthy story, but the folks at The Star would not agree. "Immigrant and refugee children are doing better emotionally and academically than their Canadian-born peers. … Despite the turmoil of moving to a strange country and speaking a new language, they have lower rates of hyperactivity and fewer conduct and emotional problems, according to a study headed by Dr. Morton Beiser, director of the Centre for Excellence for Research on Immigration and Settlement at Toronto's three universities.
… 'It's a paradox, in a way, that immigrant and refugee kids seem to do better and yet they're more likely to be poor,' Beiser said in an interview. … Poor Canadian-born families are more likely to be headed by a single, often-depressed parent, the study says." (Toronto Star, October 27, 1998) Clearly, articles like this will not have a salutary effect on the average depressed parent. Shall we do the kind thing and euthanize defective Canadian children before they can corrupt their betters, or shall we just wait until The Star tells us to?
Living with Diversity
In Abbotsford, B.C., "municipal police closed down the Abbotsford Sikh Temple after a man was stabbed in the abdomen [for refusing to remove his shoes] there yesterday." (Globe and Mail, August 24, 1998) Over in Vernon,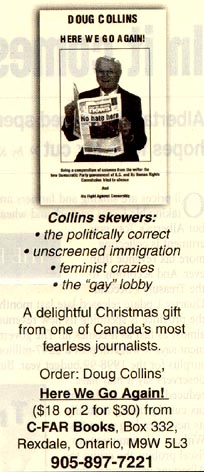 B.C., in April 1996, "a Canadian citizen, born to a Sikh family from India, went berserk because of a troubled marriage, and shot nine people dead." (Toronto Star, February 3, 1997) Then, in Surrey, B.C., on January 11, 1997, at the Guru Nanak Temple "ceremonial swords, the crescent-shaped blades meant to signify God's power and justice, were drawn. Others took out their kirpans, the ["ceremonial"] daggers carried by many Sikhs. At least four people were stabbed and slashed in the ensuing bloody melee. …
As the Mounties rescued bleeding victims, some of the faithful screamed, 'Kill the RCMP.' … The bombing of Air India in 1985, the attempted assassination of an Indian cabinet minister on a West Coast logging road and the gunning down of two people in a Toronto court room by Sikh militants had left a stain on the community." (Globe and Mail, January 25, 1997) The January 4, 1998 murder of an elderly caretaker at the aforementioned Guru Nanak Temple further divided the Sikh community. Then, three months later, five young white men were arrested. "RCMP revelations that the accused are white came after months of speculation in the Indo-Canadian community itself that the caretaker was killed because of factional Sikh feuds." (Globe and Mail, April 23,1998) Into this festering stew of social and racial rancour was dropped a pellet of pure poison. In Surrey, B.C., "
Immigration for Sale
"The Royal Canadian Mounted Police is investigating ads that appeared in foreign publications that offer guarantees of immigration, even with a criminal record, for a US $30,000 investment in a car rental franchise in Canada. The Canadian government stated that it does not make guarantees for anyone requesting immigration, especially those with criminal records." (Migration News, Vol. 5 #10, October, 1998) Really? "4,059 minister's [special] permits were issued in 1997. Of those, almost four out of every ten went to convicted criminals." (Toronto Sun, June 8, 1998)
Race Doesn't Matter, they say
Causes of Prison Deaths Point to Racial Differences The truth shall set you free, unless your society conspires to maintain a lethal fiction. In Britain, Richard Tilt, "the Director General of the Prison Service was involved in a race row last night after claiming that physical differences meant that Afro-Caribbeans were more likely to suffocate while being restrained by prison staff. … Seven prisoners died in jails in England and Wales while being restrained by prison officers between 1992 and 1995. Six of the seven men were Afro-Caribbeans. Mr. Tilt said that the Prison Service had commissioned research into the problem because the trend indicated that Afro-Caribbeans were more likely to die from positional asphyxia while being restrained. … Positional asphyxia occurs when a person is held in a certain position and pressure is put on their windpipe. [Modest pressure on both carotid sheaths causes the head to fill with blood – severe pressure on both carotid sheaths practically stops the flow of blood in and out of the head] As criticism of Mr. Tilt mounted, the Prison Service issued a statement explaining … [that] emerging evidence was linked to the inherited sickle cell condition [conferring a degree of immunity to malaria] among Afro-Caribbean people that could make them more susceptible to positional asphyxia as a result of positional restraint. Sickle cell is an abnormal form of haemoglobin in the red blood cells.
When the red blood cells are low in oxygen,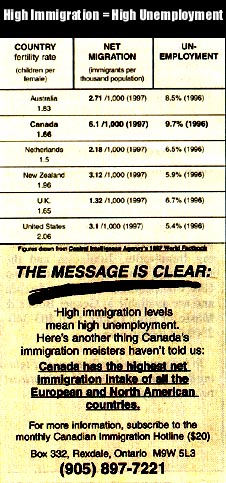 the formation of haemoglobin goes into a crystal-like structure, causing the red cell membrane to distort into a sickle shape. The blood becomes thicker, blocking smaller arteries and causing severe pain and swelling of the tissues. … Mavis Stewart, chairwoman of the Association of Jamaicans, said: 'He's finding excuses for what is a very serious issue. I don't know of any research which proves this. Did he also find the blood in black veins is a different colour or that black brain cells are smaller? I would like him to tell myself and the rest of the world what his research is based on.'" (London Times, March 27, 1998) Good grief. Ms. Stewart's stridency notwithstanding, such diverse groups as Amnesty International and the Toronto Police have indeed noted black susceptibility to positional asphyxia. But for some reason, the spectre of police brutality and systemic racism is more felicitous to our moribund society than the prospect of actually preventing in-custody deaths (if that's accomplished at the expense of liberal orthodoxy). Since the sickle cell trait occurs in 10 per cent of American blacks and less than one-half of one per cent of Caucasian Americans, a whites-only choking policy may be the fastest way to Ms. Stewart's heart.
Following the 1982 chokehold death of James Thomas Mincey, Jr., (a black), the Los Angeles Police Commission put the use of chokeholds on a par with "deadly force". The ban has never been lifted. A risk management consultant and nonlethal weapons specialist who testified as an expert witness at the Rodney King federal civil trial has this to say: "Some Los Angeles officials specifically predicted that baton beatings would be the result of taking out of routine use the most-used police tactics, commonly known as 'chokeholds'. … The federal civil jury awarded King 3.8 million tax dollars," says Greg Meyer, LAPD captain) Nevertheless Britain's "Director-General of the Prison Service apologised yesterday. … 'I am not a racist. I have never been a racist. I am extremely sorry if the remarks I made have caused offence. They clearly have. That was not my intention. They were completely inadvertent,' he told BBC Radio." (London Times, March 28, 1998) "Medical science has known for many years that patients with sickle cell trait must be cautioned against flying in unpressurized aircraft because at altitudes above about 14,000 feet, the trait transforms into the disease. This is because of the paucity of oxygen at such an altitude. Hypoxia (lack of oxygen in the blood) may induce sickling with attendant extreme pain, stoppage of blood flow, and possible death. 'Symptoms resulting from vaso-occlusion occur [in persons with sickle cell trait] only in extreme circumstances of severe hypoxia such as flying in unpressurized aircraft.'"
(Cecil, Textbook of Medicine, 16th Ed., p. 889) Meanwhile, back in Britain, "the death of six Afro-Caribbeans while being restrained in prison was not linked to their genetic make-up, according to a prison service report published yesterday. … The report suggests that the way Afro-Caribbeans are treated in jails in England and Wales may predispose them to act aggressively when challenged by jail staff. … Five of the six Afro-Caribbean prisoners were remand inmates and … [the report] recommends further investigation into whether there are any characteristics among remand prisoners that could predispose them to act violently. … The latest prison services statistics show that in June last year there were 11,500 ethnic minority prisoners. They accounted for 18 per cent of the male jail population and 24 per cent of the female jail population compared with 6 per cent of the male and female populations in England and Wales." (London Times, April 23, 1998)

How Crazy is "Crazy"?
On February 20, 1997, 35-year-old schizophrenic Edmond Wai Hong Yu was shot and killed on a city bus by Toronto Police. On September 26, 1997, 23-year-old Charlene Minkowski was shoved in front of an oncoming subway train by schizophrenic Herbert Cheong. One hopes in vain for some sign from the diversity crowd that these are even roughly equivalent tragedies. No dice. The death of Yu remains a cause célèbre and alleged hate crime, while Minkowski has simply been forgotten (despite Cheong's November 30 trial date). Toronto's massive homeless explosion, the "clearing" of psychiatric facilities, and the third rate screening of Third World immigrants, represent a triumvirate of social failures. In Toronto, "the number of people found not criminally responsible because of mental disorder has increased by 10 per cent a year over the last five years … according to an internal health ministry report." (Toronto Star, January 10, 1998) The increase is staggering (and suggestive) — what else has increased astronomically over the last five years? Although the question of immigrants and mental health remains an enormous social taboo for the rest of us, the medical community has been forced to take a closer look. This will be a relief for anyone who has ever puzzled over intermittent news stories about penis snatchers. "At least 12 'sorcerers' were beaten to death in Ghana in January for making penises shrink or vanish.
The merest touch would cause victims to lose their 'marital appeal', according to the quaint terminology of one news report, after which they were persuaded to hand over cash in return for a cure. … Most of the deaths were in the capital, Accra, but by January 21 the panic was spreading. … Police with automatic rifles patrolled markets and bus stations, while medical experts appeared on state television to explain why penises increase and decrease in size. Last August a similar panic hit Cameroon, where mobs hanged three men accused of penis-snatching. … An identical scare swept through Nigeria in November 1990. … A man boarding a bus shouted that his penis had vanished. The chap in front of him was dragged off the bus and beaten. Fearing a lynching, a policeman fired warning shots, but only made matters worse by killing the bus driver and badly injuring a woman and her child. One report said that at least four sorcerers were beaten to death. In south-east Asia, the Malay term koro, or the Chinese shook yang or shook jong, describe a delusion that the penis is retracting into the body, accompanied by intense panic, feelings of collapse, nausea, breathlessness, blurred vision, spasms and even death. Chopsticks [hopefully the disposable type] have been employed to grip the escaping member, or string, either held by the victim or an assistant, or tied to the bedpost during sleep. More extreme measures have involved safety pins or a variety of clamps. …
Dr. Cheng Sheung-tak, a polytechnic lecturer from Hong Kong, addressing a conference on social welfare in southern China in 1993, said the koro could only be cured by his ointment, 'made from stag antlers, deer tail, and deer and seal penis'. Such a surreal remedy seems appropriate for such a make-believe affliction." (London Telegraph, March 15, 1997) Is this (rather than "aphrodisiac properties") the motive behind the slaughter of endangered species ? The shrinking penis is a growing problem (so to speak). In Rio de Janeiro, "unemployment fears stemming from the world economic crisis have shrunk Brazilian penises an average of two centimetres, a researcher claims. Urologist Roberto Trullili, said the average size of a flaccid penis had decreased from 7 cm to 5 cm in the past year." (South China Morning Post, October 23, 1998) This no doubt strikes Europeans as beyond peculiar, but the British Medical Journal is taking it very seriously indeed, having published a primer on multicult mental anomalies among Britain's newest residents. From the outset we learn that it's essentially hopeless, since what we believe is inculcated in us as tiny children. Thus, even without multiculturalism, the likelihood of our ever understanding one another seems to be diminishing. We are poles apart — even in the ways we go nuts. "In many parts of the Third World explanations of mental illness take into account wider social and religious factors. These include spirit possession, witchcraft, the breaking of religious taboos, divine retribution, and the capture of a soul by a spirit. Thus, these factors may need to be considered if treatment is to be accepted. … Culture bound syndromes … are specific to certain cultures and reflect core cultural themes: Amok — a spree of sudden violent attacks on people, animals, or property affecting men in Malaysia. Koro — A belief that the penis is shrinking into the abdomen. Evil Eye — A belief among Latin Americans that illness is caused by the stare of a jealous person.
Susto — A belief in the loss of the soul in Latin America. Obeah — A prevalent belief among immigrants from rural (and sometimes urban) communities of Africa and Asia is that it is possible to influence the health or well-being of another person by action at a distance. Culturally sanctioned ways of dealing with this often involve resorting to traditional healers or the use of counter-magic. Among Afro-Caribbean people in Britain a belief in Obeah is common, and various countermeasures are employed. … A common complaint by men from the Indian subcontinent is that sperm is leaking from the body into the urine. This complaint — called 'jiryan' in Pakistan and 'dhat' in India — may be prompted by anxiety over sexual potency or guilt about masturbation, and it may be compounded by cloudiness of the urine secondary to infection. … It is important to recognise that this is not a delusion but a widely held belief. … Possession — This means the take-over of a person's mind and body by an external force such as a spirit or ancestor. The force controls the patient's thoughts and actions and deprives him or her of responsibility for these actions. In many parts of the world people freely admit to being possessed and to having spirits speak and act through them. Anthropologists point out that this mode of expression is deployed by disadvantaged members of a group to gain otherwise unattainable ends. … Schizophrenia – Delusions and hallucinations draw on the symbols and images of the patient's cultural milieu. For example, in the West delusions often relate to technology (such as electricity being put into the brain, or being controlled by computer), while in Africa and India it is more common for delusions to have a religious basis involving being taken over or harmed by gods or spirits). … The prognosis of schizophrenia is better in Third World societies than in Western ones, and this may relate to support from families who share the patient's beliefs.
Migration and mental disorder – The rate of schizophrenia in immigrants from West Africa aged 25-35 has been estimated at nearly 30 times that of the native British population. While about 8% of white patients in psychiatric hospitals are detained under the Mental Health Act, the figure for black patients is about 25%. … Two theories have been proposed to account for the purported high prevalence of mental disorder among immigrants. The first is that people who are mentally ill are the ones most likely to emigrate; the second is that the stress of migration results in mental breakdown. … It is vital to find out how a patient seems to members of his or her own culture. … It is, of course, important to be aware that an interpreter (especially if a member of the patient's family) may have a vested interest in presenting the patient as mad if the patient has broken a taboo, has been sexually promiscuous, or is resisting family pressures. … It may be decided that a mental health problem does not exist and that the 'patient' is exhibiting culturally appropriate behaviour." (BMJ 1997; 315:473-476, 23 August)


Canadian Visas for Sale
"Two Pearson Airport immigration officers have been found guilty of trying to sell visas to illegal aliens for up to $5,000 each so the aliens could get into Canada. The RCMP said one officer was paid $1,000 last October 1995 to allow a prostitute from Thailand to enter Canada even though she didn't have proper documents. … Aldo Chang, 36, an eight-year immigration veteran … and George Kullman, 44, who had 20 years' service, were both found guilty of agreeing to bring a person into Canada without a valid visa. Chang was president, and Kullman the vice-president of Local 644, of the Canada Employment and Immigration Union." (Toronto Sun, October 24, 1998) Does anyone (apart from the taxpayer) take this bloated old whore called "Immigration" seriously?
CSIS Head Slams Immigrant Terrorists in Canada
"Canada is home to more international terrorist groups than any other country except perhaps the United States, the head of Canada's spy agency says. … In the last decade, scores of terrorist organizations have begun using Canada as a haven, a source of financial and material support and even a base of operations, [a closed Senate committee hearing was told by CSIS director Ward] Elcock. … As of June, CSIS was investigating 50 organizations — including groups linked to Hezbollah, Hamas, the Provisional IRA, the Tamil Tigers, the Kurdistan Worker's Party and 'all of the world's major Sikh terrorist groups' — as well as about 350 individuals. … Since the Iron Curtain was lifted, the rise of high-tech communications technology and the lack of repressive laws in Canada have encouraged terrorists to set up shop here, he said. Canada's immigration laws 'and related policies concerning refugees and immigrants' also concern Elcock. Immigration policies 'make us particularly vulnerable to terrorist influence and activities,' he said. … Because of international ties, foreign anti-terrorism agencies are also itching to operate in Canada. … 'Indeed, we already spend time dealing with agencies … who want to do the task for us — possibly in ways we as Canadians would find unacceptable." (Toronto Star, Oct. 15, 1998) Disturbing news indeed. None of which has prevented CSIS from spying on Canadians who presumed to express identical fears long ago.
Passports for Sale
Speaking in Parliament recently, Ted White (Reform — North Vancouver) said: "Just yesterday the North Shore News, my local newspaper, had a front page story saying it will no longer carry advertisements of lost passports because for eight years now it has been carrying advertisements of lost Iranian passports. It identified them as Iranian passports. There have been three or four per issue and there are three issues per week. We are talking about 10 to 12 passports a week being advertised as lost in North Vancouver. The reason they are advertised as lost is those people sell the passports complete with the T-1000 form, which is a landed immigrant form, so that they can be sent back to Iran to have a new photograph put in them and somebody can come here as a landed immigrant without any authority whatsoever. Sgt. Rockwell [head of fraud investigations at Immigration Canada] tells me that on average these passports can go around 10 times before they are picked up. When an illegal immigrant comes in using a false passport, looking like a legal landed immigrant, he goes immediately to the forger and sells the passport again to recover some of the money he paid in Iran and then the forger sends the passport back to Iran again so that another photograph can be put in it and it can do the circuit one more time. This goes on up to 10 times before the passport is so damaged that the immigration officials pick it up at the border. Then, of course, they say let us check on this person whose name is in this passport and on this T-1000 form. How did this passport get here? They visit the person concerned who says they lost that passport two years ago. It is advertised in the North Shore News. As I said, the North Shore News carried the story yesterday.
It will no longer advertise these passports lost because it does not want to be party to this fraud. Every single passport, it is right there in the story, that has been advertised lost in North Vancouver in eight years was Iranian. Does it not strike anyone in the immigration department opposite a bit strange that in eight years the only people who ever lose their passports are legally landed Iranian immigrants? How strange. But in the meantime in Surrey it is mostly East Indian passports that are advertised lost, and in Richmond it is Chinese passports. … All the immigration minister would have to do is make sure that when a new immigrant like me becomes a Canadian citizen the T-1000 form is taken out of the passport. That is all she needs to do. It is so simple. As soon as that is done the forger's power to send a genuine landed immigrant passport back to Iran, India or China is taken away. That is all it would take. But the minister says that for sentimental reasons we cannot do that, we might upset somebody. They like to have the T-1000 form in there. I say too bad. If somebody really has to have that form in there, they could have a photocopy with a big red stamp on it saying invalid or something like to take care of the problem. Really it comes down to political will. If there was political will to address the problem it would be addressed." (Hansard Number 135 (1340) – October 8, 1998)
ESL Recommended for Vietnamese Lorena Bobbitt
"When Vi Hoc Phung, 42, returned home to his wife of 18 years about 3 a.m. July 1, 1997, [Kim] Tran pleaded with him to leave the other woman. Phung ignored his wife's crying and pleading. After he went to sleep, Tran took a meat cleaver from the kitchen, pulled down his pants and cut off his penis, flush to the pubic bone. … [The 38-year-old mother of six] told police she had no choice." (Toronto Sun, July 7, 1998) "In the Tran case, it was the history of victimization that prompted B.C. Judge Patrick Dohm to prescribe English classes and community work as a fitting punishment." (Toronto Sun, July 14, 1998)
Meat Cleaver Replaces Scalpel for Chinese Doctor
"A Chinese doctor will be sentenced in the fall for a meat cleaver attack on his wife and her 74-year-old male friend. Hai Chin Zhang, 36, of College St., was found guilty of aggravated assault on Harry Allen. … [Zhang] became angry with his wife after finding a secret bank account with money from her family. He beat her with a mop handle and charged she was having an affair. … Allen was left with a broken leg, a serious facial cut, many scalp lacerations and he lost two fingers." (Toronto Sun, July 16, 1998)
Crazy Courts Nix Detention of Jamaican Drug Smuggler
"Canadian Customs officers who detained a man they believed was smuggling narcotics into Canada violated his rights. … The evidence obtained during Dominic Samuel's detention cannot be used against him, Mr. Justice Terrance O'Connor of the Ontario Court's General Division said before he dismissed the charge of importing a narcotic into Canada. … Mr. Samuel arrived at Pearson International Airport from Jamaica on Aug. 26, 1996. He was coming from a 'drug source country', had no money or credit cards and had no full-time employment. [The Customs officer noted ] … Mr. Samuel's tongue was white and pasty with a thick film on it, a symptom frequently found in drug swallowers. … Mr. Samuel was detained without being charged because officers wanted a stool sample to determine whether he had swallowed narcotics as a means of smuggling them into Canada. … [In due course, Mr. Samuel expelled] cocaine pellets which weighed a toal of 83 grams. Mr. Samuel admitted ingesting the cocaine. … [However, he belatedly discovered that his] protections under the Charter of Rights and Freedoms against unreasonable search and arbitrary detention had been violated. Judge O'Connor agreed." (Globe and Mail, August 14, 1998) Customs had no compelling reason to detain him, and the evidence they obtained in the course of his detention was (so to speak) tainted. Can we ever win? Does the vindicated Mr. Samuel plan to stay?
Illegal Immigrants Say the Darndest Things
"Three stowaways who jumped ship in the St. Lawrence River and swam ashore Thursday had no idea what country they were risking their lives to get to. Police and immigration officials say the first questions the refugees from the Dominican Republic asked was whether there are crocodiles in the St. Lawrence River. … They later asked if they could stay in Canada. The Panamanian ship that they abandoned is on its way to Detroit with 22 other stowaways." (Toronto Sun, August 22, 1998) There's no work in Detroit either.
Posse Thugs Nabbed In Toronto
Are there absolutely NO border controls? "The former head of a notorious Shower posse who was on the lam from a 54-to 108-year jail sentence in the U.S. has been arrested in [Toronto's] west end. Maurice Jones, aka 'Reese', 38, whom the FBI has been hunting for eight years, was nabbed Sunday night after a TTC driver called police about a drunk on a bus. … [Jones' 'posse'] was dealing drugs about 100 feet from an elementary school in Pennsylvania's west end, police said." (Toronto Sun, July 7, 1998) How did he get in?
Tippling Trinidadian Sent Packing
"Vernery John, also known as John Vernery, 37, was ordered deported to Trinidad and Tobago by an Immigration and Refugee Board. John, who arrived here as a visitor in 1988, was deported in December 1994 for four drinking and driving convictions. He managed to return to Canada in April 1996 and lied about his record to obtain landed immigrant status. He has since been convicted two more times of impaired driving. … John said he didn't know drinking and driving was a criminal offence. … John testified he's never been drunk … then admitted, when pressured, that he was an alcoholic. … [Board member Teresa] Marziarz didn't buy John's argument that it would be difficult to get a job or establish himself in Trinidad." (Toronto Sun, July 19, 1998) How much has this guy cost us? The U.S. is implementing an affordable idea — it's called fingerprinting — "in a new policy that would demand a set of fingerprints from all immigrants, not just those applying for citizenship." (The Economist, July 4, 1998) Is Immigration Canada afraid applications might dry up?
Introducing Visas for High Crime Countries: Hong Kong Shows the Way Say, — Is Anyone Awake in Ottawa?
"Nepalese and Nigerian travellers will lose their visa-free entry to Hong Kong next week in a crackdown on fraud and money laundering, immigration officials said yesterday. Thousands of visitors from these countries will have to apply for visas before arriving in the SAR after the changes take effect from next Wednesday. Nepalese, who can stay for up to one month, were targeted after many wives and children of men already in Hong Kong arrived as visitors and then tried to change their status with forged documents or 'fictitious claims', an immigration spokesman said. 'There is a need to stop this trend,' he said.
But the Nepalese community hit out at the move. Most of the 50,000-strong community had permanent-resident status and many men had served Hong Kong as Gurkha soldiers in the British Army before it withdrew, said Ethnic Nepalese Federation of Hong Kong adviser Prabin Rai. Visa-free entry was needed to facilitate the frequent visits between families in Hong Kong and Nepal, he said. 'I can't understand why they are lifting that facility,' Mr Rai said.. The heightened scrutiny of Nigerians, who could stay for three months visa-free, comes after years of fraud and scams many visitors have operated. 'Some Nigerian visitors are known to be involved in commercial crimes or money-laundering business,' the spokesman said. Others had acted as drug couriers, he said. The spokesman said holders of Hong Kong Special Administrative Region passports were required to obtain visas for trips to Nigeria or Nepal. About 20,000 travellers arrived from Nepal last year and 8,000 from Nigeria. … Immigration officers arrested 102 Nepalese visitors and 41 Nigerians for overstaying or working illegally last year. There were 50 cases involving Nepalese using forged passports or travel documents and 95 Nigerians." (South China Morning Post, October 22 1998)
Accused Killer Returns
"A man wanted for almost nine years in the slaying of a Toronto girl was brought back yesterday from Trinidad to stand trial. Darren Lambert, 29, was escorted off an Air Canada jet at Pearson airport by two Toronto Police detectives. … Lambert was sought on a second-degree murder warrant in the October 1989 slaying of two-year-old Deidra McGregor, of Parliament St. Deidra, who had just turned two, died of severe internal injuries, including a lacerated liver." (Toronto Sun, July 20, 1998)
Jamaican Robber Sneaks Back Into Canada
"An armed robber who hog-tied employees of a Scarborough fast food restaurant and left them locked in a freezer has been jailed for sneaking back into Canada. Anthony St. Michael Cherrington, 38, was sentenced in Brampton court to 45 days on Thursday for returning to Canada without the immigration minister's consent. … Cherrington, a former landed immigrant, was deported to Jamaica for criminal activity in May 1995. He made his way back into Canada and has been sought on a warrant since January 1996. 'He will be deported after serving his sentence,' [RCMP Sgt. Stew] Daley said." (Toronto Sun, July 11, 1998) Promise?
Swift and Speedy Justice for Baylis Family?
The surviving family of Police Constable Todd Baylis will finally see their $120-million lawsuit against Immigration Canada go to court this spring. "The August 1996 suit was bogged down by information requests from the [immigration] department and by lengthy court proceedings against Clinton Gayle. … Gayle, 29, shot and killed Baylis, 25, and injured his partner Const. Mike Leone, 33, during a June 1994 drug bust." (Toronto Sun, August 6, 1998) Disciplinary action against Ivan Rashid (the immigration official who released Gayle as he awaited deportation to Jamaica) consisted of a two-year diplomatic posting in sunny Trinidad. (See Hotline #97 October 1997)
Inform yourself – Gets the cold hard facts P.O. Box 332 Station 'B'
Etobicoke, Ontario
M9W 5L3
CANADA