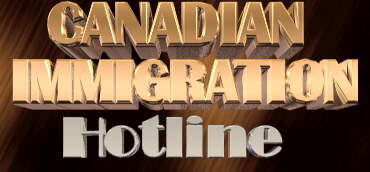 Lucienne Robillard's assurance that she sought a broad range of views on the 172 recommendations proposed by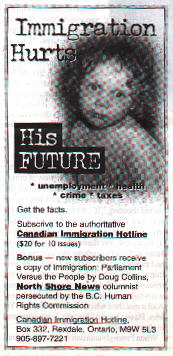 her Legislative Review Committee, the
Canadian Immigration Hotline commissioned a Decima Research Poll
to sound public opinion on key immigration issue. We had hoped to be able to present the findings to the Minister in either Vancouver or Toronto. Like many other immigration reformers, we were turned down. Ironically, Decima found that only 36.1% of Canadians had heard of Mme Robillard's hearings, while 63.0% had not.
["Are you aware that the Government of Canada is conducting a review of immigration policy and is seeking public input?"] This, we believe, is a further reason, consistent with other findings of the poll, to have a five year moratorium on immigration, during which there is a full public debate — not a two month rush-to-judgment, — followed by a binding national referendum on immigration policy. This is the position we've advocated in a written submission to Mme Robillard. Our poll, which questioned 2002 Canadians, between February 7 and 15, 1998 and which has an error margin of +/-2.2, strongly suggests that Canadians want a breather from the heavy immigration flood of the past 5 years, during which we have accepted more than 1.2-million people. The poll we commissioned found that Canadians:
want a 5-year moratorium on immigration so that we can get the unemployed back to work
believe that immigration levels are too high
believe that immigration intake is out of balance and that too many come from the Third World
believe immigrants should qualify themselves to come here. Immigrants should learn English or French before they get here.
Furthermore, there's a wakeup call contained in the poll. A substantial minority of Canadians, especially in the areas of high immigrant concentration want fewer visible minorities.
*For the past five years, Canada has admitted between 200,000 and 225,000 immmigrants annually. Do you think this number is:
B.C. Alberta
Too high 44.5% 49.4%
About right 43.8% 35.8%
Too low 6.8% 6.4%
*Do you support a five year moratorium on immigration so that unemployment levels can be reduced?
National
Yes 50.0%
No 43.9%
Don't Know 5.7%
*Today more than 85% of immigrants come from the Third World. Do you believe this figure is:
National B.C. Alberta Ontario
Too high 48.3% 56.6% 52.9% 51.2%
About right 39.6% 34.6% 34.3% 34.6%
Too low 3% 2.2% 3.0% 2.6%
*Immigrants should not upset the ethnic balance of a community.
National B.C. Alberta Ontario
Agree 43.7% 46.3% 41.5% 39.45
Disagree 36.1% 35.6% 39.9% 38.8%
Don't know 3.8% 3.4% 5.6% 4.5%
*Should Canada require that immigrants and refugees be able to speak English or French?
National B.C. Alberta Ontario Quebec
Yes 72.65% 69.2% 70.8% 69.8% 84.3%
No 24.6% 26.7% 28.2% 27.1% 13.9%
Don't Know 2.55% 3.2% 1.0% 2.75% 1.5%
*Should we accept more, fewer, about the same:
People of African/Caribbean origin
National B.C. Alberta Ontario Quebec
More 9.1% 14.0% 11.0% 8.64 7.7%
About the same 53.3% 53.4% 54.6% 49.35 53.8%
Fewer 28.0% 24.5% 25.4% 29.1% 32.7%
People of South Asian (East Indian) origin
National B.C. Alberta Ontario Quebec
More 6.6% 6.1% 3.7% 7.4% 6.9%
About the same 51.6% 48.2% 47.6% 49.1% 55.4%
Fewer 32.1% 37.6% 39.1% 29.9% 31.9%
People of East Asian (Oriental) origin
National B.C. Alberta Ontario Quebec
More 7.9% 4.7% 5.6% 7.1% 11.55
About the same 51.9% 48.1% 49.5% 50.9% 52.9%
Fewer 31.1% 40.2% 36.9% 29.4% 30.0%
People of European origin
National B.C. Alberta Ontario Quebec
More 20.9% 23.8% 22.1% 22.3% 21.5%
About the same 53.4% 51.1% 53.3% 50.2% 55.5%
Fewer 16.6% 15.6% 15.6% 15.5% 17.8%
Special Interest Lobby Kills Language Proposals
The legislative review committee's language proficiency recommendations were KO'd by the predictable charges of racism and anti-Asian discrimination, even as "surveys show that most Canadians believe that immigrants should have some ability in one of our official languages when they arrive. I suspect that this belief is driven by increasing concern over the cost to the taxpayer of language training after arrival and a strong wish to see a clearer committment by newcomers to full and active participation in Canadian society. This is not a racist response. … In fact, research that indicated that competency in English or French was a key determinant to the successful integration of immigrants and early employment prompted the recommendation. " [As Canadian policy comes to mean a cancerous cluster of policies lurching over the hummocks of last year's mistakes, little wonder that] " two Vancouver-area cabinet ministers, Raymond Chan and Herb Dhaliwal … consider the proficiency recommendations a dead issue. Liberal MP Sophia Leung … said Prime Minister Chretien and Immigration Minister Lucienne Robillard are against the proposal. Liberals from the Indo-Canadian community reported back from the party's national convention that the recommendations would not be adopted by the federal government. [the author warns] … If this is how the work of an independent review is to end up, it would be a national tragedy; a subversion of the democratic process; and a catalyst for the hardening of attitudes and, possibly, a negative reaction by a majority increasingly frustrated by government indifference to its views and concerns. … The authors of [a recent University of B.C. publication] The Silent Debate: Asian Immigration and Racism note: 'The reticence of Canadians on issues related to Asian immigration and racism is not helping the process of formulating proper policies and programs.'" (Martin Collacot, Vancouver Sun, April 30, 1998) Once the tangled rhetoric is penetrated, let's pause to savour the irony — after years of being bullied and intimidated into silence, Canadians are now criticised for NOT speaking up. Initially conceived as a little bribe in the interests of keeping the peace, multiculturalism has hatched into a cuckoo-conglomerate of cultural extortion. It was inevitable that Canadians would be blamed for their endless patience and generosity in the face of mounting hostility to their language, culture, and tenuous grasp on what remains of their country. (Mr. Collacott worked for 20 years in Asia with CIDA and the foreign affairs dept., serving as high commissioner to Sri Lanka. His wife is Asian.)
No Place for English Canadians
"Well, the results are in and it's true — they don't like us, or at least nowhere near as much as we like ourselves. … There is a massive gap between Torontonians' perception of the stature of their city and that of other Canadians … When it comes to the city's 'values', which 80 per cent of [remaining] Torontonians endorse, 74 per cent of other Canadians are unmoved." (Globe and Mail, April 18, 1998) "Toronto has lost much of its lustre as a place where Canadians want to live, though … it remains a magnet for immigrants from overseas. During the past decade, far more Canadians moved out of Canada's biggest city than moved into it. … Immigration into Toronto from outside Canada totalled 337,540 in 1996. … [During that year, the city lost a total of 264,695 people,] 183,370 people to other parts of the province … 81,325 left for elsewhere in Canada." (Globe and Mail, April 15, 1998) "'There's also evidence that fear of crime rises when people feel their world is changing unpredictably, often because of an influx of new ethnic groups,' said [University of Toronto criminologist Rosemary] Gartner." (Ottawa Citizen, March 12, 1998) The implication, of course, is that fearful Canadians are simply ethnophobes if they opt for smaller, safer communities. Elsewhere this process is called ethnic cleansing. In la Belle Province, "two thirds of those who leave Quebec are anglophones … and 50 per cent of anglophones — have university degrees. … Between 1991 and 1996, the province suffered a net loss of 37,445. … 24,125 anglophones and 13,895 people whose mother tongue is neither French or English." (Globe and Mail, April 15, 1998) In other words, in addition to the special Quebecois formula (one-third of federal transfer payments to settle immigrants, while accepting just 12 – 13% of immigrants) there's this third wrinkle: Quebec produces INTERNAL refugees (non-French) within Canada.
But Is It Worth the Paper It's Written On?
"Statscan says 34 per cent of recent immigrants between 25 and 44 had completed university, compared to 19 per cent of the Canadian- born population of the same age. … Better still, immigrants are more likely to have studied science or technology." (Globe and Mail, April 16, 1998) No concerns here that youthful Canadian expectations may have been betrayed or that the students themselves may be left behind. Replace 'em! Statistics Canada excels in this kind of feel-bad news. So, let's take a closer look at an admittedly outdated document (blame the government) examining the immigrant group with the highest incidence of university graduates: "Immigrants from India living in Canada are considerably more likely than people in other groups to have a university degree. In 1991, 26% of all immigrants from India aged 15 and over had a university degree. In 1991, 30% of immigrant men from India had jobs in [professional or management] fields." (A Profile of Immigrants from India to Canada, Immigration Canada) Well, those figures sound pretty respectable. How is it possible when we learn that "half the region's 800 million adults are illiterate, and barely one in three women can read or write. Even sub-Saharan Africa fares better." (London Times, April 3, 1998) Hmmm. "In the southern Indian state of Tamil Nadu, only half of the Grade 4 teachers who wrote a primary school math test scored more than 80 per cent. … The average teacher is paid less than $35 (U.S.) a month, and is often recruited according to ethnicity, caste or political leaning. [An important teaching qualification for a reinvented Canada!]." (Globe and Mail, April 6, 1998) "While cheating is endemic in India's overstretched and understaffed state-run education institutions, the practice has reached new heights in Uttar Pradesh. A thriving industry backed by the state's well-entrenched mafia specialises in leaking examination papers, forging mark sheets and threatening invigilators with violence. Students have even been known to use mobile phones and pagers to help them cheat. … [A new ordinance] contains stiff penalties for offenders , including jail sentences of up to five years for anyone using violence while copying. … In 1992, a watered-down version of the legislation was passed and hundreds of students jailed. But the over-zealous implementation of the ordinance led to widespread anger and the law was repealed within 20 minutes of the Samajwadi Party coming to power in 1993." (South China Morning Post, March 31, 1998)
Ottawa Responds to Real Employment Concerns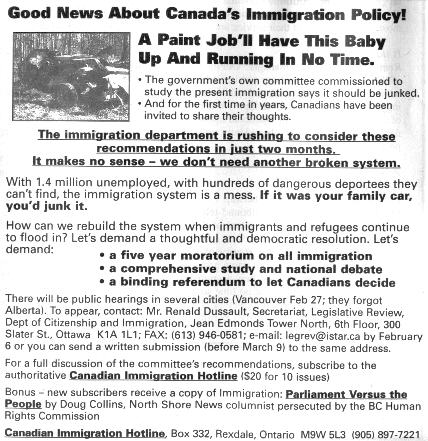 For foreign university graduates, qualifying to practise in Canada has long been a thorny issue, a recent "review of the Immigration Act … suggests eliminating the point selection system and finding a better way to assess immigrants' credentials … too often, those hand-picked professionals end up driving taxis, delivering pizzas and washing dishes. … Rajbir Khera [MA, agricultural economics] decided to come to Canada from Punjab two years ago. … Now he's one of the Lower Mainland's many overqualified cab drivers. … On dark days, Mr. Khera thinks it was a mistake to leave India. 'I would have got a good job there,' Mr. Khera said. 'Now I can't go back — it's been too long.'" [two years, didn't he say?] (Globe and Mail, May 4, 1998) Lobbying to "relax" Canadian accreditation is a work in progress, but strangely, one that saw little action while Canada's immigrants were primarily European in origin. Indeed, more than one doctor performed agricultural work while he/she worked (privately) to bring English skills up to par. "Premika Ratnam, [member of Fair Competition and Full Recognition in Professions and Trades, fumes] 'the licencing bodies are small-p provincial, niche-driven old-boys' clubs.' … Ontario's more than 40 self-governing licencing bodies set the entry requirements for various professions and ultimately decide who will be able to practice in the field. … Their mandate is to protect the health and safety of all Canadians by ensuring that their members are fully qualified. … A foreign-trained professional may have to take up to 20 exams. … Invariably, the failure rate is high, often more than 50 per cent." (Globe and Mail, November 19, 1996) Predictably, prospects among the Canadian-born marginalised are less encouraging. A paper prepared for the federal government by University of Ottawa economics professor Serge Coulombe, has something akin to The Highland Clearances in mind when it suggests "forcing the unemployed to leave poor provinces. … If such an exodus lowered unemployment rates in the poorer regions, the study estimates it could cut the need for federal transfers in half. … [Donald Savoie at the University of Moncton said:] 'If emptying the Maritimes of the unemployed were the solution there would not be any problem today. We've been emptying the Maritimes for years.' … The idea was condemned by New Brunswick Tory MP Elsie Wayne as a breach of trust with Atlantic Canadians. But it has the support of the head of the Bank of Canada." (Vancouver Sun, April 30, 1998) Rough justice indeed, when it is now generally acknowledged that one of the most significant factors in the collapse of the cod fishery was federal imposition of an artificially extended 'fishing season' which had nothing whatever to do with the lifecycle and habits of cod — and everything to do with enforced minimum work-quota periods in order to qualify for unemployment benefits.

The Good News?
In 1997, 1,500 people with criminal records made it into Canada. "They were among the 4,059 people who received Minister's Permits to get around immigration rules that would otherwise have denied them entry because of ill health, lack of documentation or a criminal past. The 1997 total is a 1.3% hike over 1996." (Toronto Sun, April 3, 1998) The November 26, 1997 Hansard transcript finds Mme. Robillard attempting to defend this peculiar discretionary institution, "often the presence of the permit recipient is required to help workers in Canada produce goods and services, e.g. to deliver goods to a manufacturer or to provide training." Little wonder that the Lgislative Review Committee recommended dispensing with it altogether:" "The system we propose would eliminate the Minister's Permit." (Not Just Numbers, A Canadian Framework for Future Immigration #10.2)
Passports for Sale — Again
"The Immigration Department's computer network — called FOSS, for Field Operations Support System — was developed in the 1970s [FOSSIL might be more appropriate. Weren't the 1970s the Cretaceous Period in information management?] … Serious breaches in the computer were uncovered in a year-long RCMP investigation. … It is simple to log on to the system without a password, to make undetected changes to a person's file said one immigration source who regularly uses the system. … 'Like, wow, they sure trust people.' … The investigation did culminate in a charge last month against Ricardo Rodriguez, [native of Uruguay] 38, a former immigration examining officer at Toronto's Pearson International Airport. He was charged with conspiring to utter forged immigration documents, including employment and student authorizations, visitor records and unauthorized immigration-stamp impressions. Three others charged with him are Frank Yoo, 35, his sister Christina, 29, and Suck Huan Kim, 57. The Yoos operated an immigration consulting business that included helping Korean immigrants get access to social services. … RCMP Constable Kevin Gibson: … 'We have people who are trying to immigrate to our country … They're being victimized by people who are taking advantage of their ignorance of our system and making it really difficult for these people to immigrate to our country.'" (Globe and Mail, February 13, 1998) How stupid are we? The Canadian Government facilitates immigration with pimpish enthusiasm, to the extent of providing loans for basic fees.
Exactly what KIND of idiot (making the biggest change in their lives) would plunk down $50,000 — no questions asked? "The RCMP was told seven years ago about an immigration document scam … [but] nothing happened because they wouldn't grant immunity from prosecution to the three immigrants who told [Young Lee, a lawyer and vice-president of the Korean-Canadian Association] of the crooked consultant working with somebody inside Immigration Canada. [Despite that former refusal — and you have to wonder how many were "processed" over the course of seven years,] … the Mounties aren't looking at charging those who purchased phony documents." (Toronto Sun, February 19, 1998) Why not? How many sterling new citizens have purchased the privilege? Why are none of these persons EVER reckoned to be an element in the conspiracy and reassessed? In Montreal, "yesterday the RCMP seized 135 forged blank Canadian citizenship cards and 250 lamination kits to make Canadian passports, according to Canadian Press. Police estimate the blackmarket value of the goods at about $750,000." (Toronto Sun, April 8, 1998)
"Refugee" Scam-o-Rama: No Relief In Sight
"People traffickers are growing in numbers and according to police could soon surpass drug dealers as the number one illicit intenational business. … [Admitting defeat, Canadian officials are asking air carriers to enforce Immigration Canada's mandate with] a highly trained, vigilant force of airline staff behind the overseas ticket counters. … Judging by the all-time low Immigration and Refugee Board approval rates, the number of bogus claims is on the rise. Canada accepted only 40 per cent of the 25,000 claims processed last year. Vancouver's rates were even lower, with only 30 per cent of the 1,742 claims approved. … Police charged 40 people in B.C. with aiding and abetting illegal travellers in 1997.
That was up from … 1996 when 15 smugglers were charged. … The maximum penalty for smuggling is a $5,000 fine and two years in jail. But the sentences handed out by B.C. judges range between two months and six months. … Last month, Const. Dave Poon easily identified a Malaysian woman smuggling in two Sri Lankan children. 'The two boys looked totally different. One was really dark, one really light. All three looked so odd, different facial features and everything.' … They were split up and questioned. 'She stuck to her story for a few hours. But the kids were tough — I couldn't break them,' Poon said. Eventually the woman pleaded guilty to aiding and abetting, did her time and flew home.
The two boys were sent to their relatives in Toronto where they were expected to file refugee claims. One boy flashed Poon a big smile as he got on the plane." (Vancouver Province, April 12, 1998) "Asian and Russian hoodlums are making huge profits smuggling illegal immigrants into Canada and south of the border, says Vancouver Deputy Chief Brian McGuiness." (Toronto Sun, April 26, 1998) Failed refugee applicants have discovered that "about half of second-time applicants have their claims accepted in Canada. … At least six refugee claimants have been jailed [by American authorities at the Niagara Peace Bridge border crossing] since March 1 … caught between a new U.S. law, the Illegal Immigration Reform and Immigrant Responsibility Act of 1996, intended to curb illegal immigration, and the way Canadians handle refugee claims at the Niagara Falls office. … People who want to make a refugee claim in Canada cross the Peace Bridge and receive an information package to complete.
They are then directed back to the United States, where they wait for one to three weeks before they are given permission to enter Canada. Beginning in March, officials with the U.S. Immigration and Naturalization Service began detaining these people who had no legal status in the United States. … The situation is infuriating refugee advocates on both sides of the border. … According to the [Canadian Council for Refugees], ideally refugee claimants would be treated the same way they are at Pearson International airport, where they are permitted to enter Canada immediately and then complete application forms." (Globe and Mail, May 5, 1998)
REFUGEE WATCH
* A Palestinian family without citizenship in any country vowed yesterday to live indefinitely in the sanctuary of a west-end [Toronto] church after the Immigration and Refugee Board refused [them] for a second time. … 'We'll stay here in this church forever until something good happens to us,' said Elham Bahsous." (Globe and Mail, May 5, 1998) The family consists of Nadim Bahsous, 70, and his four children, aged 29, 31, 33 and 42. The three elder children suffer from atrophied cerbellums. "They've lived in Mississauga since 1995 … their father left Palestine in 1948 … they have since lived and worked in Lebanon, Qatar and the United Arab Emirates." (Toronto Star, April 12, 1998) But they're all ours now! * "A family of 20 Czech Romas has become the first batch of Gypsies to be accepted here as refugees. … The Immigration and Refugee Board in a decision last week ruled the family has a well-founded fear of persecution on the ground of race.
[George Kubes, immigration lawyer and priming-pump for last year's flood of Gypsy claimants, said:] 'My Gypsy clients are very happy and pleased.'" (Toronto Sun, April 14, 1998) * "A refugee claimant detailed her lesbian love life yesterday at an immigration hearing and broke down in tears as she told of being raped by Colombian police. [Are we to conclude that heterosexual women might enjoy being raped by Colombian police?] 'My relationship with her is of a sexual nature,' Irma Patricia Pulido, 30, told an Immigration and Refugee Board of her eight-month love affair with Rosa Roldan. 'She's in control,' testified Pulido, a Colombian refugee claimant. 'I am the woman in the relationship.' … Pulido said she met Roldan, 36, a refugee claimant from Mexico, in Toronto after arriving here in March 1996. The women are testifying for each other in their bids for refugee status in Canada. Their claims are based on membership in a persecuted group." (Toronto Sun, April 16, 1998)
See our Immigration Books section You can reach the Canada first Immigration Reform Committee at:
P.O. Box 332 Station 'B'
Etobicoke, Ontario
M9W 5L3
CANADA