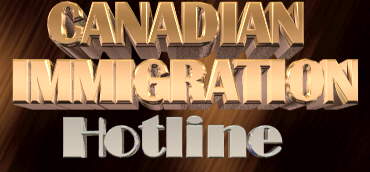 It's quite clear that Canada's political establishment hasn't the slightest intention of securing our borders or deterring the hordes of illegals pouring into Canada. Even liars needn't fear."Immigration officers should bend over backward to avoid detaining illegal immigrants and bogus refugees, unless they pose an obvious danger to the public or are unlikely to show up at a hearing, according to new policy guidelines that were to be implemented this week. A draft copy of the guidelines say immigration officers must consider all possible ways to release new arrivals, even if they have criminal records. They also say that having a false passport is not in itself grounds for detention, nor is a person's lack of credibility at an interview. The proposed guidelines have incensed some front-line immigration officers, who say the judgment and discretion afforded them under the Immigration Act to detain new arrivals to Canada is being undermined. 'What management is saying is, Your average arrival who gets off a flight, even though they may have lied and cheated, should not be detained,' said one officer … 'Effective immediately, the guidlines say, 'SIOS [senior immigration officers] must review all detention cases with a view to release, if appropriate, as soon as practicable after the person is first placed under arrest or in detention.'
According to internal management electronic mail, immigration managers concede that, although the new guidelines are being called 'a change in interpretation', they almost change the [Immigration Act.' … Underpinning the policy is a new risk management intiative whereby immigration officers are being asked, for example, to balance the risk of a person not appearing for an immigration proceeding against the costs of holding him in custody. … The Immigration Department says that until now detention was 'virtually assured' in cases where officers doubted the person's credibility. 'A lack of credibility does not automatically support the notion that a person would not or is unlikely to appear,' the guidelines say. 'For example, a lack of credibility with respect to one aspect of a person's circumstances does not necessarily lead to the conclusion that the person will not appear'" (Globe and Mail, October 2, 1996) These draft guidlines clearly reveal the utter retreat on the part of the senior bureaucrats from any attempt to secure our borders. Cheats, criminals and liars are now being dubbed "clients." The Globe article continues: "The policy seems to be motivated by a desire within the top echelons of the Immigration Department to pare down detention and employment costs and to relieve crowded detention facilities." Well, releasing virtually all illegals from custody is certainly one way.
A far better way would be to end the practice of considering any "refugee" application from people who just drop into this country. The only way to achieve refugee status would be to apply and be vetted at a Canadian Embassy or consulate abroad. Take away the incentive to do an end run into this country and you eliminate the hordes of illegals. Those few who try to pull this scam should be jailed until they can be deported. Remove the hope, you remove the abuse. Even the ostensible excuse of saving costs is fraudulent. Releasing virtually all the illegals from incarceration would simply save federal prison costs and transfer the costs for keeping the illegals to local welfare authorities. It is still the same taxpayer's pocket that is being picked! Contact your MP, c/o House of Commons, Ottawa, Ontario, K1A 0A6 or Immigration Minister Lucienne Robillard at (613)-952-5533 (FAX) or (613)-954-1064 (phone).
Illegal's Kid Gets Hepatitis C and We Must Pay Compensation , Says Valpy
Dottiness gives way to lunacy. The whole mess created by permitting queue jumpers to drop into Canada and make a "refugee" claim is a never-ending burden on the Canadian taxpayer. The Globe and Mail's Michael Valpy, recently wrote a story that typifies the nuttiness surrounding Canada's policy of not summarily detaining and deporting illegals. Needless to say, he draws a different conclusion from the facts of the case than would most sensible citizens. "Ali Khamis, 34, used to run a restaurant in Mombasa, Kenya. In July, 1989, he took an airplane to Canada. He did not need a visa to get on the plane or to enter the country.
After he arrived, he claimed refugee status. 'We were the victims of the authoritarian rule of a president who did not accomodate criticism,' he said in Swahili [September 18] speaking through an interpreter." (Globe and Mail, September 19, 1996) Bad signs. It should be noted that Kenya is a democracy, not a perfect one, to be sure, but there are still multiparty elections. As to regimes not brooking criticism, ask Malcolm Ross or Ernst Zundel the price to be paid in Canada for expressing views unacceptable to the powers-that-be. Note, also, that Khamis has been in Canada for seven years, but still needs an interpreter! Valpy's account continues: "In 1990, his wife Fahima Khamis, 28, and Fahad, his two-and-a-half year old son, were admitted to Canada as visitors. … Fahad Khamis had a congenital heart defect — a hole in the heart. He was diagnosed in Mombasa four months after his birth. Mrs. Khamis was told by doctors in Mombasa that no treatment was available anywhere in Kenya.
Within months of his arrival in Canada, Fahad had surgery in Toronto's Hospital for Sick Children to repair the hole in his heart. The cost of the operation — which the Khasis family did not pay — is approximately $23,000. … Years went by. The Khamises' refugee claim plodded through the clogged and elaborate machinery. … Mr. Khamis failed to qualify as a refugee. His application to remain in Canada on humanitarian and compassionate grounds was rejected. Appeals against earlier decisions were dismissed. Then his wife's and son's claims for refugee status were rejected. Removal orders were issued. …In the meantime, Mr. and Mrs Khamis say, they were … granted welfare. (In any event, their English would have been too limited for them to support themselves). They had two more children who, because of their birth in Canada, are Canadians. The total amount of welfare paid to this family has been in the neighbourhood of $100,000." To say nothing of the legal aid and medicare bills and the $23,000 heart operation for Fahad, that the taxpayers have also had to pay for. The story gets worse. "In 1995, they received a letter from the Hospital for Sick Children informing them that Fahad's blood transfusion for his heart surgery had been contaminated. A doctor confirmed that, as a result of the contaminated transfusion, Fahad had hepatitis C."
Just as he was to be deported after seven years in Canada on welfare, using taxpayers' money to fight the Immigration Department, on September 18 "Immigration deferred this order so that it could consider another application — filed in late August — for the family to remain in Canada on humanitarian and compassionate grounds." Valpy's conclusion? "This is a perfectly abominable Canadian story. Canada is responsible for poisoning this child's blood. It would be an immoral act to deport him and his family to a country where required medical care for him, if it exists, would be of questionable quality." Apparently, it's neither "abominable" nor "immoral" for the poor Canadian taxpayer to continue to pay and pay because our immigration system refuses to summarily deport illegals who flock here for the goodies.
Sikhs Exempt from B.C. Helmet Law
Multiculturalism means rank discrimination against the Majority and outright privilege and favouritism for minorities. "Turbaned Sikhs can now pedal their bikes without wearing helmets. The B.C. government has backpedalled on its bicycle helmet law and exempted Sikhs and some other users. The province's 160,000-member Sikh community had lobbied Highways MInister Lois Boone for the exemption since the law took effect September 3.
'We had expected the decision but still feel it is commendable and we are especially happy with the position Lois Boone has come out with,' said Gian Singh Sandhu, senior advisor the the World Sikh Organization. The Sikh religion forbids covering turbans. … Both Sandhu and community leader Hardial Singh Johal, president of the Ross Street Temple in South Vancouver, said should have been more consultation with Sikhs beore the law was introduced." (Vancouver Province, September 29, 1996) Now, of course, if you're a libertarian-minded member of the Majority and don't like the nanny — is it, ninny? — state telling you what to wear, you must obey the law. Your beliefs don't matter. You're not consulted.
Crime Watch
Trinidadian Criminal Back in Canada
"Federal immigration officials have launched a probe to find out how a man deported for three drinking and driving incidents has been allowed to return legally to Canada. … Vernery John, 35, was arrested by an immigration-Mountie task force in December 1994 for over-staying his visa and deported to Trindidad. Joh, who now lives in Toronto, had racked up a criminal record from October, 1991 to March, 1994. 'He was arrested and is back here legally as a landed immigrant,' RCMP Const. Michele Paradis said. Paradis said John returned to Canada in April, 1996 as a family-class landed immigrant after obtaining a visa from the Canadian High Commission in Trinidad. … Police files shows John's convictions include failing to appear, driving with more than 80 mg. of alcohol in his blood, assault, driving while ability impaired, care or control [of a vehicle] while impaired and refusing to provide a blood sample." (Toronto Sun, September 29, 1996)
You can reach the Canada first Immigration Reform Committee at:
P.O. Box 332 Station 'B'
Etobicoke, Ontario
M9W 5L3
CANADA